John Lennon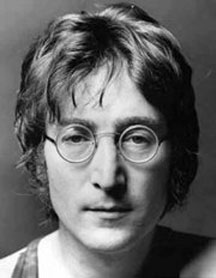 AKA John Winston Lennon
Born: 9-Oct-1940
Birthplace: Liverpool, England
Died: 8-Dec-1980
Location of death: Manhattan, NY
Cause of death: Assassination
Remains: Cremated

Gender: Male
Religion: Anglican/Episcopalian
Race or Ethnicity: White
Sexual orientation: Matter of Dispute [1]
Occupation: Musician
Nationality: England
Executive summary: Beatle
One of the most well-known entertainment industry figures of the 20th century, John Lennon achieved a level of mass adulation that had already grown to unwieldy proportions by the time of his murder at the onset of the 1980s, and afterwards expanded to a degree that only a state of martyrdom can accomplish. Alongside his bandmates in The Beatles, he was among the first mega-celebrities of the rock and roll era, with his very presence in public inciting hysteria among hordes of young fans. Yet one of the more remarkable aspects of Lennon's career was that, despite his enormous popularity, he did not shy away from unconventional and decidedly uncommercial forms of music, and did more to bring the activities of the avant-garde to the attention of the mainstream than perhaps any other mainstream performer of his time.
John Winston Lennon was born in Liverpool during the Second World War, the offspring of Julia Stanley and seaman Alfred Lennon. His father was present for very little of John's life, having been away at the time of his birth and frequently at sea during the years that followed; as a consequence of an unexpected absence of 18 months, Julia ended their marriage in 1944 and began a new relationship with local barman John Dykins. Alfred made an attempt to gain custody of his son in 1946 by taking him on a holiday trip to Blackpool with the intention of leaving directly for New Zealand, but Julia was able to intervene in time to prevent this from taking place. She and Dykins later brought John to live with them in a flat in Gateacre, but the arrangement was ended by Julia's sister Mimi, who disapproved of their living conditions. Custody was subsequently transferred to Mimi and her husband George Smith, with whom John remained for the remainder of his youth.
The schoolwork foisted upon Lennon during his adolescence was a thing of little interest to him, with only art and drawing generating any enthusiasm. His aunt was able to arrange his enrollment at the Liverpool College of Art, but by the mid-50s the rebellious boy's attention had been hijacked by the arrival of the skiffle music scene in the UK and the spread of American rock and roll; this new obsession was less to his aunt's liking, who staunchly refused to encourage it. John eventually convinced his mother (who was herself a sometime banjo player) to buy him a guitar, and a better model was later reluctantly supplied by Aunt Mimi in order to end her nephew's constant nagging. Before long John had formed his first band The Black Jacks with some of his schoolmates, changing their name to The Quarrymen soon afterwards. For the first few months of their existence the group perfomed for free at local parties before landing their first professional gig in June of 1957. It would be at the next show, however, that Lennon first encountered fellow aspiring musician Paul McCartney -- a meeting that would set his music career moving in a more serious direction.
Following the event, both Lennon and McCartney were mutually (if reservedly) impressed by one another's talents, and within a few weeks Paul was invited to join the group. McCartney then petitioned for his younger friend George Harrison to be added to the line-up (a request that was initially met with some resistance from Lennon). The accidental death of his mother in 1958 -- struck down while crossing the street by a car driven by a drunk policeman -- was a trauma from which it took a long time for Lennon to recover, but he persevered with his music, performing with McCartney and Harrison as The Quarrymen, Johnny and the Moondogs, and, briefly, Long John and the Silver Beetles throughout the remaining years of the 1950s. Fellow art student (and non-musician) Stuart Sutcliffe was brought in as bassist in 1960, with the name The Beatles being finally settled upon the same year.
In August of 1960 Lennon and his bandmates were offered a contract to play for six weeks in Hamburg, Germany. Another Liverpool musician, Pete Best, was quickly brought in to fill the drummer's seat, and the band was given an opportunity hone their skills through exhausting six-hour sets at seedy venues such as the Indra Club and the Kaiser Keller. This first excursion was cut short as a result of Harrison's deportation due to his being underage, but the band returned the following year to perform at the Top Ten club, and it was at this time that they were hired to serve as backing band for British singer Tony Sheridan on his version of My Bonnie and several other tracks. Upon their return to England, the Beatles (now minus Sutcliffe) quickly grew to become one of the biggest acts in the Liverpool area, building up their audience through frequent (and now legendary) appearances at the Cavern Club. This success attracted the interest of Brian Epstein, the owner of a nearby record shop; Epstein approached Lennon with an offer to manage the group, and (after some difficulty) eventually secured a contract for them with EMI Records in June of 1962.
After replacing Pete Best with another Liverpool drummer using the name Ringo Starr, the Beatles began their climb up the UK charts. Their debut single, the McCartney-penned Love Me Do, reached as high as #17; Lennon's track Please Please Me followed two months later, earning the band their first UK #1. Just prior to this rise in popularity, John married Cynthia Powell -- his girlfriend since his days at art school -- after learning that she had become pregnant. The group toured aroung the country to enthusiatic crowds throughout 1963 while their first full-length release climbed to the #3 position. By January of 1964 the song I Want to Hold Your Hand had topped the charts in the States, signalling the explosion of the Beatles' popularity worldwide. The first of their appearances on The Ed Sullivan Show was arranged shortly afterwards, breaking all previous records for television viewership.
By 1965 the popularity of the Beatles had exceeded manageable proportions. Their concerts were mobbed by screaming teenagers numbering in the tens (and, on a few occasions, hundreds) of thousands, while their records remained a constant fixture at the top of the charts. For one week in 1964, their singles had even occupied all top five slots on the mainstream charts simultaneously. The stress and lack of privacy that accompanied this brouhaha took a serious toll on Lennon, but there was little opportunity for any escape from it. In 1966 a death threat against the band prior to an appearance in Japan, followed by the hostility of the Marcos government after a performance in the Philippines -- combined with the atmosphere of paranoia created by the assassination of John F. Kennedy -- convinced the four to discontinue live performance entirely. Their final show took place at Candlestick Park in San Francisco on 29 August 1966.
In addition to the general difficulties surrounding his role in the band, in March of 1966 Lennon invited additional controversy into his life by an offhand remark to a reporter that the Beatles were "more popular than Jesus". This quote, later reprinted without the context of his full comment, resulted in a violent backlash against the Beatles in fundamentalist communities -- particularly in the American South. Protests and "Beatle Burnings" were organized, where piles of records and memorabilia were set alight in a disturbing echo of the Nazi book burnings of the late 1930s (no surprise that the Ku Klux Klan was involved in some of these events). Uncertain of the band's future in the aftermath of these events, and unsure of what to do with himself in the sudden void created by the absence of their constant touring schedule, Lennon accepted an offer from director Richard Lester to star in his film How I Won the War, shot in Spain over six weeks towards the end of '66.
The next couple of years saw the Beatles focusing their efforts on elaborate studio productions, with Lennon himself contributing (although with significant input from McCartney) some of the most unusual and -- in the literal sense of the word -- experimental compositions. Tracks such as She Said She Said, Tomorrow Never Knows (both from Revolver, 1966), Lucy in the Sky with Diamonds, A Day in the Life (both from Sergeant Pepper's Lonely Hearts Club Band, 1967), I Am the Walrus, and Strawberry Fields Forever (both from Magical Mystery Tour, 1967) pushed the boundaries of existing studio technology to create dreamlike (and sometimes unsettling) sound environments. The most extreme example of this, Revolution 9, arrived in 1968 on the "White Album": created in collaboration with Fluxus artist Yoko Ono, the track utilized layered voices, decontextualized musical phrases, field recordings, and tape manipulation, while entirely abandoning conventional song structure. While this approach had been long in use by the avant-garde, it was rather unfamiliar territory in the arena of pop music.
The late 60s was also a time of personal experimentation and change for Lennon, the nature of which ranged from his use of LSD (instigated by his dentist) to his studies with Maharishi Mahesh Yogi and the Trancendental Meditation movement (instigated by Harrison). His marriage to Cynthia was legally ended in 1968, but by this time he had already initiated a relationship with Ono, to whom he had been introduced in 1966 at a London exhibit of her work. Lennon and Ono married six months after the divorce. The close relationship between the two -- and the involvement of Ono in the formerly exclusive environment of Beatles recording sessions -- created resentment amongst the other members of the group, heightening the tensions that already existed between them: the death of Brian Epstein in 1967 had created a serious rift from which the band was never able to recover, and which resulted in constant arguments about management, business practice and musical direction.
The Beatles finally disbanded in 1970, their personal relationships having been strained to the breaking point and many of their business ventures (united under the banner of Apple Corps, established in 1968) mired in a state of serious disarray. It was Lennon who first resolved to leave the band, but he was convinced not to make his decision public; McCartney later pre-empted any announcement from his bandmate by making a statement to the press about his own decision to quit in April of 1970. By the time of the band's dissolution Lennon had already produced 4 solo albums, although the first three -- Unfinished Music No.1: Two Virgins (1968), Unfinished Music No.2: Life with the Lions (1969), and Wedding Album (1969) -- consisted of abstract, sound-oriented pieces rather than "songs". The fourth, Live Peace in Toronto 1969 (1969), was a document of the first live performance by the Plastic Ono Band, which at the time featured Eric Clapton, Klaus Voorman and Alan White as the backing players for John and Yoko. Three successful singles (Give Peace A Chance, 1969; Cold Turkey, 1969; and Instant Karma, 1970) had also been released prior to the Beatles' demise, all of which were credited to the Plastic Ono Band.
Lennon's first full-length, studio-recorded collection of songs, John Lennon/Plastic Ono Band (1970), was given an enthusiastic reception from the music press and found its way into both the US and UK top 10 soon after its release. The intensely personal nature of the material -- such as his straightforward description of feelings of abandonment in the lyrics for Mother -- was a result of Lennon's experiences with "Primal Therapy", a form of psychotherapy that encourages patients to express deep-rooted emotional pain. The more restrained follow-up Imagine (1971) fared even better, with the album reaching #1 in several different countries and the title single becoming one of Lennon's signature works. While Harrison made guest appearances on several tracks, his relationship with McCartney remained openly hostile, and a scathing criticism against his former bandmate was made on How Do You Sleep?.
After the completion of Imagine John and Yoko relocated to New York City, where Lennon would reside for most of the remainder of his life; his highly-visible association with leftist politics did not endear him to the Nixon administration, however, and an ongoing struggle against the government's attempts to deport him would begin almost immediately upon the musician's arrival. His reaction against this oppressive political climate became the central theme to his next album Sometime in New York (1972), which featured backing from the New York-based group Elephant's Memory. An additional album of live material was included with the original release, collecting two songs performed at a UNICEF benefit in London with four songs from an extended jam with Frank Zappa and The Mothers of Invention at the Fillmore East. A return to more personal writing was then made with 1973's Mind Games, recorded and released during a year-long separation from Ono.
In the latter half of 1973, Lennon and his personal assistant May Pang (who was also now his lover, through arrangement by Ono) moved to Los Angeles, where he spent much of his time drinking and socializing with various celebrity friends. An album of return-to-roots rock and roll was initiated with producer Phil Spector during this time, but the project was never completed and Spector subsequently disappeared with the master tapes. Work on other performer's albums was also undertaken, including contributions to Ringo's Goodnight Vienna (1974) and production duties for the Harry Nilsson album Pussy Cats (1974). By the end of his so-called "lost weekend" in L.A., material for his next album had been prepared, and sessions for Walls And Bridges (1974) were completed shortly after his return to New York in June of '74. The release provided him with his second #1 album in the States, as well as his first #1 single (Whatever Gets You Thru the Night, featuring piano and backing vocals by Elton John), and included an excerpt of his only recorded collaboration with his first son Julian Lennon on the cover track Ya Ya. The tapes made with Spector were recovered in the midst of these sessions, and were subsequently completed (and partially re-recorded) to create 1975's nostalgic collection Rock 'N' Roll.
At the beginning of 1975 John and Yoko reunited, and their first child together, Sean Lennon, arrived in October on his father's birthday. The birth motivated Lennon to focus his energies on his family rather than his music career, and for the remainder of the decade he dedicated himself to being a "househusband", looking after the daily care of his new son. It wasn't until mid-1980 that recordings for a new album were undertaken, for which he had the help of producer Jack Douglas and an extensive list of New York session musicians. The result was Double Fantasy, released in November of that same year. The lead single (Just Like) Starting Over moved quickly to the #5 position in the US and the album was given a reasonably warm reception, but Lennon's return to the spotlight was abruptly cut short: on December 8th, as he was returning to his apartment at the Dakota, the musician was shot in the back five times by deranged fan Mark David Chapman. He was pronounced dead upon his arrival at Roosevelt Hospital.
At the request of Yoko Ono, Lennon fans all over the world observed 10 minutes of silence on December 14th to honor his memory. Typically, his death also instantly propelled Double Fantasy and (Just Like) Starting Over to the top of the American charts. Four years later, Ono completed and released Milk and Honey, the planned follow-up album to Double Fantasy that was being recorded at the time of his death.
---
[1] Geoffrey Giuliano, Lennon in America (2000), describing Lennon's time in Thailand: "Having come from a working class life in Liverpool, orientals were exotic and erotic for John. Also he had a bisexual side. John was sexually drawn to [Asian] women and -- to a certain extent -- men. They were culturally different and exciting to him." See also Cynthia Lennon, John (2005), denying this: "Claims have been made since [by Geoffrey Giuliano, Albert Goldman, etc.] that Brian [Epstein] and John did have a gay relationship. Nothing could be further from the truth. John was 100-percent heterosexual and, like most lads at that time, horrified by the idea of homosexuality."

Father: Alfred Lennon (seaman, b. 1912, d. 1975)
Mother: Julia Stanley
Father: John Dykins ("Bobby" or "Twitchy", stepfather)
Wife: Cynthia Powell (m. 1962, div. 1968, d. 2015)
Son: Julian Lennon (musician, b. 1963)
Wife: Yoko Ono (artist/musician, m. 1969, until his death)
Son: Sean Lennon (musician, b. 1975)
Mistress: May Pang (Lennon and Ono's assistant from 1970-80, affair 1973-75)


University: The Liverpool Art College, Liverpool, England (1957-60)


The Quarrymen Vocalist/Guitarist (1957-60)
The Beatles Vocalist/Guitarist/Pianist (1960-70)
Plastic Ono Band Vocalist/Guitarist/Pianist
John Lennon
John Lennon and Yoko Ono
Irish Ancestry Paternal
Welsh Ancestry Maternal
Member of the British Empire 1965 (sent back 1969)
Grammy Best New Artist (with The Beatles) (1964)
Grammy Best Performance By A Vocal Group for A Hard Day's Night (with The Beatles) (1964)
Grammy Song Of The Year for Michelle (with Paul McCartney) (1966)
Grammy Best Contemporary Album for Sgt. Pepper's Lonely Hearts Club Band (with The Beatles) (1967)
Grammy Album Of The Year for Sgt. Pepper's Lonely Hearts Club Band (with The Beatles) (1967)
Grammy Best Original Score Written For A Motion Picture Or A Television Special for Let It Be (with The Beatles) (1970)
Grammy Album Of The Year for Double Fantasy (with Yoko Ono) (1981)
Grammy Lifetime Achievement Award (1991)
Grammy Hall of Fame Award for Sgt. Pepper's Lonely Hearts Club Band (with The Beatles) (1993)
Grammy Hall of Fame Award for Abbey Road (with The Beatles) (1995)
Grammy Hall of Fame Award for Yesterday (with The Beatles) (1997)
Grammy Hall of Fame Award for I Want To Hold Your Hand (with The Beatles) (1998)
Grammy Hall of Fame Award for Revolver (with The Beatles) (1999)
Grammy Hall of Fame Award for Strawberry Fields Forever (with The Beatles) (1999)
Grammy Hall of Fame Award for The Beatles ('The White Album') (with The Beatles) (2000)
Grammy Hall of Fame Award for A Hard Day's Night (with The Beatles) (2000)
Grammy Hall of Fame Award for Rubber Soul (with The Beatles) (2000)
Grammy Hall of Fame Award for Hey Jude (with The Beatles) (2001)
Grammy Hall of Fame Award for Meet The Beatles! (with The Beatles) (2001)
Grammy Hall of Fame Award for Eleanor Rigby (with The Beatles) (2002)
Grammy Hall of Fame Award for Let It Be (with The Beatles) (2004)
Oscar Original Song Score for Let It Be (with The Beatles) (1970)
Rock and Roll Hall of Fame 1988 (with The Beatles)
Rock and Roll Hall of Fame 1994
Songwriters Hall of Fame
Hollywood Walk of Fame 1750 Vine St.
Drug Possession: Marijuana 1968
Ordained by the Universal Life Church Minister
Shot New York City (8-Dec-1980)
Autopsy
Asteroid Namesake 4147 Lennon
Transcendental Meditation
Risk Factors: Dyslexia, Marijuana, Smoking, Vegetarian, LSD, Heroin


FILMOGRAPHY AS DIRECTOR
Magical Mystery Tour (26-Dec-1967)


FILMOGRAPHY AS ACTOR
The Beatles: Eight Days a Week: The Touring Years (15-Sep-2016) · Himself
The Rolling Stones Rock and Roll Circus (12-Oct-1996) · Himself
The Beatles: The First U.S. Visit (1994) · Himself
Eat the Document (30-Nov-1972) · Himself
Dynamite Chicken (20-Jan-1971) · Himself
Let It Be (13-May-1970) · Himself
Float Like a Butterfly, Sting Like a Bee (21-Nov-1969) · Himself
Magical Mystery Tour (26-Dec-1967) · Himself
How I Won the War (18-Oct-1967) · Gripweed
The Beatles at Shea Stadium (1-May-1966) · Himself
Help! (29-Jul-1965)
Go Go Mania (4-Jan-1965) · Himself
A Hard Day's Night (6-Jul-1964)


Author of books:
In His Own Write (1964, poetry)
A Spaniard In The Works (1965, poetry)
Skywriting by Word of Mouth and Other Writings (1986, stories)
Ai: Japan Through John Lennon's Eyes (A Personal Sketchbook) (1990, drawings)





Requires Flash 7+ and Javascript.



Do you know something we don't?
Submit a correction or make a comment about this profile






Copyright ©2019 Soylent Communications