Scott McClellan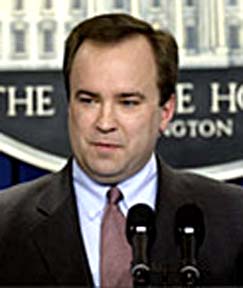 Born: 14-Feb-1968
Birthplace: Austin, TX

Gender: Male
Race or Ethnicity: White
Sexual orientation: Straight
Occupation: Government
Nationality: United States
Executive summary: White House Press Secretary, 2003-06
Scott McClellan replaced Ari Fleischer, who resigned for "family reasons", as President George W. Bush's White House Press Secretary. In his most memorable press conferences, McClellan dismissed claims (since confirmed) that Karl Rove had been involved in revealing the identity of a covert CIA operative, Valerie Plame, as "payback" after Plame's husband, former Ambassador Joseph Wilson, had publicly stated that the Bush administration's grounds for attacking Iraq were false.
Before having her cover blown, Plame had fronted a CIA operation that sought to prevent rogue nations from obtaining weapons of mass destruction. In his 2008 memoirs, McLellan wrote:
"I stood at the White House briefing room podium in front of the glare of the klieg lights for the better part of two weeks and publicly exonerated two of the senior-most aides in the White House: Karl Rove and Scooter Libby.

"There was one problem. It was not true.

"I had unknowingly passed along false information. And five of the highest ranking officials in the administration were involved in my doing so: Rove, Libby, the vice president, the president's chief of staff, and the president himself."
McClellan's father wrote a book charging that Lyndon B. Johnson was part of a conspiracy that led to the assassination of John F. Kennedy.

Father: Barr McClellan
Mother: Carole Keeton Rylander (Comptroller of Texas)
Brother: Dudley McClellan (attorney, based in Austin TX)
Brother: Mark McClellan (FDA comm., also on Council of Economic Advisors, b. 26-Jun-1963)
Brother: Brad McClellan (attorney, based in Austin TX)
Wife: Jill Martinez (m. Nov-2003)


High School: Austin High School, Austin, TX
University: BA Government, University of Texas at Austin (1991)


White House Press Secretary (2003-06)
Secret Service Codename Matrix





Requires Flash 7+ and Javascript.



Do you know something we don't?
Submit a correction or make a comment about this profile






Copyright ©2019 Soylent Communications