Robert Novak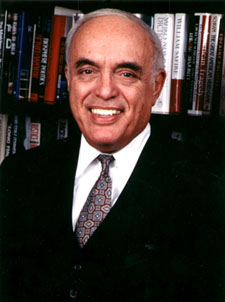 AKA Robert David Sanders Novak
Born: 26-Feb-1931
Birthplace: Joliet, IL
Died: 18-Aug-2009
Location of death: Washington, DC
Cause of death: Cancer - Brain
Remains: Buried, Gate of Heaven Cemetery, Silver Spring, MD

Gender: Male
Religion: Roman Catholic [1]
Race or Ethnicity: White
Sexual orientation: Straight
Occupation: Columnist, Pundit
Nationality: United States
Executive summary: Conservative ideologue, outed Valerie Plame
Military service: US Army (1952-54)
Robert Novak grew up in Joliet, Illinois, and started working as a part-time reporter for the Joliet Herald-News while attending the University of Illinois (1948-1952). After serving in the U.S. Army during the Korean War, he reported for Associated Press and later covered Congress for The Wall Street Journal.
In 1963, Novak began a 30-year collaboration with Rowland Evans, writing a political column called "Inside Report", which featured behind-the-scenes political scuttlebutt, mostly from conservative viewpoints. Evans & Novak wrote together for 30 years, until Evans retired from the column in 1993. Evans later left their shared Evans & Novak TV show and died of cancer in 2001. Novak carried on alone, writing his columns and appearing as a perpetual talking head on TV without his longtime companion.
Novak's biggest "scoop" was his weird involvement in exposing a CIA agent in 2003. Joseph Wilson, an American diplomat, had been sent to Niger in 2002 to investigate a report that Iraqis had tried to buy uranium there. If Wilson had decided the report was credible, it would have helped make George W. Bush's case for war on Iraq. But when Wilson came back, he reported in an internal document that the claim was piffle. Wilson was flabbergasted months later when Bush recited the Niger-Iraq-aluminum story in his 2003 State of the Union address, using it to justify military action in Iraq. Wilson went public, debunking what he'd already debunked privately to the President.
As Wilson started getting media attention, Novak reported on 14 July 2003 that "two senior administration officials" had told him that it was Valerie Plame, a CIA agent specializing in weapons of mass destruction and married to Wilson, who'd suggested sending her husband to Niger. This was apparently meant to call Wilson's investigation into question, but since Novak's stated source was the White House, it meant someone at the highest level of U.S. government had clearly committed what's commonly called treason -- revealing a spy's identity.
In an indication of the changing ways of journalism, the mainstream media simply didn't notice the newsworthiness of Novak's column that day. But bloggers did, and kept the questions bubbling under the surface for three months, until The Washington Post reported that half a dozen reporters had received the same information from "a high White House source", but only Novak had run with it. Novak, in a later interview, said he "didn't dig [the information] out, it was given to me. [White House officials] thought it was significant, they gave me the name and I used it." In a subsequent column, Novak revealed the name of the cover company Plame had used, basically exposing every CIA agent and contact who had used that cover.
For the record, naming a clandestine CIA agent would be a violation of the law by White House officials, but freedom of the press would presumably protect Novak from prosecution.
---
[1] Novak was raised Jewish, but in the early 1990s he began attending Christian services, and in 1998 he was baptized into the Roman Catholic church.

Father: (chemical engineer)
Wife: Kay
Wife: Geraldine Williams (m. 47 years, until his death)
Son: Alex Novak
Daughter: Zelda Caldwell


High School: Joliet Township High School, Joliet, IL (1948)
University: BA Journalism, University of Illinois (1952)


The Chicago Sun-Times Columnist (1966-2009)
The New York Herald Tribune Columnist (1963-66)
The Wall Street Journal Chief Congressional Correspondent (1961-63)
The Wall Street Journal (1958-61)
The Champaign-Urbana Courier (1951-52)
The Joliet Herald-News (1947-51)
Human Events Contributor
Reader's Digest Editor (1979-2009)
Bohemian Grove
Gridiron Club
Phillips Foundation Board of Trustees
Alpha Epsilon Pi Fraternity
Converted to Catholicism 1998
Brain Surgery Duke University Medical Center (15-Aug-2008)
Jewish Ancestry
Risk Factors: Lung Cancer, Prostate Cancer, Brain Cancer


TELEVISION
Evans & Novak Co-Host
The Capital Gang Creator (1988)
The McLaughlin Group (1982-85)
Crossfire Co-Host (1995-2005)
Crossfire Co-Host (1985-87)


FILMOGRAPHY AS ACTOR
The Last Debate (5-Nov-2000) · Himself
Running Mates (13-Aug-2000) · Himself
The Thomas Crown Affair (27-Jul-1999) · Proctor
Contact (11-Jul-1997) · Himself
Dave (7-May-1993) · Himself


Rotten Library Page:
Robert Novak

Author of books:
The Agony of the G.O.P., 1964 (1965, politics)
Lyndon B. Johnson: The Exercise of Power: A Political Biography (1966, biography)
Nixon in the White House: The Frustration of Power (1971, biography)
The Reagan Revolution: An Inside Look at the Transformation of the U.S. Government (1981, politics)
Prince Albert: The Life and Lies of Al Gore (2000, politics)
Completing the Revolution: A Vision for Victory in 2000 (2000, politics)
The Prince of Darkness: 50 Years Reporting in Washington (2007, memoir)





Requires Flash 7+ and Javascript.



Do you know something we don't?
Submit a correction or make a comment about this profile






Copyright ©2019 Soylent Communications