George Takei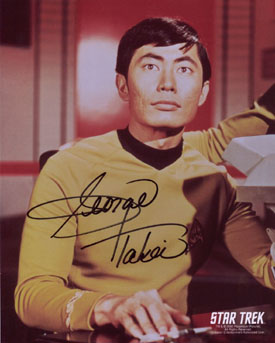 AKA George Hosato Takei
Born: 20-Apr-1937
Birthplace: Los Angeles, CA

Gender: Male
Religion: Buddhist
Race or Ethnicity: Asian
Sexual orientation: Gay [1]
Occupation: Actor
Party Affiliation: Democratic
Nationality: United States
Executive summary: Lt. Sulu on Star Trek
George Takei was born in Los Angeles to American-born parents, but grew up in Allied internment camps during World War II. Takei was four years old when his family was sent to an "assembly center" at the Santa Anita Race Track, and then assigned to a camp in Arkansas, and later transferred to a different camp in Northern California. When the war ended the family returned to Los Angeles. Takei always enjoyed acting in school plays, and switched his college major from architecture to drama after taking his first acting class. Between his freshman and sophomore years, he made his film debut dubbing English dialogue for eight different characters for the American release of Sora no daikaijū Radon (Rodan! The Flying Monster).
While studying theater at UCLA, he made his first TV appearance in a 1959 broadcast of CBS's prestigious Playhouse 90, an anthology series that presented a new play -- performed live -- every week. "I played a Japanese soldier who returned to Japan", says Takei. "I found out that my betrothed, the character Nobu McCarthy played, had fallen in love with an American G.I., played by Dean Stockwell. They have a lovers' quarrel on a bridge, and accidentally she falls over. I'm accused of the murder." By the time he graduated in 1960, Takei had worked as an extra in Never So Few with Frank Sinatra, and played his first real role on film in Ice Palace with Richard Burton and Robert Ryan.
In a 1964 episode of The Twilight Zone, Takei played a young man hired as a handyman by a bigoted WWII veteran (Neville Brand). The episode drew so many complaints from Japanese-American organizations that it was never rerun, and wasn't released in the show's perpetual syndication. It is now available on DVD releases of the series.
Takei was not involved in the first pilot for Star Trek, but in the second pilot he was cast as Hikaru Sulu, the ship's mathematician. When the series was picked up, his character was rewritten as the ship's helmsman. Twenty-five years later, in the sixth Star Trek movie, Sulu was promoted to captain of a different ship, the USS Excelsior. Sulu was the first Asian character on an American television series who wasn't molded from "ah-so" stereotypes.
When the ship's five-year mission was ended after only three years, Takei (unlike most of his series castmates) remained relatively busy in non-Trek roles. He returned to TV often, guesting on 1970s shows like The Courtship of Eddie's Father, Hawaii Five-O, The Six Million Dollar Man, and Chico and the Man. Through the 80s, 90s, and 00s, he appeared on everything from Heroes to Scrubs and Party Down to Brotherly Love (where he played a Star Trek fanatic who'd had his face surgically reconstructed to resemble George Takei). Takei has also appeared on the soap operas General Hospital and The Young & the Restless, and done voice work for Johnny Quest, Disney's Mulan, The Simpsons (where he has voiced several different characters), and, of course, the Star Trek cartoon series.
In 1972, Takei was a delegate to the Democratic National Convention, and in 1973 he ran for the City Council in Los Angeles, losing by just 1,647 votes. He served ten years on the Southern California Rapid Transit District as it was planning and building L.A.'s rail system.
He has always been and remains politically active, especially in civil rights matters. Takei runs a chatty website, where he talks at length about politics and such personal topics as the death of his mother. In his autobiography, To the Stars, he wrote movingly of his family's internment, and covered all facets of his life except, curiously, romance. In the book and in decades of media interviews he never spoke or wrote about dating, until October 2005, when Takei revealed to the world that he was gay, and that he had been living with his boyfriend, Brad Altman, for eighteen years. In 2008, during the brief window when gay marriage was legal in California, he and Altman were married, and over recent years Takei has become an increasingly vocal activist for gay rights.
For years, there were whispers that Takei had not gotten along with Star Trek star William Shatner. Takei put those rumors to rest when he explained, "I've said a lot of bad things about Bill Shatner. I've called him arrogant, conceited, a horse's ass. But the truth of the matter is -- he's an arrogant, conceited, horse's ass! Sorry, Bill".
---
[1] Frontiers magazine, October 2005. He later told the Associated Press, "The world has changed from when I was a young teen feeling ashamed for being gay... the issue of gay marriage is now a political issue. That would have been unthinkable when I was young."

Father: Takekuma Takei (m. 1935, d. 1979)
Mother: Fumiko Emily Takei (b. 29-Sep-1912, d. 25-May-2002)
Brother: Furuto (b. 1938, d. infancy)
Brother: Henry Takei (dentist, b. circa 1938)
Sister: Nancy Reiko Takei (b. circa 1940)
Husband: Brad Altman (together since 1987, m. 14-Sep-2008)


High School: Los Angeles High School, Los Angeles, CA
University: University of California at Berkeley
University: BA Theater, University of California at Los Angeles (1960)
University: MA Theater, University of California at Los Angeles (1964)
University: Sophia University, Tokyo, Japan


Hollywood Walk of Fame 6881 Hollywood Blvd.
Endorsement of Sharp Electronics (2010-)
Democratic Senatorial Campaign Committee
Hillary Clinton for President
Obama Victory Fund 2012
Allied Internment Camp Inmate
The Howard Stern Show Announcer (2006-)
Asteroid Namesake 7307 Takei
Japanese Ancestry


TELEVISION
Heroes Kaito Nakamura (2007-10)
The Young and the Restless Rev. Daniel Tanaka (2003)
General Hospital Diem (1985)
Star Trek Lt. Hikaru Sulu (1966-69)


FILMOGRAPHY AS ACTOR
Kubo and the Two Strings (13-Aug-2016) [VOICE]
For the Love of Spock (16-Apr-2016) · Himself
Entourage (27-May-2015)
To Be Takei (18-Jan-2014) · Himself
Free Birds (26-Sep-2013) [VOICE]
Larry Crowne (30-Jun-2011) · Dr. Matsutani
These Amazing Shadows (22-Jan-2011) · Himself
The Pool Boys (2011) · Maitre D
8: The Mormon Proposition (18-Jan-2010) · Himself
Futurama: Bender's Game (3-Nov-2008) · Himself [VOICE]
You Don't Mess with the Zohan (6-Jun-2008) · Himself
Ninja Cheerleaders (10-May-2008)
The Great Buck Howard (18-Jan-2008) · Himself
Finishing the Game: The Search for a New Bruce Lee (21-Jan-2007) [VOICE]
A. I. Assault (2006) · Lane
Mulan II (3-Nov-2004) [VOICE]
The Eavesdropper (14-May-2004)
DC 9/11: Time of Crisis (7-Sep-2003)
Batman Beyond: The Movie (21-Dec-1999) [VOICE]
Who Gets the House? (1999)
Mulan (5-Jun-1998) [VOICE]
Bug Buster (1998)
Trekkies (18-Oct-1997) · Himself
Oblivion (1994) · Doc Valentine
The Curse of the Dragon (1993) · Narrator
Star Trek VI: The Undiscovered Country (6-Dec-1991) · Sulu
Prisoners of the Sun (26-Jul-1990)
Return from the River Kwai (13-Jul-1989)
Star Trek V: The Final Frontier (9-Jun-1989) · Sulu
Star Trek IV: The Voyage Home (26-Nov-1986) · Sulu
Star Trek III: The Search for Spock (1-Jun-1984) · Sulu
Star Trek II: The Wrath of Khan (4-Jun-1982) · Sulu
Star Trek: The Motion Picture (7-Dec-1979)
Which Way to the Front? (Jul-1970)
The Green Berets (17-Jun-1968) · Capt. Nim
An American Dream (31-Aug-1966) · Ord Long
Walk Don't Run (29-Jun-1966) · Police Captain
Red Line 7000 (9-Nov-1965)
Hell to Eternity (30-Sep-1960) · George Une
Ice Palace (2-Jan-1960)


Official Website:
http://www.georgetakei.com/

Author of books:
To the Stars: The Autobiography of George Takei, Star Trek's Mr. Sulu (1994, memoir)





Requires Flash 7+ and Javascript.



Do you know something we don't?
Submit a correction or make a comment about this profile






Copyright ©2019 Soylent Communications