Abel Ferrara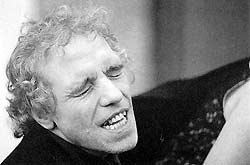 Born: 19-Jul-1951
Birthplace: Bronx, NY

Gender: Male
Religion: Roman Catholic
Race or Ethnicity: White
Sexual orientation: Straight
Occupation: Film Director
Nationality: United States
Executive summary: Bad Lieutenant
Abel Ferrara's movies usually revolve around crooked cops, psychotic killers, victims hell-bent on vengeance, petty criminals and criminal masterminds, drug addicts, adulterers, and alcoholics. He has been called a "scuzzmeister", "a virtuoso of grunge", and far worse. He tells violent and vulgar stories, and amidst the gore often asks the deepest religious or moral questions. Answers are never provided.
Ferrara and his best friend from high school, Nicholas St. John, began making 8mm films when they were teenagers. St. John did the writing, and Ferrara did the directing. Through the 1970s, while working at day jobs, they made several short films and a feature-length porn film, Nine Lives of a Wet Pussy. Ferrara's first non-porn feature, 1979's Driller Killer, told the gut-churning story of an artist turned stalker turned killer with battery-powered tools.
His next film, Ms. 45, is still considered by some to be Ferrara's best work. Ms. 45 tells the story of a beautiful, mute seamstress who is raped on her way home from work, then raped again by a burglar in her apartment -- all in the film's first few minutes. After that, she decides it will never happen again, and proceeds to take vengeance against any man who even glances at her with lust in his eyes. The script was co-written by its 17-year-old star, Zoe Lund.
While Ms. 45 slowly built its word of mouth, playing one- or two-week engagements in small cinemas across the country, it became Ferrara's calling card, and allowed him to move from poverty row up to low-budget filmmaking. The result was Fear City, a tale of murdered Manhattan prostitutes. With its weird religious subtext and an ending some audiences found disturbing or simply perplexing, it was not considered successful, and if money is all that matters it was a flop.
Ferrara directed occasional episodes of Miami Vice, and the pilot of Crime Story. He returned to the big screen for China Girl, a gangland retelling of Romeo & Juliet, and King of New York, a wild-ride thriller with Christopher Walken as a furious drug dealer released from prison and out for revenge. In Ferrara's best known film, Bad Lieutenant, Harvey Keitel portrayed a cop with almost all his humanity drained away. It was written by Ferrara and Ms. 45's Lund.
After Bad Lieutenant's critical acclaim, though, Ferrara's next project was a fairly big-budget remake of the oft-filmed Invasion of the Body Snatchers. Ferrara somehow managed a feat thought impossible -- he turned Jack Finney's classic nightmare novel into a boring movie. His next film, the introspective Dangerous Moves, was reviewed and received with open hostility.
After those missteps, Ferrara lost much of his buzz. He is no longer mentioned in the same breath with Quentin Tarantino, and his new films are rarely or barely released outside the tiniest theaters in the largest cities. Ferrara, however, has continued confounding critics and audiences with low-budget but formidable films.
Ferrara's The Funeral with Walken and Chris Penn was morbid and meandering, and The Addiction with Walken and Lili Taylor told a unexpectedly intellectual vampire tale. In Ferrara's Mary, fictional moviemaker Matthew Modine casts himself as Jesus. In New Rose Hotel with Walken and Willem Dafoe, corporate overlords of the future are engaged in a science fiction con game, and 'R Xmas describes a heartwarming Christmas holiday among heroin dealers. Ferrara was also one of the ten directors behind HBO's Subway Stories: Tales from the Underground, and he is presently working on a telling of Jekyll and Hyde with Forest Whitaker and 50 Cent.
Girlfriend: Asia Argento (actress, dau. of Dario Argento)

FILMOGRAPHY AS DIRECTOR
Pasolini (4-Sep-2014)
4:44 Last Day on Earth (7-Sep-2011)
Chelsea on the Rocks (23-May-2008)
Go Go Tales (23-May-2007)
Mary (6-Sep-2005)
'R Xmas (9-May-2001)
New Rose Hotel (14-Oct-1998)
Subway Stories: Tales From the Underground (17-Aug-1997)
The Blackout (11-Jun-1997)
The Funeral (8-Sep-1996)
The Addiction (4-Oct-1995)
Dangerous Game (13-Oct-1993)
Body Snatchers (9-Jun-1993)
Bad Lieutenant (16-Sep-1992)
King of New York (18-Jul-1990)
Cat Chaser (8-Dec-1989)
China Girl (25-Sep-1987)
The Gladiator (3-Feb-1986)
Fear City (18-Jul-1984)
Ms. 45 (24-Apr-1981)
The Driller Killer (15-Jun-1979)

FILMOGRAPHY AS ACTOR
Black Butterfly (26-May-2017)
Chelsea on the Rocks (23-May-2008) · Himself
Ms. 45 (24-Apr-1981)
The Driller Killer (15-Jun-1979)

Do you know something we don't?
Submit a correction or make a comment about this profile

Copyright ©2019 Soylent Communications