Willem Dafoe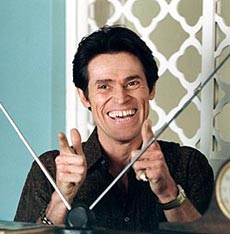 AKA William Dafoe Jr.
Born: 22-Jul-1955
Birthplace: Appleton, WI

Gender: Male
Race or Ethnicity: White
Sexual orientation: Straight
Occupation: Actor
Nationality: United States
Executive summary: Last Temptation of Christ
William Dafoe grew up in Appleton, Wisconsin, about 100 miles north of Milwaukee, and was nicknamed "Willem" in high school. He was expelled from Appleton East High School for making a video that school administrators deemed pornographic. To get his diploma, Dafoe finished his studies at nearby Lawrence University. He studied drama at the University of Milwaukee, but soon dropped out, deciding he could learn more as an actor. Dafoe joined that city's experimental Theater X, and toured with them for two years before moving to New York in 1977. He was a founding member of the Wooster Group, an off-Broadway venture that survives to this day.
Before his breakthrough in To Live and Die in L.A., Dafoe's film roles were mostly tiny, and usually had him playing oddballs and bad guys. It was off-casting to have him play the embodiment of Good in Oliver Stone's allegorical Platoon, opposite handsome Tom Berenger as Evil. The gamble paid off, with Berenger, Dafoe, and the film all nominated for Oscars.
When movies aren't enough to occupy his time or mind, Dafoe still appears occasionally in the Wooster Group's stage productions, such as LSD and The Hairy Ape.
Father: William Dafoe (doctor)
Mother: (nurse)
Girlfriend: Elizabeth LeCompte (theater company director, b. 1945, together since 1977)
Son: Jack Dafoe (b. 1982)

High School: Appleton East High School, Appleton, WI
University: Drama, University of Wisconsin (dropped out)

Expelled from School
Endorsement of Fortune Brands Jim Beam Bourbon Whiskey (2011)
Risk Factors: Yoga

FILMOGRAPHY AS ACTOR
Aquaman (26-Nov-2018)
Vox Lux (4-Sep-2018) · Narrator [VOICE]
At Eternity's Gate (3-Sep-2018)
Murder on the Orient Express (3-Nov-2017)
Death Note (24-Aug-2017) [VOICE]
What Happened to Monday (6-Aug-2017)
The Florida Project (22-May-2017)
The Great Wall (6-Dec-2016)
Finding Dory (8-Jun-2016) [VOICE]
John Wick (13-Oct-2014)
Pasolini (4-Sep-2014)
The Fault in Our Stars (16-May-2014)
Bad Country (10-Mar-2014)
The Grand Budapest Hotel (6-Feb-2014)
A Most Wanted Man (19-Jan-2014)
Nymphomaniac: Vol. II (25-Dec-2013)
Out of the Furnace (9-Nov-2013)
Odd Thomas (6-Apr-2013)
John Carter (7-Mar-2012) · Tars Tarkas
The Hunter (9-Sep-2011) · Martin
4:44 Last Day on Earth (7-Sep-2011) · Cisco
Miral (3-Sep-2010)
Cirque du Freak: The Vampire's Assistant (22-Oct-2009) · Gavner Purl
Fantastic Mr. Fox (14-Oct-2009) · Rat [VOICE]
Daybreakers (11-Sep-2009) · Lionel "Elvis" Cormac
My Son, My Son, What Have Ye Done (6-Sep-2009) · Det. Havenhurst
Farewell (4-Sep-2009)
Antichrist (18-May-2009) · He
The Dust of Time (22-Nov-2008)
Adam Resurrected (30-Aug-2008)
Fireflies in the Garden (10-Feb-2008) · Charles
Anamorph (21-Sep-2007) · Stan Aubray
Go Go Tales (23-May-2007)
Spider-Man 3 (16-Apr-2007)
Mr. Bean's Holiday (22-Mar-2007) · Carson Clay
The Walker (13-Feb-2007) · Larry Lockner
Paris, je t'aime (18-May-2006)
Inside Man (16-May-2006)
American Dreamz (4-Mar-2006) · Chief of Staff
Ripley Under Ground (6-Nov-2005)
Before It Had a Name (Sep-2005)
Manderlay (16-May-2005) · Grace's Father
xXx: State of the Union (27-Apr-2005) · Gen. George Octavius Deckert
The Aviator (17-Dec-2004)
Control (7-Dec-2004)
The Life Aquatic with Steve Zissou (20-Nov-2004)
Spider-Man 2 (30-Jun-2004)
The Clearing (Jan-2004) · Arnold Mack
Once Upon a Time in Mexico (27-Aug-2003) · Barillo
The Reckoning (6-Aug-2003) · Martin
Overnight (12-Jun-2003) · Himself
Finding Nemo (18-May-2003) · Gill [VOICE]
Auto Focus (8-Sep-2002) · John Carpenter
Spider-Man (3-May-2002)
Edges of the Lord (12-Oct-2001)
Pavilion of Women (16-Mar-2001)
Bullfighter (Oct-2000)
Shadow of the Vampire (15-May-2000) · Schreck
Animal Factory (24-Jan-2000)
American Psycho (21-Jan-2000) · Donald Kimball
The Boondock Saints (4-Aug-1999) · Paul Smecker
eXistenZ (16-Feb-1999) · Gas
New Rose Hotel (14-Oct-1998) · X
Lulu on the Bridge (14-Aug-1998) · Dr. Van Horn
Affliction (28-Aug-1997) · Rolfe Whitehouse
Speed 2: Cruise Control (13-Jun-1997) · Geiger
The English Patient (6-Nov-1996) · Caravaggio
Basquiat (9-Aug-1996) · The Electrician
The Night and the Moment (5-Jul-1995) · The Writer
Victory (1995) · Heyst
Tom & Viv (11-Nov-1994) · Tom Eliot
Clear and Present Danger (3-Aug-1994)
Faraway, So Close! (18-May-1993)
Body of Evidence (15-Jan-1993) · Frank Dulaney
Light Sleeper (21-Aug-1992) · John LeTour
White Sands (24-Apr-1992)
Flight of the Intruder (18-Jan-1991)
Wild at Heart (17-Aug-1990) · Bobby Peru
Cry-Baby (6-Apr-1990) · Hateful Guard
Born on the Fourth of July (20-Dec-1989) · Charlie
Triumph of the Spirit (8-Dec-1989)
Mississippi Burning (9-Dec-1988) · Ward
The Last Temptation of Christ (12-Aug-1988) · Jesus
Off Limits (11-Mar-1988)
Dear America: Letters Home from Vietnam (Oct-1987) [VOICE]
Platoon (19-Dec-1986) · Sgt. Elias
To Live and Die in L.A. (1-Nov-1985) · Eric Masters
Streets of Fire (1-Jun-1984) · Raven
New York Nights (Mar-1984)
Roadhouse 66 (1984)
The Hunger (29-Apr-1983)
The Loveless (13-Sep-1982)

Do you know something we don't?
Submit a correction or make a comment about this profile

Copyright ©2019 Soylent Communications