Farrah Fawcett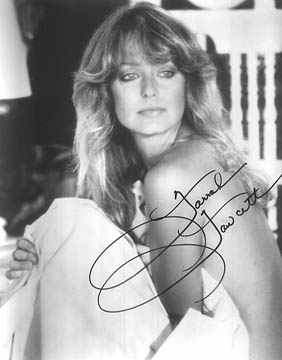 AKA Farrah Leni Fawcett
Born: 2-Feb-1947
Birthplace: Corpus Christi, TX [1]
Died: 25-Jun-2009
Location of death: Santa Monica, CA
Cause of death: Cancer - other
Remains: Buried, Westwood Memorial Park, Los Angeles, CA

Gender: Female
Religion: Roman Catholic
Race or Ethnicity: White
Sexual orientation: Straight
Occupation: Actor, Model
Nationality: United States
Executive summary: Original blonde on Charlie's Angels
Even as a child, neighbor children would come by the Fawcett house not to play with Farrah but merely to look at her. By adolescence she had been told hundreds of times how beautiful she was, and she felt a little freakish about it. She was voted "Best Looking" in her high school class, and male students in college literally lined up outside her sorority house to meet her and try to date her. For two years, she dated the quarterback from the football team, then abruptly dumped him, quitting school to try her luck in Hollywood.
Within weeks of her arrival she was dating then-star Lee Majors, and while they were married she was billed as Farrah Fawcett-Majors. She worked as a model, posing with Ultra-Brite toothpaste, Wella Balsam shampoo, a Mercury Cougar, and Noxema shaving cream. She began acting with small parts on The Flying Nun, I Dream of Jeannie, and Mayberry RFD. She made her film debut in a French movie filmed in America, Un homme qui me plaît with Jean-Paul Belmondo, before being seen in the atrocious Myra Breckinridge, where her character slept with Raquel Welch. She appeared occasionally on Majors' Six Million Dollar Man, but Fawcett was still an unknown when she was cast as Jill Munroe on Charlie's Angels, in 1976.
Along with Kate Jackson and Jaclyn Smith, Fawcett was one of "three little girls" who became stylized private detectives on the hit cheesecake show, and Fawcett was the breakout star. In a time when "major media" meant just three channels, she was on the cover of all the gossip magazines, appeared on Sonny and Cher and Donny and Marie's variety shows, and competed on Battle of the Network Stars. Her feather-blown hairstyle became popular among adolescent girls, but not nearly so popular as her poster among boys. An almost life-size photo of Fawcett in a red swimsuit became popular, and it remains the best-selling poster of all time, surpassing even those of Betty Grable and the Dallas Cowboys cheerleaders.
After making only twenty-two episodes, Fawcett said Charlie's Angels was preventing her from "growing as an actress", and announced she was leaving the show. Producer Aaron Spelling threatened to sue for breach of contract, until Fawcett agreed to come back for occasional "guest star" appearances on the program. She was replaced on the show by Cheryl Ladd. Fawcett then starred in three big-budget big-screen movies, each of which was worse than the other two: Somebody Killed Her Husband, a comedy-mystery with Jeff Bridges; Sunburn, a disco-drenched thriller with Charles Grodin; and Saturn 3, a strange saga set in outer space that had Fawcett being drooled over by Kirk Douglas, Harvey Keitel, and a robot named Hector.
In 1979, she divorced Majors and took up with Ryan O'Neal, who was then a major movie star. In 1983, she fired her manager, changed her hairstyle, and set out to prove herself as a dramatic actress. Her twin triumphs from this era were an off-Broadway play, Extremities, wherein Fawcett's character got the best of a would-be rapist, and the TV movie The Burning Bed, based on the true story of a woman long abused by her husband, who doused him with gasoline and lit him afire as he slept.
In 1991 Fawcett and O'Neal starred in a short-lived sitcom, Good Sports, playing cable sportscasters who had once been lovers. In a 1997 appearance on The Late Show with David Letterman, Fawcett was incoherent and glass-eyed, leading many observers to speculate that she was high on drugs. Fawcett, though, insisted then and now that she has never used illegal drugs, and says Letterman simply made her nervous. Also in 1997 she ended her relationship with O'Neal, and starred in a Playboy video, using her naked body as a paintbrush to create alleged art.
In 1998 she was beaten by her then-boyfriend, moviemaker James Orr, after she took several swings at his car with a baseball bat. Fawcett reportedly asked police to drop charges against him, but Orr was prosecuted and convicted anyway. According to the police report, he had grabbed Fawcett by the throat, slammed her head into the pavement, and kicked her "several times to her upper body as she laid on the ground." Other than beating Fawcett, Orr is best known for co-writing Three Men and A Baby and Sister Act 2, and he directed Fawcett's 1995 flop Man of the House co-starring Chevy Chase.
In 2000 she earned good reviews playing Richard Gere's mentally deranged wife in Dr. T & the Women. She almost made her Broadway debut in 2003 starring in Bobbi Boland, a play about a mid-life crisis for an aging woman who won a beauty contest decades earlier, but after disastrous audience response during preview performances, the play never opened. In 2005 she starred in a reality series, Chasing Farrah, where she came across as a nice Texas girl, and treated obsessing fans with more respect than they probably deserve.
Fawcett and O'Neal rekindled their romance in 2001, after he was diagnosed with leukemia and she appeared at his doorstep, offering to help in any way she could. They visited their heroin-addicted son Redmond in rehab together, and Fawcett and O'Neal started living together again after she was diagnosed with intestinal cancer in 2006. In February 2007, her doctor told Fawcett that she had shown "a full and complete response to treatment", and was cancer-free. Three months later she was diagnosed with what turned out to be colorectal cancer. O'Neal was at her bedside when she died on 25 June 2009.
---
[1] Memorial Hospital.

Father: James Fawcett (oil field worker)
Mother: Pauline Alice Evans (homemaker, b. 30-Jan-1914, d. 4-Mar-2005)
Sister: Diane Fawcett Walls (graphic artist, b. 27-Oct-1938, d. 16-Oct-2001)
Boyfriend: Greg Lott (college sweetheart, now business executive, dated 1967-69, 1979, 1999-2000)
Husband: Lee Majors (actor, dated 1969-73, m. 28-Jul-1973, sep. 1979, div. 16-Feb-1982)
Boyfriend: Ryan O'Neal (dated/cohabited, 1979-97, one son, dated 2001-05, cohabited 2006-her death)
Son: Redmond James O'Neal (b. 30-Jan-1985, with O'Neal)
Boyfriend: James Orr (film director, b. 1953, dated 1997-98)
Boyfriend: Martin Barba (pro tennis player, b. 1967, dated 1998)
Boyfriend: Mark Burg (Fawcett's agent, dated 1999-2000)
Boyfriend: Rick Thurman (dated 2000-01)


High School: W. B. Ray High School, Corpus Christi, TX (1965)
University: University of Texas at Austin (1966-69, dropped out)


Hollywood Walk of Fame 7057 Hollywood Blvd (television)
Endorsement of Wella Balsam shampoo & conditioner (1970s)
Posed Naked for Playboy
Shoplifting 1970 (Los Angeles, charge reduced to trespassing)
Shoplifting 1970 (Los Angeles, charge reduced to trespassing)
Trespassing 1970 (Los Angeles, fined $125)
Trespassing 1970 (Los Angeles, fined $265)
Autopsy
Risk Factors: Smoking, Colon Cancer, Anal Cancer


TELEVISION
Spin City Judge Claire Simmons (2001)
Good Sports Gayle Roberts (1991)
Charlie's Angels Jill Munroe (1976-77)
Harry O Sue Ingham (1974-76)


FILMOGRAPHY AS ACTOR
The Cookout (3-Sep-2004)
Jewel (7-Feb-2001)
Dr. T & the Women (12-Sep-2000) · Kate
Silk Hope (17-Oct-1999) · Frannie Vaughn
The Brave Little Toaster Goes to Mars (19-May-1998) [VOICE]
The Apostle (6-Sep-1997) · Jessie Dewey
Dalva (3-Mar-1996)
Man of the House (3-Mar-1995)
Children of the Dust (26-Feb-1995)
The Substitute Wife (23-May-1994) · Pearl
Small Sacrifices (12-Nov-1989)
See You in the Morning (14-Apr-1989)
Poor Little Rich Girl: The Barbara Hutton Story (16-Nov-1987)
Extremities (22-Aug-1986) · Marjorie
Between Two Women (10-Mar-1986)
The Burning Bed (8-Oct-1984) · Francine Hughes
The Cannonball Run (19-Jun-1981)
Murder in Texas (3-May-1981)
Saturn 3 (15-Feb-1980) · Alex
Sunburn (10-Aug-1979)
Somebody Killed Her Husband (29-Sep-1978)
Logan's Run (23-Jun-1976) · Holly
Murder on Flight 502 (21-Nov-1975)
The Girl Who Came Gift-Wrapped (29-Jan-1974)
The Great American Beauty Contest (13-Feb-1973)
Myra Breckinridge (24-Jun-1970)





Requires Flash 7+ and Javascript.



Do you know something we don't?
Submit a correction or make a comment about this profile






Copyright ©2019 Soylent Communications