South Park: Bigger Longer & Uncut (30-Jun-1999)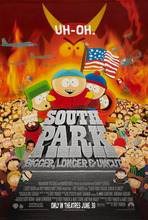 Director: Trey Parker
Writers: Pam Brady; Trey Parker; Matt Stone
Keywords: Comedy, Musical, Canada, Scatological, Controversial, Saddam Hussein, Satan




The boys sneak into a viewing of Terrance & Phillip's Canadian film after which they recreate a scene, resulting in the tragic death of Kenny (not unexpected). The United States declares war on Canada as Terence and Philip are sentenced to death; Kenny, Satan, and Saddam Hussein await the Canadian duo's arrival in Hell, which will commence Satan's reign on Earth. Masterful satire, for advanced viewers only. Received an Oscar nomination for Best Original Song, "Blame Canada."
REVIEWS
Review by A.R. (posted on 12-Jun-2007)
This movie is an amazing, vulgar and foul-mouthed comedy written, produced and directed by comic geniuses Trey Parker and Matt Stone. Trey does the voices of Stan and Cartman while Matt Stone does Kyle and Kenny's muffled voice and various other characters. Of course, Mike Judge, known for Beavis and Butthead, did Kenny's good-bye. But the movie starts out with a 'cheery' song and the boys go to a movie that 'warps their fragile little minds' and causes their mothers to form M.A.C. (Mothers Against Canada) to protest the Terrence and Philip movie. Then a war breaks out, turning into almost World War III, and Satan, who's having a sexual relationship with Sadaam Hussien, is waiting to take over the world. The feud between America and Canada then begins!
---
Do you know something we don't?
Submit a correction or make a comment about this profile

Copyright ©2019 Soylent Communications