Ghostbusters (8-Jun-1984)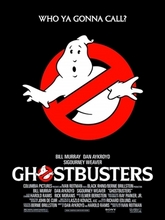 Director: Ivan Reitman
Writers: Dan Aykroyd; Harold Ramis
Music by: Elmer Bernstein
Producer: Ivan Reitman
Keywords: Sci-Fi/Comedy, Ghost, Explosions, Giant Monster, New York




After the University fires their parapsychology department, three professors form a company to exterminate ghosts and other paranormal pests. Film's special effects now appear somewhat dated, but the direction and writing hold up, accompanied by Elmer Bernstein's infectious score; one of the best comedies from the 1980s.
[watch trailer]
CAST
Starring
Bill Murray
... Dr. Peter Venkman
Dan Aykroyd
... Dr. Raymond Stantz
Sigourney Weaver
... Dana Barrett
Harold Ramis
... Dr. Egon Spengler
Rick Moranis
... Louis Tully
Annie Potts
... Janine Melnitz
William Atherton
... Walter Peck
Ernie Hudson
... Winston Zeddmore
David Margulies
... Mayor
Steven Tash
... Male Student
Jennifer Runyon
... Female S
tudent
...
Slavitza Jovan
... Gozer
Michael Ensign
... Hotel Manager
Alice Drummond
... Librarian
Jordan Charney
... Dean Yager
Timothy Carhart
... Violinist
John Rothman
... Library Administrator
Tom McDermott
... Archbishop
Roger Grimsby
... Himself
Larry King
... Himself
Joe Franklin
... Himself
Casey Kasem
... Himself
John Ring
... Fire Commissioner
Norman Matlock
... Police Commissioner
Joe Cirillo
... Police Captain
Joe Schmieg
... Police Seargeant
Reginald VelJohnson
... Jail Guard
Rhoda Gemignani
... Real Estate Woman
Murray Rubin
... Man at Elevator
Larry Dilg
... Con Edison Man
Danny Stone
... Coachman
Patty Dworkin
... Woman at Party
Jean Kasem
... Tall Woman at Party
Lenny Del Genio
... Doorman
Frances E. Nealy
... Chambermaid
Sam Moses
... Hot Dog Vendor
Christopher Wynkoop
... TV Reporter
Winston May
... Businessman in Cab
Tommy Hollis
... Mayor's Aide
Eda Reis Merin
... Louis's Neighbor
Rick Mancini
... Policeman at Apartment
Kathryn Janssen
... Mrs. Van Hoffman
Stanley Grover
... Reporter
Carol Ann Henry
... Reporter
James Hardy
... Reporter
Frances Turner
... Reporter
Nancy Kelly
... Reporter
Paul Trafas
... Ted Fleming
Cheryl Birchenfield
... Annette Fleming
Ruth Oliver
... Library Ghost
Kym Herrin
... Dream Ghost
REVIEWS
Review by anonymous (posted on 4-Jul-2005)
If you want to listen to a bunch of Saturday Night Live actors getting to a bar and trying to get women, you're in the wrong movie. We're in 1984 and this is by far the best of the 80's comedies (tie with Back to the Future). It has jokes, special effects, a bit of horror, Bill Murray and Sigourney Weaver dons a sexy red dress and attitude in the movie. On with the story... Something is wrong in the New York Library and the old woman getting some books downstairs knows it. As she get the books where they belong, she witnesses strange occurences. Ghosts are real! At the Weaver Psychology Department, Peter Venkman (Bill Murray) is testing students with electric shocks when Ray Stantz (Dan Aykroyd, who wrote the movie) bursts in with enthusiasm and convinces his friend to follow him to the library. The meet with Egon Spengler (Harold Ramis, who co-wrote with Dan) and head down the basement of the library only to go face-to-face with an ages-old ghost who forces them to get out with a horrible (but funny) transformation. Back to their studying room, the learn from the Dean that they are being evicted for their incapacities of proving their theories. Not long after that, Venkman realises they have now their opportunity to strike hard with their own business of ghost busting. He talks Ray into selling his parents' house to finance their future headquarters and equipment. The can settle down for a while. Meanwhile, Dana Barrett (splendid and sexy Sigourney Weaver) is coming back from a rehearsal with the New York Orchestra. She meets Louis Tully (Rick Moranis) and eludes him to be left peaceful in her apartment. Some groceries on her counter begin to act strangely and she hears a growl from the refrigerator. She sees a monster trying to get to her but Dana closes the door. The entire movie is a satire of getting our own business, on love itself and many other layers too deep to cover in such a review. Every little scene is packed with witty dialogue and the pacing is great. The scares are quickly dissipated with humor not long after every shock. Bill Murray stands alone as the comic force of the movie while Sigourney Weaver is the second best with her unique blend of femal force and independence that created most of the strong female type today. The Alien actress is quite talentuous when her character gets possessed by Zuul (the demon in her fridge) as she gives a great performace with one of her best roles ever. The rest of the cast is also two-thumbs-up and funny. There is never a dull moment in Ghostbusters and when the movie is over, we are left wishing the sequel would have been equally as imaginative.
---
Do you know something we don't?
Submit a correction or make a comment about this profile

Copyright ©2019 Soylent Communications