Jena Malone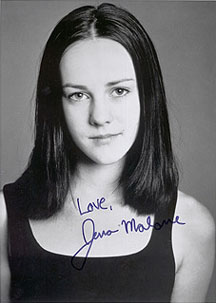 Born: 21-Nov-1984
Birthplace: Sparks, NV

Gender: Female
Race or Ethnicity: White
Occupation: Actor
Nationality: United States
Executive summary: Saved!
Raised by a single mother on welfare, Jena Malone was raised in poverty, and her family moved often. By the time she was nine, Malone says, she and her mother had lived in 27 places. Malone's mother was active in community theater, and young Jena was drawn to the stage. Her mother moved to Las Vegas, where within a few months a roommate was busted for drug possession. Malone says she initiated a heart-to-heart talk with her mother, suggesting that they move to Los Angeles, where Jena might be able to find paid work as an actress. They packed and moved, and young Malone quickly landed her first professional role as a leukemia victim on Chicago Hope.
In her first film, Anjelica Huston's Bastard Out of Carolina, 12-year-old Malone played a victim of molestation; her performance won a Screen Actors Guild Award. She followed Bastard with memorable performances in Contact and Stepmom. She was the new girl in town in Donnie Darko, and a girl with a dark secret in The Dangerous Lives of Altar Boys.
By this time, her mother was no longer poor, but was spending the family into debt. Malone says she felt pressured to take jobs she did not want -- a guest spot on the treacly Touched By An Angel, for instance -- to keep the family's budget secure. At 14, Malone sued for emancipation under California's Jackie Coogan law, charging that her mother had mismanaged her earnings, drained her college savings, and failed to pay taxes. She won in court, and the relationship between mother and daughter grew quite ugly. Malone was living on her own for several months before being pronounced legally emancipated in 2000, when she was barely 16. Her mother, who until then had also acted as Malone's manager, was forbidden by the court from interfering with her daughter's career and earnings.
Since then, Malone has continued to work as an actress, and continues to earn good reviews. In Corn, she played a pregnant teenager who encountered the frightful results of genetic engineering gone wrong. In Saved!, she played a student at a private Christian high school who found herself pregnant. She is also a part-time student at an un-named California community college, where she is studying photography.
Mother: Debbie Malone (b. 1962)
Sister: Madison Mae Malone (half, b. Aug-1997)

High School: (home-schooled)

Risk Factors: Smoking

FILMOGRAPHY AS ACTOR
The Public (31-Jan-2018)
Nocturnal Animals (2-Sep-2016)
The Neon Demon (20-May-2016)
Batman v Superman: Dawn of Justice (12-Mar-2016)
Lovesong (25-Jan-2016)
The Hunger Games: Mockingjay, Part 2 (4-Nov-2015)
The Hunger Games: Mockingjay, Part 1 (10-Nov-2014)
Inherent Vice (4-Oct-2014)
The Hunger Games: Catching Fire (11-Nov-2013)
Teenage (Apr-2013) [VOICE]
The Wait (10-Mar-2013)
Hatfields & McCoys (28-May-2012)
In Our Nature (10-Mar-2012)
For Ellen (21-Jan-2012)
Sucker Punch (24-Mar-2011) · Rocket
5 Star Day (22-Apr-2010)
The Soloist (24-Apr-2009)
The Messenger (19-Jan-2009) · Kelly
The Ruins (4-Apr-2008)
Into the Wild (1-Sep-2007)
The Go-Getter (22-Jan-2007)
Four Last Songs (18-May-2006)
Container (10-Feb-2006) [VOICE]
Pride & Prejudice (11-Sep-2005)
The Ballad of Jack and Rose (23-Jan-2005) · Red Berry
Corn (Oct-2004)
Saved (21-Jan-2004) · Mary
Cold Mountain (25-Dec-2003)
Hitler: The Rise of Evil (18-May-2003)
The United States of Leland (18-Jan-2003)
Confessions of an American Girl (16-Oct-2002)
The Badge (7-Sep-2002) · Ashley
The Dangerous Lives of Altar Boys (18-Jan-2002)
Life as a House (9-Sep-2001)
The Ballad of Lucy Whipple (18-Feb-2001)
Donnie Darko (19-Jan-2001) · Gretchen Ross
Cheaters (20-May-2000)
For Love of the Game (15-Sep-1999) · Heather
The Book of Stars (1999)
Stepmom (15-Dec-1998) · Anna Harrison
Ellen Foster (14-Dec-1997)
Hope (19-Oct-1997)
Contact (11-Jul-1997) · Young Ellie
Michael Jackson: HIStory on Film - Volume II (1997)
Hidden in America (1-Dec-1996)
Bastard Out of Carolina (24-Aug-1996)

Do you know something we don't?
Submit a correction or make a comment about this profile

Copyright ©2019 Soylent Communications