Life as a House (9-Sep-2001)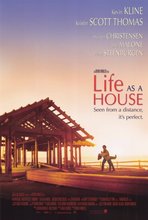 Director: Irwin Winkler
Writer: Mark Andrus
Keywords: Drama, Terminal Illness




A man diagnosed with terminal cancer decides to spend his time left on Earth righting the course of his troubled estranged son.
ABSTRACT
George Monroe, a sad sack of a man living with his dog on the southern Californian coast, is diagnosed with inoperable cancer on the same day he is fired from his thankless job at a struggling architectural firm. Inspired to make the most of his suddenly-limited life, George reconnects with drug-addled estranged son Sam, intending to set him on a better path by soliciting his help in building a long-desired seaside dream house.
REVIEWS
Review by Alorin Aranal (posted on 22-Mar-2005)
A beautiful movie of hope and redemption that unfortunately premiered just around the events of 9-11-2001, so I think this is why it was overlooked.
This was one of those films that you keep telling everyone to see and when they do they come back to you and say "I loved it."
The cast is extraordinary and genuine and believable. Hayden Christensen is a standout as the character who metamorphisizes into someone we should all be like.
If you are looking for that 'feel good movie' this is it. Enjoy!
---
Do you know something we don't?
Submit a correction or make a comment about this profile

Copyright ©2019 Soylent Communications