Albert Ayler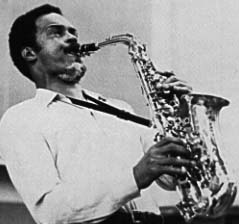 Born: 13-Jul-1936
Birthplace: Cleveland, OH
Died: 5-Nov-1970
Location of death: New York City [1]
Cause of death: Suicide
Remains: Buried, Highland Park Cemetery, Cleveland, OH

Gender: Male
Race or Ethnicity: Black
Sexual orientation: Straight
Occupation: Jazz Musician
Nationality: United States
Executive summary: Far-out sax blower
Military service: US Army (1956-61)
Born into a musical family in the suburbs of Cleveland, Albert Ayler began his training under his father, who recognized his son's natural ability at an early age. His instruction was not always willing, and on occasion his father would beat him if young Albert's motivation wavered. His father also provided his first experiences in front of an audience, the two performing duets in church with the elder Ayler on violin and Albert on alto saxophone. At the age of ten he was enrolled in the Cleveland Academy of Music, where he quickly developed beyond the typical skills of his age group. During high school he played in the school orchestra and also joined his first band, Lloyd Pearson and his Counts of Rhythm; with his friend Lloyd he would land his first professional gig, touring during the summer vactions of 1952 and 1953 as part of Little Walter Jacobs' ensemble.
After graduation Ayler joined the army, performing in a military band at Fort Knox as well as gigging in local clubs while off-duty; a switch was made from alto to tenor sax shortly after his enlistment. In 1959 he was stationed in Paris, where he began to pursue his interest in the music of John Coltrane in earnest. This would prove one of the most important periods in his musical development. The years following his discharge from service were particularly difficult: by this time Ayler had evolved from conventional bop playing into his adventurous, free-form style, and no work was to be had for someone with such an unconventional approach. A move was made to Sweden in 1962 in order to earn a living, and his first recordings were made there. At the end of the year he joined a tour of Sweden and Denmark with radical pianist Cecil Taylor, and he would subsequently return to the States with Taylor, performing at the Take Three club in New York for most of 1963.
By the end of 1963 Ayler had returned to Cleveland, at which time he began an association with Ornette Coleman. Early the following year he recorded the first session featuring his own compositions for Debut Records in Denmark. A series of highly-regarded releases on both the ESP and Impulse! labels would follow in subsequent years, one of the most remarkable being 1964's Spiritual Unity. Ayler toured and recorded with his band for the remainder of the 1960s, enlisting the help of trumpeter Don Cherry until 1965 when trumpet duties were assumed by his brother Donald, who took up the instrument specifically at Albert's request when it became evident that Cherry would no longer be available.
Towards the end of the 1960s, just as his popularity seemed to be on the rise, Ayler's fortunes began to sour. He had never been financially secure, and a series of what were perceived as commercially-motivated albums damaged his reputation, despite the quality still present in the recordings. His brother Donald, now in the grip of alcoholism and mental illness, was fired from the band in 1968. By 1970 Ayler once again found it impossible to find work. In November of that year, his body was found floating in the East River. Various rumors about the cause of his death -- ranging from drug-related issues to assassination by the police -- persisted until 1983, when his girlfriend Mary Parks revealed Ayler's expressed intention to kill himself shortly before his body was found.
---
[1] Offshore Liberty Island.

Father: Edward Ayler
Mother: Myrtle Ayler
Brother: Donald Ayler (musician, b. 1942)
Wife: Arlene Benten (m. 1964)
Daughter: Desiree
Girlfriend: Mary Parks


High School: John Adams High School, Cleveland, OH (1954)






Do you know something we don't?
Submit a correction or make a comment about this profile






Copyright ©2019 Soylent Communications