Cecil Taylor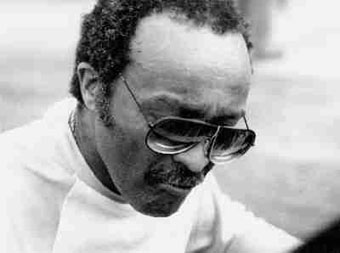 AKA Cecil Percival Taylor
Born: 15-Mar-1929 [1]
Birthplace: Long Island City, NY
Died: 5-Apr-2018
Location of death: Brooklyn, NY
Cause of death: unspecified

Gender: Male
Race or Ethnicity: Black
Sexual orientation: Matter of Dispute [2]
Occupation: Jazz Musician
Nationality: United States
Executive summary: Avant-garde jazz pianist
One of the most enduring and uncompromising figures of the jazz avant-garde, Cecil Taylor is one few musicians that has managed to largely move beyond his influences and create a new style unique to himself. From the very early years of his childhood, he began his study of music, beginning with piano at the age of five and moving from there to classical percussion. As a young adult he attended both the New York College of Music and the New England Conservatory, although in later years he would minimize the value of his academic training in comparison to the inspiration gained from the music of Duke Ellington and other Jazz pioneers.
By 1956 Taylor was living as a professional musician in New York, releasing his first recording Jazz Advance in the summer of that year. His earliest work was with more conventional swing and bop bands, but small groups he assembled himself during this period were used to begin his exploration into new, untouched territory. The further into this territory that Taylor went, the harder it was for him to find work: for mainstream jazz fans (and critics) it simply proved far too obtuse. Even few of his contemporaries acknowledged the revolutionary character of his music -- notable exceptions being Albert Ayler and Gil Evans. During the early 60s, Taylor was forced to find work overseas (particularly in Scandinavia) just to survive, and most of his early career was spent in poverty.
In time, the influence of his music -- which had abandoned most conventional notions of rhythm and melody -- began to permeate the growing free-jazz scene, aided in part by a pair of recordings released by the Blue Note label in 1966: Unit Structures and Conquistador. Regardless, by the close of the 60s he had managed to release only two more recordings, including an album made with The Jazz Composers Orchestra, and by the early 1970s he was primarily making his living as an educator at various colleges and universities.
The 1980s at last saw the music scene catching up with Cecil Taylor's innovative style, and a steady outflow of recorded work has continued since. With avenues for his creative work finally made available to him, Taylor expanded his approach into various fields and contexts, ranging from entirely solo piano, duos with other performers (such as drummer Max Roach), ensembles of various sizes (always including his long-standing collaborator Jimmy Lyons, until Lyons' death in 1986), and frequently incorporating dance and spoken word.
---
[1] David Glen Such, Avant-Garde Jazz Musicians (1993). Leonard Lyons, The Great Jazz Pianists (1989), gives March 15, 1933 as his date of birth, as does Current Biography Yearbook (1986). Other less reliable printed sources stipulate March 25, 1929. In any event there is great uncertainty regarding this date.

[2] Andrew Velez, "Jazz Variations", The Advocate, 13 February 2001, calls Taylor a "gay iconoclastic keyboard man." See also John Gennari, Blowin' Hot and Cool: Jazz and Its Critics (2006), page 355: "One of the many firestorms Stanley Crouch has ignited in the New York jazz world came in 1982 when he outed avant-garde pianist Cecil Taylor as gay, suggesting that his sexual orientation explained why Taylor couldn't swing. Taylor later recorded a percussion-and-verse diatribe against Crouch."

Father: Percy Taylor
Mother: Almeida Ragland (d. cancer)


Conservatory: New England Conservatory of Music
Teacher: University of Wisconsin (1970-72)


MacArthur Fellowship
Guggenheim Fellowship 1973
NEA Jazz Master 1990






Do you know something we don't?
Submit a correction or make a comment about this profile






Copyright ©2019 Soylent Communications