Gina Lollobrigida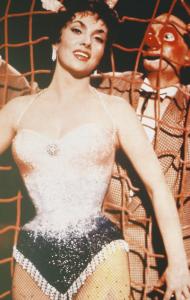 AKA Luigina Lollobrigida
Born: 4-Jul-1927 [1]
Birthplace: Subiaco, Italy

Gender: Female
Race or Ethnicity: White
Sexual orientation: Straight
Occupation: Actor, Model, Artist
Nationality: Italy
Executive summary: Beautiful but dangerous
Gina Lollobrigida was a wildly popular Italian actress and sex symbol of the 1950s and '60s. She was born into a working-class family, and raised in an unpretentious suburb of Rome. She was discovered, legend has it, by a stranger on the street, who offered her work as an extra in films.
Her first film was 1946's Aquila nera (The Black Eagle) with Rossano Brazzi, and her first leading role was in the opera Pagliacci, with Lollobrigida's singing dubbed. Her first major success as a star was in Miss Italia, a backstage drama set at a beauty contest and released in America as My Beautiful Daughter. She was an international sensation after the swashbuckling comedy Fanfan la Tulipe (Fan-Fan the Tulip). When she starred in La Donna pił Bella del Mondo (The World's Most Beautiful Woman) in 1956, the title was perfectly plausible.
Lollobrigida was lured across the Atlantic to star in several English-language films. She came between high-flying Burt Lancaster and Tony Curtis in the circus melodrama Trapeze, lured Yul Brynner and came to God in the Biblical epic Solomon and Sheba, and she was Rock Hudson's never-contented mistress in the lightweight comedy Come September. She was at her best as Humphrey Bogart's wife in the odd but endearing noiresque comedy Beat the Devil.
She retired from acting in the mid-1970s, but has occasionally returned to the camera when the price was right, even taking a regular role in the prime time soap opera Falcon Crest in the mid-1980s. She has used her celebrity to sell cosmetics, published several books of her photography, and created sculptures which have been displayed without snickering in museums. In the mid-1970s she financed and directed Ritratto di Fidel (Portrait of Fidel), a documentary about Fidel Castro that included a rare interview with the Cuban dictator, fueling persistent rumors that a romance was sparked. In 1999 she ran for a seat in the European Union Parliament, stressing humanitarian issues, but lost the election.
---
[1] As often happened with early-era starlets, Lollobrigida's birth year crept forward over her career. Some sources list her as being born in 1928 or 1929, but the earliest and presumably most accurate accounts list her birth in 1927.

Father: Giovanni Lollobrigida (carpenter-furniture maker)
Mother: Giuseppina Mercuri
Sister: Fernanda Lollobrigida
Sister: Guiliana Lollobrigida
Sister: Maria Lollobrigida
Husband: Drago Milko Skofic (Yugoslavian physician, dated 1947-49, m. 15-Jan-1949, sep. 1966, div. 1971, one son)
Son: Milko Skofic Jr.
Boyfriend: Yul Brynner (actor, rumored affair, 1959)
Boyfriend: Frank Sinatra (actor-singer, rumored affair, 1958-59)
Boyfriend: Christiaan Barnard (surgeon, affair 1960s)
Boyfriend: Fidel Castro (Cuban dictator, rumored affair, 1974)
Boyfriend: Javier Rigau Rafols (Spanish businessman, b. 1961, dated 1984-2006, fiancé 2006)


University: Rome Academy of Fine Arts (dropped out)


UNICEF
French Legion of Honor
Golden Globe World Film Favorite
Wedding: David Gest and Liza Minnelli (2002)


FILMOGRAPHY AS ACTOR
A Hundred and One Nights of Simon Cinema (25-Jan-1995)
Deceptions (27-May-1985)
King, Queen, Knave (8-Jun-1972)
Bad Man's River (11-Feb-1972) · Alicia
Buona Sera, Mrs. Campbell (Dec-1968)
The Private Navy of Sgt. O'Farrell (8-May-1968)
The Young Rebel (3-Nov-1967)
Hotel Paradiso (14-Oct-1966)
Strange Bedfellows (10-Feb-1965) · Toni
The Dolls (27-Jan-1965)
Woman of Straw (27-Aug-1964) · Maria Marcello
Imperial Venus (1963)
Come September (9-Aug-1961) · Lisa Fellini
Go Naked in the World (10-Mar-1961)
Solomon and Sheba (24-Dec-1959) · Sheba
Never So Few (7-Dec-1959) · Carla Vesari
Where the Hot Wind Blows (25-Jan-1959) · Marietta
Fast and Sexy (19-Apr-1958)
The Hunchback of Notre Dame (19-Dec-1956)
Trapeze (30-May-1956) · Lola
Beautiful But Dangerous (21-Oct-1955)
Woman of Rome (27-Oct-1954)
Crossed Swords (28-Jul-1954)
Bread, Love and Dreams (22-Dec-1953)
Beat the Devil (24-Nov-1953) · Maria Dannreuther
The Unfaithfuls (23-Jan-1953)
Beauties of the Night (Sep-1952)
Fan-Fan the Tulip (21-Mar-1952)


Official Website:
http://www.lollobrigida.com/




Requires Flash 7+ and Javascript.



Do you know something we don't?
Submit a correction or make a comment about this profile






Copyright ©2019 Soylent Communications