Alan Keyes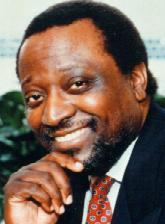 AKA Alan Lee Keyes
Born: 7-Aug-1950
Birthplace: New York City

Gender: Male
Religion: Roman Catholic
Race or Ethnicity: Black
Sexual orientation: Straight
Occupation: Radio Personality, Pundit, Politician
Party Affiliation: Republican
Nationality: United States
Executive summary: Illinois carpetbagger
At Harvard, Alan Keyes roomed with Bill Kristol, who later ran his unsuccessful 1988 Senate campaign. Keyes tried and failed once again in 1992. After having apparently concluded that a majority of Maryland voters didn't want Keyes for their Senator, the candidate instead opted to run for President of the United States in 1996 and again in 2000. Both times he failed to secure the Republican Party's nomination.
The Maryland resident ran against Democratic Senate candidate Barack Obama in Illinois in 2004. This despite comments Keyes made during a 17 March 2000 appearance on the Fox News Channel about Hillary Clinton's carpetbagging in New York:
"I deeply resent the destruction of Federalism represented by Hillary Clinton's willingness to go into a state she doesn't even live in and pretend to represent people there, so I certainly wouldn't imitate it."
Which is mighty big talk, considering that it comes from an out-of-state politico actively working to thwart Clinton's Senate campaign. Keyes was pissed off that Hillary would pretend to know what's best for the people of New York. Au contraire -- it was the Maryland state resident who actually knew what was best for the people of New York. Which is why he was raising money for and speaking on behalf of the Emergency Committee to Stop Hillary Rodham Clinton.
Maybe Keyes' change of heart in 2004 has something to do with his attempt to garner the GOP's 1996 Presidential nomination. According to contemporaneous coverage in The New Republic, he apparently burned a lot of bridges:
It's a little odd that there's no one on Keyes's campaign who also worked on his 1992 Senate bid. Keyes is hopeful that "once we get to Maryland we'll see some of the old faces come around." That might not happen. "He's doing what?" says Susan Saum-Wicklein, Keyes's 1992 campaign manager, when told of his presidential run. "Absolutely not," says Ed Goetz, Keyes's 1992 pollster, when asked if he'll support Keyes this time around. "There are much, much better candidates." Sylvia Pearson, whose computer firm L&E Systems was hired to do some of Keyes's direct mail fund-raising, says it is "very safe to say" she won't be a supporter. It is also hard to find grass-roots support for Keyes in Maryland, either among Republicans -- "I don't see this campaign as a Maryland-based campaign," says Maryland Republican Party Chair Joyce Lyons Terhes [...] "When he decided to use campaign funds for his salary, that discouraged a lot of Republicans, and even Maryland voters," Terhes explains, offering one reason for Keyes's lack of support in Maryland. His most recent Senate bid never recovered from the revelation that he was paying himself a senator's salary of $8,500 a month from campaign funds.
In another recent policy reversal, on 16 August 2004 Keyes indicated his support for slavery reparations to the editorial staff of the Chicago Defender: "I think a cogent argument could be made for reparations in principle. [...] I think you would certainly have to say that people were deprived of not only their liberty. [...] What we forget is that enslaved black Americans for instance were deprived of any opportunity to build wealth the way people would ordinarily build wealth from their neighbor."
Just two years before, Keyes loudly denounced the idea on his television talk show and in his syndicated newspaper column. Back then, Keyes believed that the point of reparations had been rendered moot since they had had already been paid, in a commodity far more precious than money: "The truth of the Civil War is that the terrible price for American slavery has been paid, once for all, by the American people's deliberate acceptance of their duty to pay it when, in God's providence, Southern intransigence brought it due."
Keyes worked in the State Department from 1978 to 1983, eventually joining the policy planning staff led by Paul Wolfowitz. He met his wife Jocelyn in Bombay, India where he was serving as vice consul at the U.S. Embassy.
A far right conservative, Keyes wants to outlaw abortion (except where the mother's life is in danger), and ban homosexuals from serving in the military. He wants to eliminate sex ed from public schools (because it "encourages promiscuity") and introduce organized prayer. Keyes has consistently decried the "phony doctrine of separation of church and state".
Turning to fiscal policy, Keyes hopes someday to dismantle the welfare system and abolish the federal income tax (which he calls a "slave tax") by replacing it with a national sales tax. In one of the 1999 Republican debates, Keyes derided governor George W. Bush for proposing just to nibble around the edges of income tax reform:
"Mr. Bush's plan may be this, or it may be that. It has us running to the calculator to figure out how much your family of four is going to get. So, what are we supposed to do? Get down on our knees and thank Massa Bush now because he's going to let us keep a little bit more of our money?"
According to the People for the American Way, Keyes once declared: "Hitler and his supporters were Satanists and homosexuals. That's just a true statement. [...] The notion that is involved in homosexuality, the unbridled sort of satisfaction of human passions [leads to] totalitarianism, Nazism, and Communism."

On the plus side, Keyes also opposed joining the World Trade Organization and believes it should be scuttled. And he opposes gun control.

An opera lover who is fluent in German, Greek, Italian, Russian, and Spanish, Keyes' favorite TV show is classic Star Trek, and his favorite movie is Star Trek: Insurrection.

Father: (US Army sergeant)
Wife: Jocelyn Marcel Keyes (m. 1981, Indian)
Son: Francis (b. 1982)
Daughter: Maya Jeane Marcel-Keyes (b. 1986, lesbian)
Son: Andrew (b. 1980)


High School: Robert G. Cole High School, San Antonio, TX (1968)
University: Cornell University
University: BA Government, Harvard University (1972)
University: PhD Government, Harvard University (1979)


US Assistant Secretary of State for International Organization Affairs (1985-87)
US Ambassador United Nations Economic and Social Council (1983-85)
US State Department Policy Planning Staff (1981-83)
US State Department Zimbabwe desk officer (1980-81)
US State Department Consular Officer, Bombay, India (1979-80)
American Enterprise Institute Resident Scholar
Black America's PAC Founder, Chairman of the Board
Canadian Institute for Jewish Research International Board
Catholic League for Religious and Civil Rights Board of Advisors
Center for Security Policy
Council for National Policy
Emergency Committee to Defeat Al Gore
Emergency Committee to Stop Hillary Rodham Clinton
Thomas More Law Center Advisory Board
World Freedom Foundation Board of Directors
Birther Movement
Draft Deferment: Vietnam
Hunger Strike (29-Feb-1996), six days
Trespassing arrested trying to crash a GOP debate at WSB-TV in Atlanta, (3-Mar-1996), no charges filed
Trespassing arrested at Notre Dame University (8-May-2009)
Risk Factors: Homophobia


FILMOGRAPHY AS ACTOR
Fuck (7-Nov-2005) · Himself


Official Website:
http://www.renewamerica.us/




Requires Flash 7+ and Javascript.



Do you know something we don't?
Submit a correction or make a comment about this profile






Copyright ©2019 Soylent Communications