Hillary Clinton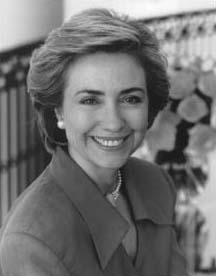 AKA Hillary Diane Rodham
Born: 26-Oct-1947
Birthplace: Chicago, IL [1]

Gender: Female
Religion: Methodist
Race or Ethnicity: White
Sexual orientation: Straight
Occupation: Politician, First Lady
Party Affiliation: Democratic
Nationality: United States
Executive summary: US Secretary of State, 2009-13
Hillary Rodham was a Brownie, a Girl Scout, a good student, and class President in her high school. As a young woman she was a Republican, volunteering on Barry Goldwater's 1964 campaign for President. She had a change of heart after hearing a speech from Martin Luther King, and by 1972 she was working on George McGovern's Presidential campaign.
After getting her law degree, she worked briefly for the Children's Defense Fund, then came to Washington DC, where she worked on the legal staff advising the Judiciary Committee of the House of Representatives, looking into impeaching Richard M. Nixon. She married a man with Presidential ambitions, Bill Clinton, and when he was elected Governor of Arkansas she became the state's First Lady, but continued working as a lawyer.
When her husband was elected President in 1992, she became the first US First Lady who had a post-graduate degree and a professional career of her own. She was the first Presidential wife with an office in the West Wing of the White House, alongside the offices of the President's senior staff, and she was, by all accounts, much more involved in the intricacies of governing than previous First Ladies. For being a relatively modern, unshackled woman instead of a stay-at-home mom, she became a ferociously hated woman in conservative circles.
First came the shocking revelation that, when working as a lawyer, she had used her maiden name, Rodham. A series of allegations began with rumors aired on Rush Limbaugh's radio program, linking Clinton to the firing of employees of the White House travel office, then uncovering $100,000 in profits made in her brief late-1970s ownership of a commodities trading account, and smaller gains from a questionable real estate investment. In increasing bizarre claims, Clinton has been whispered to be a lesbian and/or connected to the Russian mob, and to have an "open marriage" with frequent liaisons. According to elaborate but utterly unsubstantiated conspiracy theories, she was a drug runner, and Vince Foster's suicide was actually a murder, with Clinton herself perhaps pulling the trigger. Millions of dollars were spent investigating the some of these accusations, but wrongdoing on Clinton's part was never shown.
Clinton has said that her proudest accomplishment as First Lady was her involvement in pushing the Adoption and Safe Families Act of 1997, which altered and streamlined the federal regulations regarding foster care and adoption of handicapped children. Her most public failure came after being appointed to head the task force that, in 1993, proposed a complicated mish-mash of mandated employer-paid health care and regulated HMOs as a health care plan, which was soundly rejected by Congress.
In 2000 she became the first former First Lady to be elected to public office, when she won Daniel Patrick Moynihan's seat in the Senate, representing New York. In 2006 she won a second Senate term with about 2/3 of the vote, and in 2008 she ran for the Democratic Party's Presidential nomination, losing to Barack Obama. She left the Senate in 2009 to serve as Obama's Secretary of State, and is running again for President in 2016. She remains second only to Obama as the name most likely to rouse the rabble on conservative radio talk shows, and a small bookstore could be stocked with books warning of her "radical agenda" and alleged connections to communists, criminals, and conspiracies.
In reality, there is little in Clinton's political positions that could be described as pointedly liberal. She is a member of the Democratic Leadership Council, the group that urges Democrats to take less progressive political positions. She supports background checks on gun sales, but often speaks of her respect for the Second Amendment and the rights of lawful gun owners to own and use guns, and she has both supported and later opposed a national registry of gun owners. In the Senate, she proposed legislation to criminalize flag-burning, and co-authored a bill to protect America's youth from the alleged dangers of violent video games. She supported the 2003 invasion of Iraq, opposed any timetable for ending the subsequent occupation, and maintained that torture is sometimes appropriate -- though she changed her position on that shortly after announcing her candidacy for Presidency in 2007. In 2010 she responded favorably to a proposal from Sen. Joseph Lieberman (I-Connecticut), to strip American citizenship from alleged terrorists, not when tried and found guilty but immediately upon arrest for terrorism-related charges. "United States citizenship is a privilege", she explained to the New York Times. "It is not a right."
---
[1] Edgewater Hospital, Chicago, IL.

Father: Hugh Ellsworth Rodham (owned a fabric store, d. 7-Apr-1993)
Mother: Dorothy Emma Howell Rodham (homemaker, b. 1919, m. 1942, d. 1-Nov-2011 illness)
Brother: Hugh E. Rodham, Jr. (attorney, b. 1950)
Brother: Anthony Rodham (insurance salesman, "Tony", b. 1954, d. 7-Jun-2019)
Husband: Bill Clinton (dated 1971-75, m. 11-Oct-1975, one daughter)
Daughter: Chelsea Clinton (b. 27-Feb-1980)


High School: Maine Township High School East, Park Ridge, IL (1965)
University: BA Political Science, Wellesley College (1969)
Law School: JD, Yale Law School (1973)
Scholar: Yale Child Study Center (1973-74)
Teacher: University of Arkansas Law School, Fayetteville


US Secretary of State (2009-13)
US Senator, New York (2001-09)
Member of the Board of Wal-Mart (1986-92)
Arkansas Bar Association 1973
Children's Defense Fund
College Republicans Wellesley College chapter president
Democratic Leadership Council
Hillary Clinton for President Candidate
Kennedy Center Honorary Chair
National Constitution Center National Honorary Committee
Obama for America
Tragedy Assistance Program for Survivors Honorary Board of Directors
Vital Voices Global Partnership Honorary Chair, Board of Directors
Youth for Goldwater Park Ridge, IL
Watergate Scandal
Whitewater Scandal
Yale Law Journal Board of Editors
Grammy 1997 for It Takes a Village (spoken word)
National Women's Hall of Fame 8-Oct-2005
Margaret Sanger Award 2009
Defamation according to lawsuit filed by Gennifer Flowers (1999), case dismissed
New Democrat Movement Senate New Democrat Coalition
Secret Service Codename Evergreen
Funeral: Diana, Princess of Wales (1997)
Funeral: Richard Nixon (1994)
Funeral: Katharine Graham (2001)
Funeral: Ronald Reagan (2004)
Wedding: Al Reynolds and Star Jones (2004)
Wedding: Donald Trump and Melania Knauss (2005)
Funeral: Tim Russert (2008)
Funeral: Ted Kennedy (2009)
Wedding: Chelsea Clinton and Marc Mezvinsky (2010)
Funeral: Steve Jobs (2011)
Funeral: Nelson Mandela (2013)
Fainted during a speech, Buffalo, NY (31-Jan-2005)
Fainted (Dec-2012)
Welsh Ancestry


FILMOGRAPHY AS ACTOR
Fahrenheit 11/9 (6-Sep-2018) · Herself
Won't You Be My Neighbor? (19-Jan-2018) · Herself
Michael Moore in TrumpLand (18-Oct-2016) · Herself
The Red Pill (7-Oct-2016) · Herself
13th (30-Sep-2016) · Herself
Zero Days (11-Feb-2016) · Herself
Weiner (24-Jan-2016) · Herself
Ethos (10-Feb-2011) · Herself
By the People: The Election of Barack Obama (7-Aug-2009) · Herself
Darfur Now (9-Sep-2007) · Herself
The War Room (14-Sep-1993) · Herself


Official Website:
https://www.hillaryclinton.com/

Rotten Library Page:
Hillary Clinton

Author of books:
It Takes a Village, And Other Lessons Children Teach Us (1996, non-fiction)
Dear Socks, Dear Buddy: Kids' Letters to the First Pets (1998, children's book)
An Invitation to the White House: At Home with History (2000, non-fiction)
Living History (2003, autobiography)





Requires Flash 7+ and Javascript.



Do you know something we don't?
Submit a correction or make a comment about this profile






Copyright ©2019 Soylent Communications