Dark City (27-Feb-1998)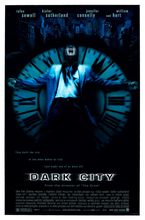 Director: Alex Proyas
Writers: Alex Proyas; Lem Dobbs; David S. Goyer
Music by: Trevor Jones
Producers: Andrew Mason; Alex Proyas
Keywords: Sci-Fi, Amnesia, Dystopian




John Murdoch wakes up in a hotel room bathtub, finding himself wanted for six murders, an unfamiliar wife, and memories that don't seem to jive with "reality." Breathtaking visuals of a stylish dystopia. One of the best 1990s science fiction films, with themes later covered by The Matrix (1999). Received a Hugo nomination for Best Dramatic Presentation.
CAST
Rufus Sewell
... John Murdoch
Kiefer Sutherland
... Dr. Daniel Schreber
Jennifer Connelly
... Emma Murdoch
Ian Richardson
... Mr. Book
and
William Hurt
... Insp. Frank Bumstead
Colin Friels
... Walenski
Mitchell Butel
... Husselbeck
Frank Gallacher
... Stromboli
Bruce Spence
... Mr. Wall
Melissa George
... May
John Bluthal
... Karl Harris
Richard O'Brien
... Mr. Hand
Ritchie Singer
... Hotel Manager / Vendor
Justin Monjo
... Taxi Driver
Nicholas Bell
... Mr. Rain
Satya Gumbert
... Mr. Sleep
Noah Gumbert
... Mr. Sleep Filming Double
Frederick Miragliotta
... Mr. Quick
Peter Sommerfeld
... Stranger
Timothy Jones
... Stranger
Jeanette Cronin
... Stranger
Paul Livingston
... Assistant Stranger
Michael Lake
... Assistant Stranger
David Wenham
... Schreber's Assistant
Alan Cinis
... Automat Cop
Bill Highfield
... Automat Cop
Terry Bader
... Mr. Goodwin
Rosemary Traynor
... Mrs. Goodwin
Edward Grant II
... Hotel Manager
Maureen O'Shaughnessy
... Kate Walenski
Deobie Oparer
... Train Passenger
Marcus Johnson
... Station Master
Doug Scroope
... Desk Sergeant
Cinzia Coassin
... Waitress
Tyson McCarthy
... Murdoch -- Age 10
Luke Styles
... Murdoch -- Teenager
Anthony Kierann
... Murdoch's Dad
Laura Keneally
... Murdoch's Mum
Natalie Bollard
... Naked Woman
Eliot Paton
... Matthew Goodwin
Naomi van der Velden
... Jane Goodwin
Peter Callan
... Taxi Driver
Mark Hedges
... Emma's Lover
Darren Gilshenan
... Fingerprint Cop
Ray Rizzo
... Policeman
Bill Rutherford
... Police Officer
Marin Mimica
... Hotel Lobby Cop
Anthony Pace
... Young Karl Harris
Tony Mosley
... Four Piece Band
Glenford Richards
... Four Piece Band
Stanley Steer
... Four Piece Band
Greg Tell
... Four Piece Band
William Upjohn
... Forensics Cop
REVIEWS
Review by anonymous (posted on 14-May-2006)
This movie is one of the best sci fi genre movies ever made. It is not the traditional space ships and aliens fare. Instead, as a viewer, you get the feeling you are observing someone's private nightmare. It is very well done, from the casting, the acting, the cinematography, the screenplay, etc. This ranks high on my list for its artsy factor too. The cinematography gives us many wonderful examples of German expressionism style distorted buildings. If I had three thumbs, I'd give it three thumbs up.
---
Do you know something we don't?
Submit a correction or make a comment about this profile

Copyright ©2019 Soylent Communications