The Greatest Story Ever Told (15-Feb-1965)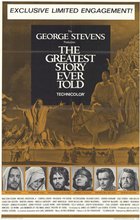 Director: George Stevens
Writers: James Lee Barrett; George Stevens
Based on a book: The Greatest Story Ever Told by Fulton Oursler
Music: Alfred Newman
Keywords: Drama, Bible, Biography




The Life, death, and resurrection of Jesus Christ told in epic proportions. Adequate telling though slow; excessive cameo appearances intrude. Nominated for 5 Oscars, including Best Cinematography, Best Costume Design, and Best Score. Various edits for this film exist, the first at 3:20, another common version at 3:15, and a shorter version under 3:00 which is much too butchered. Best viewed on the largest screen possible.
CAST
REVIEWS
Review by anonymous (posted on 29-Jun-2006)
Sure, it flopped at the box office at the time, but, in my opinion, it's the greatest of all Hollywood's "Jesus" flix. It's chock full of the leading stars and character actors of the era. The only actor missing was "Lassie". John Wayne's portrayal of the gladiator at Calvary is a hoot, and sure to elicit a few giggles. Despite this one bad casting choice, George Stevens' production is not bad at all. It's not holiday time at my house without watching TGSET at least once!
---
Review by Russ Asson (posted on 14-Mar-2005)
I had the intention of buying this movie for my family for Easter, but thought that because it was so old that I might have trouble finding it. Nope, and thank Goodness. Wal-Mart has a digitally remastered and restored CD set for $14.88. This is a magnificent movie, one of the grand scale movies very much in the tradition of The Ten Commandments and Ben Hur. It cost $20M to make in 1965, at the time a fabulous sum. In today's dollars that would be over $112M! They just don't make movies like this any more -- they can't. The cast is so extensive that it's astounding that so many talented people could be in one production. There are scenes in this movie that will give you goosebumps and that you'll remember all of your life. I do. In my mind's eye I can see and hear the exchange between John the Baptist (played with authority by Charlton Heston) and Herod. The raising of Lazarus will also stick in your mind's eye. This is a family friendly movie, although this remastered version (which has several scenes that didn't appear in the theatrical version) has a run time of nearly 3 hours and 20 minutes. This is a movie that you will treasure.
---
Do you know something we don't?
Submit a correction or make a comment about this profile

Copyright ©2019 Soylent Communications