The Beast from 20,000 Fathoms (13-Jun-1953)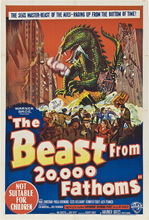 Director: Eugene Lourie
Writers: Lou Morheim; Fred Freiberger
From short story: The Fog Horn by Ray Bradbury
Music by: David Buttolph
Producers: Hal Chester; Jack Dietz
Keywords: Sci-Fi/Horror, Dinosaurs, Giant Monster, New York




Atomic testing awakens a frozen dinosaur creature, but it takes a while for scientists to be convinced. All doubt is removed when it ravages New York harbor. Outstanding stop-motion effects by Ray Harryhausen. One of the best monster films of the 1950s, influencing all that came after.
| Name | Occupation | Birth | Death | Known for |
| --- | --- | --- | --- | --- |
| Steve Brodie | Actor | 21-Nov-1919 | 9-Jan-1992 | The Life and Legend of Wyatt Earp |
| King Donovan | Actor | 25-Jan-1918 | 30-Jun-1987 | Character actor husband of Imogene Coca |
| Ross Elliott | Actor | 18-Jun-1917 | 12-Aug-1999 | Sheriff Abbott on The Virginian |
| Frank Ferguson | Actor | 25-Dec-1899 | 12-Sep-1978 | Eli Carson on Peyton Place |
| Merv Griffin | Talk Show Host | 6-Jul-1925 | 12-Aug-2007 | The Merv Griffin Show and Jeopardy |
| Cecil Kellaway | Actor | 22-Aug-1893 | 28-Feb-1973 | Guess Who's Coming to Dinner |
| Paula Raymond | Actor | 23-Nov-1924 | 31-Dec-2003 | The Beast from 20,000 Fathoms |
| Kenneth Tobey | Actor | 23-Mar-1917 | 22-Dec-2002 | Chuck Martin on Whirlybirds |
| Lee Van Cleef | Actor | 9-Jan-1925 | 16-Dec-1989 | The Good, The Bad and the Ugly |
| Donald Woods | Actor | 2-Dec-1906 | 5-Mar-1998 | The Beast from 20,000 Fathoms |
CAST
REVIEWS
Review by Hal Bennett (posted on 15-Dec-2007)
Since I haven't seen this movie is probably over forty years, I can only give you my impression of it. But I remember the impact it had on me and presumably upon others who saw it. As far as I am concerned, it was a much, much better movie than those other representative movies of the same genre, the Japanese Godzilla movies. "The Beast from 20,000 Fathoms," as I remember, emerges from deep beneath the North Pacific or North Atlantic Ocean, released from its age-old imprisonment, I believe, by an atomic explosion. It is seen first by mariners on the high seas, and winds up at a huge amusement park in the United States. The scene that remains with me is the monster, tail waving, silhouetted in front of the burning roller coaster in the background. I have always personally ranked this as a monster movie nearly as good as the original (1933) King Kong movie. There is something about "The Beast from 20,000 Fathoms" that zeroes in on the raw base fear we as humans probably have of the primeval dragon, as described by Carl Sagan in THE DRAGONS OF EDEN.
---
Do you know something we don't?
Submit a correction or make a comment about this profile

Copyright ©2019 Soylent Communications