Merv Griffin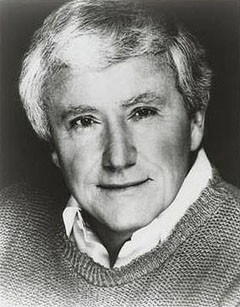 AKA Mervyn Edward Griffin Jr.
Born: 6-Jul-1925
Birthplace: San Mateo, CA
Died: 12-Aug-2007
Location of death: Los Angeles, CA
Cause of death: Cancer - Prostate
Remains: Buried, Westwood Memorial Park, Los Angeles, CA

Gender: Male
Race or Ethnicity: White
Sexual orientation: Bisexual [1]
Occupation: Talk Show Host, Business
Party Affiliation: Republican
Nationality: United States
Executive summary: The Merv Griffin Show and Jeopardy
Merv Griffin started singing in his church choir as a boy, and by his teens was earning extra money as a church organist. By the mid-1940s, he was an on-air pianist and singer, performing as "the mystery voice". In 1948, Griffin joined Freddy Martin & His Orchestra, and he sang their #1 hit from 1950, "I've Got A Lovely Bunch of Coconuts". That got Griffin into the movies, and his big film, if you can find it, was 1953's So This Is Love. But he hated making movies, and bought his contract back from Warner Brothers. "I couldn't stand doing other people's words, waiting for the next shot", Griffin says. "That just bored the shit out of me".
It was TV that beckoned Griffin. He was a regular, as a singer, on CBS's weekday Morning Show and The Robert Q. Lewis Show, a weekday variety extravaganza. Griffin started his talk show career filling in for Jack Paar, and it was quickly evident that he had the knack for schmooze and banter.
He started in the game show business by filling in for Bill Cullen as host of The Price is Right in 1959. He was the full-time host of other game shows in the late '50s and early '60s, including Play Your Hunch and Keep Talking. Griffin had always been a "puzzle freak", and in 1964 he devised his own game show where contestants had to come up with the questions instead of the answers. Jeopardy started on NBC in 1964, with Griffin not as host but as producer. Griffin also created Wheel of Fortune in 1975. Wheel of Fortune and Jeopardy are the two most successful game shows ever on TV.
As a talk show host, the first Merv Griffin Show ran during the daytime on NBC in 1962 and '63, but lasted only that one season. He was back with another Merv Griffin Show for Westinghouse in 1965, which drew better numbers and critical acclaim for sometimes booking controversial guests such as George Carlin, Dick Gregory, Richard Pryor, and intellectuals you would see only on PBS today, for instance R. Buckminster Fuller, Norman Mailer, or Bertrand Russell. Russell once used Griffin's show to condemn the growing U.S. war in Vietnam, and Griffin was widely criticized for letting Russell have his say.
In 1969, CBS offered Griffin a late-night show opposite Johnny Carson, a move which proved disastrous. The network was uncomfortable with the guests Griffin wanted, who often spoke out against the war and on other taboo topics. When activist Abbie Hoffman was Griffin's guest in April 1970, CBS actually blurred Hoffman out so viewers couldn't see his shirt's American flag pattern.
Griffin complained loudly, and secretly signed a contract with Metromedia that would give him a syndicated daytime talk show again -- beginning as soon as CBS fired him. They fired him within a few months, and Griffin's new show began on the following Monday, and ran until 1986. It wasn't low ratings that ended it, either. Griffin just wanted to kick back, and by then his game shows were making more money than he could ever spend. He became one of the wealthiest entertainers on the planet.
Griffin owned the Mount Mervillian winery, several swanky hotels (Robert Downey, Jr. was once arrested in one), and Merv Griffin Events, a company that specializes in coordinating large-scale fashion events for companies like Gucci and Tommy Hilfiger. He was a heavy donor to Republican causes, and publicly blasted CBS for making The Reagans. His tombstone, at his request, is engraved "I will not be right back after this message".
---
[1] John Colapinto, "Dear Mister Fantasy", Rolling Stone, 1 June 2006. Sued for $200M in palimony in 1991 by Brent Plott, a case dismissed with prejudice. Sued again by secretary/bodyguard Denny Terrio for sexual harassment, also dismissed. "Merv does not refute the underlying implication in both cases: that he is gay... He parries any direct questions about his sexual orientation. 'You're asking an eighty-year-old man about his sexuality right now... Get a life!'"

Father: Mervyn Edward Griffin Sr. (stockbroker)
Mother: Rita
Sister: Barbara Griffin Eyre
Wife: Julann Elizabeth Wright Griffin (m. 18-May-1958, div. 1976, one son)
Son: Anthony Patrick Griffin (b. 8-Dec-1959)


High School: San Mateo High School, San Mateo, CA
University: University of San Francisco


Dreier for Congress Committee
Young Musicians Foundation Celebrity Director
Tau Kappa Epsilon Fraternity
Broadcasting and Cable Hall of Fame
Gaming Hall of Fame 2002
Hollywood Walk of Fame 1541 Vine Street (television)
Sexual Harassment
Sued by Donald Trump $750 million (Mar-1988)
Wedding: Larry Fortensky and Elizabeth Taylor (1991)
Funeral: Ronald Reagan (2004) Pall Bearer
Risk Factors: Obesity, Prostate Cancer


TELEVISION
The Merv Griffin Show Host
Jeopardy! Producer
Wheel of Fortune Producer


FILMOGRAPHY AS ACTOR
Jim & Andy: The Great Beyond (5-Sep-2017) · Himself
Harry Belafonte: Sing Your Song (Jan-2011) · Himself
Alice in Wonderland (9-Dec-1985)
The Lonely Guy (27-Jan-1984) · Himself
The Man with Two Brains (3-Jun-1983) · Himself
The Funny Farm (18-Feb-1983) [VOICE]
Slapstick (of Another Kind) (1982)
One Trick Pony (3-Oct-1980)
The Seduction of Joe Tynan (17-Aug-1979) · Himself
Two Minute Warning (12-Nov-1976) · Himself
Hello Down There (25-Jun-1969) · Himself
Phantom of the Rue Morgue (27-Mar-1954) · Georges Brevert
The Boy from Oklahoma (27-Feb-1954)
So This Is Love (15-Jul-1953)
The Beast from 20,000 Fathoms (13-Jun-1953) [VOICE]
Cattle Town (6-Sep-1952)


Author of books:
Merv: An Autobiography (1980, memoir)
From Where I Sit (1981, memoir)





Requires Flash 7+ and Javascript.



Do you know something we don't?
Submit a correction or make a comment about this profile






Copyright ©2019 Soylent Communications