Alex Jones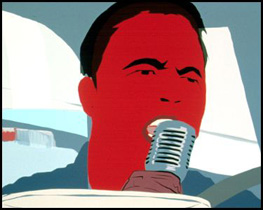 AKA Alexander Emerick Jones
Born: 11-Feb-1974
Birthplace: Rockwell, TX

Gender: Male
Race or Ethnicity: White
Sexual orientation: Straight
Occupation: Radio Personality
Party Affiliation: See Note [1]
Nationality: United States
Executive summary: Conspiracy theorist for a buck
Alex Jones is a man with a mission. The man is pissed off because Americans refuse to wake up and recognize the dire straits we're in. He urges his listeners to face the shadowy organizations which are secretly finalizing their takeover of our government. You can catch a distillation of his basic message in the rotoscoped Richard Linklater cartoon feature Waking Life. A digitally-animated Jones cruises the city streets in a sedan with roof-mounted speakers while the public address system blares his angry diatribe.
In the real world, Jones is nothing more than your typical irascible, bombastic radio shock jock. The only difference is that Jones replaces the ordinary vulgarities and titillations with preposterous conspiracy theories. His method is to mix these in with legitimate issues (like encroaching government surveillance and the latest bioethical controversies), in order to maintain a veneer of credibility. It's clearly just his shtick. He has a proven track record of latching onto trendy new lunacies time and again in hopes of keeping his audience's attention. Are there RFID chips hidden in American currency? Is FEMA making plans to round up the entire civilian population? Jones' website says so.
Of course, nobody genuinely believes all the crazy notions Jones professes. No one can be that credulous. (Okay, you're right: David Icke -- but that guy has a documented history of mental problems. Incidentally, Jones believes that Icke's ravings only serve to further the aims of the global elites: "He's either a smart opportunist con man, or he's totally insane, or he's working for them directly." Which is precisely how people should regard Jones, except for those last two options.)
The background surrounding Jones' most famous journalistic coup is described in Jon Ronson's nonfiction book Them: Adventures with Extremists. The author describes coordinating an infiltration of the annual Bohemian Grove celebration in 2000. Jones and his TV producer tagged along with Ronson, and all three men managed to slip past security and witness the festivities. Jones posted the clandestine video they shot on his website and Ronson wrote up his experience as a partycrasher for Esquire magazine.
Local resident and longtime Bohemian Grove critic Mary Moore, who made this covert operation possible by furnishing a hand-drawn map of the area and some detailed notes, was flabbergasted by the reports. She wrote Ronson:
The tone of both pieces is silly and irreverent and makes it sound as though the whole goal is to get inside the Grove. Aside from the fact that Mr. Jones is NOT the first person to do this as he claims, our goal has never been to get inside. The point of our protests has always been to educate the public about who these men are, the policy issues floated at the Lakeside Talks and the enormous profits they make at the expense of the rest of us. [...] In a way I don't blame Alex Jones as much since he is obviously a fool that is making his living off of sensationalism. [...] I thought you were serious journalists but if you were it's hard to understand why you would associate with anyone as wacko as Mr. Jones.
Amen, sister.
---
[1] "I don't really buy into the modern political labels. I call myself a paleo-conservative. By that I mean I believe in national sovereignty, I believe in smaller government, I'm fiscally conservative. But I don't want to be known as a conservative today because of the connotations."

Wife: Kelly Rebecca Nichols ("Violet", three children)


Ron Paul 2008 Presidential Campaign Committee
9/11 Truthers
Birther Movement
Evolution Skeptics
Global Warming Skeptics
Vaccination Skeptics


FILMOGRAPHY AS DIRECTOR
Endgame: Blueprint for Global Enslavement (1-Nov-2007)
TerrorStorm: A History of Government-Sponsored Terrorism (24-Jun-2006)


FILMOGRAPHY AS ACTOR
Fahrenheit 11/9 (6-Sep-2018) · Himself
Endgame: Blueprint for Global Enslavement (1-Nov-2007) · Himself
TerrorStorm: A History of Government-Sponsored Terrorism (24-Jun-2006) · Himself
A Scanner Darkly (25-May-2006)
Waking Life (23-Jan-2001)


Official Website:
http://www.infowars.com/




Requires Flash 7+ and Javascript.



Do you know something we don't?
Submit a correction or make a comment about this profile






Copyright ©2019 Soylent Communications