David Icke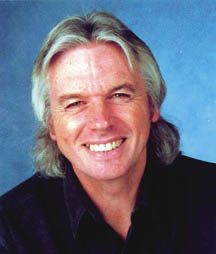 Born: 29-Apr-1952
Birthplace: Leicester, England

Gender: Male
Race or Ethnicity: White
Occupation: Author
Nationality: England
Executive summary: Uncovered global cabal of reptilian ET's
David Icke is a former soccer player turned sports announcer turned crazy conspiracy theorist. Born in Leicester in 1952, Icke goalied for Coventry City and Hereford United, two prominent British soccer clubs. Rheumatoid arthritis forced his retirement from the game, and he took a job as a sports announcer for the BBC. After leaving the BBC, he became a spokesman for the Green Party. About this time the "normal" phase of Icke's life ended.
Icke made ludicrous claims on the Terry Wogan show in 1991. He spoke of all human beings as "children of God", and prophesied Britain's destruction by tidal waves and earthquakes. Icke refused to appear in public without wearing turquoise, raising more than a few eyebrows.
In the late 1990s, Icke published a book, The Biggest Secret: The Book That Will Change the World. This book is a smorgasboard of interesting claims, but perhaps his most outlandish is that every world leader is really a vampiric reptile, or a reptilian being, or something involving reptiles -- Icke is a bit vague in explaining the world-leader/lizard connection on which his theory turns. Icke's followers downplay his claim that the world is run by extradimensional political salamanders and emphasize the prominence of lizard imagery in Aztec and Mayan art.
Critics have charged that Icke is anti-Semitic, and that he is just using the word "reptile" as a stand-in for "Jew". He denies this, but in his book ...and the Truth Will Set you Free, he repeatedly endorses The Protocols of the Elders of Zion and asserts its fundamental correctness. Though Icke denies that he is an anti-Semite, among his close associates numbers Tom Kennedy, his primary organizer in Canada and a militant anti-tax activist who styles himself after the US militia movement.
More recently, Icke has tied the September 11 attacks to the lizard powerbrokers, and made claims that the bombing of the Murrah Federal Office Building in 1995 was not the work of Timothy McVeigh but instead the U.S. Government itself.
Risk Factors: Arthritis

FILMOGRAPHY AS ACTOR
Zeitgeist (1-Jun-2007) [VOICE]

Official Website:
http://www.davidicke.com/
Rotten Library Page:
David Icke
Author of books:
It Doesn't Have to be Like This: Green Politics Explained (1990, nonfiction)
Truth Vibrations (1991)
Love Changes Everything (1992)
The Robots' Rebellion: The Story of the Spiritual Renaissance (1994)
I Am Me I Am Free: The Robot's Guide to Freedom (1996, novel)
Heal the World Vol. 1: A Do-It-Yourself Guide to Human and Planetary Transformation (1997)
...and the Truth Shall Set You Free (1998)
Lifting the Veil (1998, with Jon Rappoport)
The Biggest Secret: The Book That Will Change the World (1999)
Children of the Matrix: How an Interdimensional Race Has Controlled the Planet for Thousands of Years, and Still Does (2001)
Alice in Wonderland and the World Trade Center Disaster: Why the Official Story of 9/11 Is a Monumental Lie (2002)
Tales From the Time Loop: the Most Comprehensive Expose of the Global Conspiracy Ever Written and All You Need to Know to Be Truly Free (2003)

Do you know something we don't?
Submit a correction or make a comment about this profile

Copyright ©2019 Soylent Communications