Billie Joe Armstrong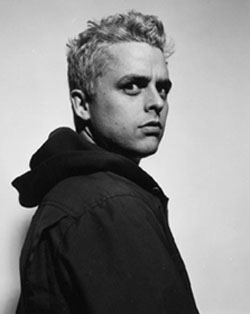 Born: 17-Feb-1972
Birthplace: Oakland, CA [1]

Gender: Male
Race or Ethnicity: White
Sexual orientation: Bisexual [2]
Occupation: Musician
Nationality: United States
Executive summary: Frontman for Green Day
Frontman for the band primarily responsible for resurrecting punk as a major label money-maker in the 1990s, Billie Joe Armstrong started off his life in the small, bayside town of Rodeo, the youngest of six siblings in a working-class family. Given a considerable exposure to music through both his father (a truck driver that also worked as a jazz musician) and his mother (a waitress with a passion for country and western), Armstrong initiated his own involvement in the form particularly early in life: as a child, he sometimes visited hospitals to serenade the hapless patients, and by the age of five he had already cut his first record (Look For Love, released on the Fiat label). When the aspiring musician turned ten, he was given a Stratocaster copy by his father, who succumbed to cancer of the esophagus shortly afterwards; Armstrong has continued to use this guitar ever since, and has had several copies of it made.
By his early teens Armstrong's musical interests had been drawn towards the punk scene; inspired by bands such as T.S.O.L. and the Dead Kennedys, he formed Sweet Children with schoolmate Mike Pritchard (later Mike Dirnt) in 1987 and began to cultivate a following amongst the Bay Area/Gilman Street punk crowd. After two years the band's name was changed to Green Day, and -- with the line-up rounded out by drummer John Kiffmeyer -- their debut full-length 39/Smooth (1990) was released on the independent Lookout! label, bookended by the EPs 1,000 Hours (1989) and Slappy (1990). The drumkit was taken over by Tre Cool for their second effort Kerplunk (1992), by which time Green Day had somehow amassed a popularity well beyond their punk-club origins. This ultimately led to a deal with corporate label Reprise, and big-time promotional support (including considerable MTV rotation) for the third release Dookie (1994). The success of the album would bring on the decade's subsequent parade of young, anti-establishment-posturing punkers only too eager to peddle their rumps to the major label pimps (joined even by some old ones, as was the case with Chumbawumba)-- a trend that would endure well into the 00s. An appearance at the corporate ream-fest Woodstock '94 raised the band's profile even further, helping to push the single When I Come Around high into the charts and score them an award for "best alternative music performance" at the '95 Grammy ceremony.
With a world tour under its belt and another major-label release in its catalogue (1995's Insomniac), the popularity of Green Day continued to spread throughout the latter half of the 90's. Exhaustion brought on by their hectic schedule, however, forced Armstrong and his bandmates to cancel a second world tour: by this time the singer had both a wife and a newborn son, and most of 1996 was spent with his family and out of the spotlight. The next album, Nimrod (1997), once again brought the trio high into the charts, courtesy of the ballad Good Riddance (Time of Your Life) -- although the song also served to alienate a segment of their punk following. The band's later output -- Warning (2000) and the narrative-linked collection American Idiot (2004) -- concerned itself less with carrying the punk rock torch and more with mainstream rock/pop songwriting.
Concurrent with his involvement in Green Day, Armstrong has also participated in a number of other bands -- foremost amongst which is Pinhead Gunpowder, a long-enduring side project also involving memebers of Crimpshrine, Monsula and Fuel. Frequent contributions to albums by some of his punk peers (Social Unrest, Rancid and Tre Cool's former band The Lookouts amongst them) were made during Green Day's earlier years, while the 00s have seen collaborations with artists such as The Go-Go's (on their 2001 "comeback" album God Bless The Go-Go's) and Iggy Pop (on his 2003 "comeback" album Skull Ring).
---
[1] Contrary to many published reports, was not born in Rodeo, California -- only raised there. Refer to the statement by Armstrong's mother on the VH1 documentary, Driven: Green Day (2003).

[2] Amstrong admitted his bisexuality in an interview with The Advocate, 24th January 1995: "I think I've always been bisexual. I mean, it's something that I've always been interested in. I think everybody kind of fantasizes about the same sex. I think people are born bisexual, and it's just that our parents and society kind of veer us off into this feeling of Oh, I can't. They say it's taboo. It's ingrained in our heads that it's bad, when it's not bad at all. It's a very beautiful thing."

Father: Andy Armstrong (d. 1982)
Mother: Ollie Jackson
Wife: Adrienne Nesser (m. 1994, two sons)
Son: Joseph Marcicano Armstrong (b. 1995)
Son: Jakob Danger Armstrong (b. 1998)


High School: Pinole Valley High School, Pinole


Green Day Vocalist/Guitarist (1988-present)
Pinhead Gunpowder Vocalist/Guitarist (1990-present)
Obama for America
Grammy Best Alternative Music Performance (1994) (with Green Day)
Indecent Exposure Milwaukee, 1996
Mugged 2001
Driving While Intoxicated Berkeley, 2002


FILMOGRAPHY AS ACTOR
Bad Reputation (22-Jan-2018) · Himself
Broadway Idiot (15-Mar-2013) · Himself
This Is 40 (20-Dec-2012) · Himself
The Simpsons Movie (21-Jul-2007) [VOICE]
Live Freaky Die Freaky (31-Jan-2006) [VOICE]
Green Day: Bullet in a Bible (15-Nov-2005) · Himself
Mayor of the Sunset Strip (17-Jun-2003) · Himself
Woodstock '94 (1995) · Himself





Requires Flash 7+ and Javascript.



Do you know something we don't?
Submit a correction or make a comment about this profile






Copyright ©2019 Soylent Communications