Iggy Pop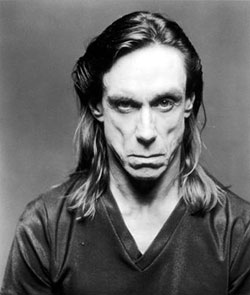 AKA James Newell Osterberg, Jr.
Born: 21-Apr-1947
Birthplace: Muskegon, MI

Gender: Male
Race or Ethnicity: White
Sexual orientation: Straight [1]
Occupation: Singer/Songwriter
Nationality: United States
Executive summary: Iggy and the Stooges
The poster child of physical extremes and self-abuse in rock music, Iggy Pop was one of the primary performers of the late 60s to set the stage for the emergence of the punk rock movement during the following decade. As the frontman for The Stooges, Pop directed his energies against the audience rather than attempting to encourage its support, while snarling out lyrics that reveled in the baser aspects of the human condition -- in distinct contrast to the paens to peace and love that were the prevailing trend at the time. He was also one of the more visible celebrities (alongside Lou Reed and David Bowie) to help establish the romanticization of heroin use, which continues to plague the music industry more than 3 decades later.
James Newell Osterberg, Jr. made his entrance into the world in Muskegon, Michigan, the son of English teacher James Osterberg and his wife Louella. Raised in a trailer park in Ypsilanti, James Jr. began his musical activity as a drummer, forming his first band The Iguanas (from which he would earn his enduring nickname "Iggy") while attending Pioneer High School in Ann Arbor. Upon graduating in 1965, Osterberg's interest in R&B led him to form the bluesy outfit The Prime Movers; after a quickly-aborted enrollment at the University of Michigan, this interest prompted him to move to Chicago, where he spent a year learning from veteran blues performers such as former Howlin' Wolf drummer Sam Lay. It was during this time that he attended a concert by The Doors, whose frontman Jim Morrison in particular would inspire a change in his musical direction. Upon returning to Michigan in 1967, Osterberg abandoned the drums, and -- enlisting the help of Ron Asheton (guitar), his brother Scott Asheton (drums) and Dave Alexander (bass) -- assumed the role of lead singer for a new project he named The Psychedelic Stooges.
The new band's debut performance took place later that year at the University of Michigan, and the band subsequently maintained an active performance schedule throughout the following year. Iggy (now "Iggy Pop") quickly established a reputation as an energetic performer -- although in a manner that was not always appreciated by the audience members. This typically involved the singer leaping onto the audience (later popularized at punk shows as "stage diving") after smearing himself with food and/or cutting himself with broken glass. Eventually the band (now simply "The Stooges") came to the attention of the Elektra label when a talent scout sent to check out an MC5 show in Detroit witnessed their opening set; both bands ended up with a contract, and in June of 1969 the Stooges' were given three days in the studio with producer John Cale (three of the eight songs being recorded apparently having been written the night before the first session). Their eponymous debut was in circulation by August.
Outside of a small, dedicated audience, public reaction towards the Stooges' live shows had been largely negative, and the response to their first album was no different. Despite this poor showing, a second album Fun House was recorded with producer Don Gallucci and released in 1970. The lead track Down On The Street was issued as a single and managed somewhat to wriggle its way into the charts, but sales of the album remained modest. By this time, the internal dynamics of the band had begun to suffer from the unchecked drug and alcohol abuse of its members, with Pop himself struggling beneath an ever-worsening heroin addiction. These problems had a noticeable impact on the Stooges' live act, and, combined with the unimpressive sales of their two albums, ultimately prompted Elektra to give them the boot in 1971. For a short while Pop attempted to keep the Stooges going, bringing in guitarist James Williamson to fill the departure of Alexander, but lack of label interest brought an end to the group before the year was over.
A temporary lapse in Pop's musical output followed, during which he attempted to take control of his heroin problem. In early 1972 a chance meeting with Stooges fan David Bowie (still riding the success of his Ziggy Stardust period) provided him with the support necessary to resume his career, and a deal with Columbia Records was arranged soon afterwards. With guitarist Williamson in tow, Pop met with Bowie in London to begin work on a new album; a satisfactory band could not be found amongst the British musicians available, however, and the Asheton brothers were brought over to serve as the rhythm section. With this line-up in place, the album became a third Stooges album (although now renamed "Iggy and the Stooges") rather than the Pop solo effort expected by the label. Despite Bowie's involvement, Raw Power (1973) successfully maintained the tradition of poor sales that had been established by the first two albums, and the band disintegrated for a second time in early '74.
After taking another hiatus to put an end to his persisting troubles with heroin, Pop once again turned to Bowie for help with his stalled music career. Bowie brought the singer along on his tour for the Station to Station album before the two traveled to Berlin and launched into a period that would be exceptionally productive for both of them. The first two Iggy Pop solo albums, The Idiot and Lust For Life, would be completed and released by RCA before the end of 1977 (as would a collaborative album with Williamson, recorded immediately after the Stooges fell apart in 1975), both of which placed in the UK top 30 and provided Pop with his first taste of commercial success. A world tour was subsequently arranged, with Bowie anonymously participating on keyboards; a live document of the tour, TV Eye, was released in 1978.
Unhappy about his dealings with RCA, Pop moved over to Arista before recording his third studio effort New Values (1979), for which he once again enlisted the help of former collaborator James Williamson. Not surprisingly, the album's material bore a stronger resemblance to his work with the Stooges than his earlier solo albums, and accordingly was met with a drop in sales. Response continued to be poor for his next two releases, 1980's Soldier (which featured contributions from ex-XTC keyboardist Barry Andrews and original bassist for The Sex Pistols Glen Matlock) and 1981's Party (produced by Patti Smith sideman Ivan Kral), and he was dropped by Arista shortly afterward. The final album to be completed during the first half of the decade would be the Chris Stein-produced Zombie Birdhouse -- released in 1982 on the Blondie guitarist's Animal Records label and greeted with the same dismal public response as was given its two precursors.
The renewal of interest in Pop's music during the mid-80s would yet again be instigated by David Bowie: this time though a new recording of the song China Girl, originally co-written by the pair for Pop's debut album and now re-recorded and issued as a single from Bowie's massively successful album Let's Dance; royalties from the song (and three more co-writer credits given on Bowie's follow-up album Tonight) allowed Pop to take another crack (so to speak) at reigning in his heroin addiction. Bowie then assumed production duties for Pop's next solo release Blah Blah Blah -- the majority of the tracks on which were collaboratively written by Bowie/Pop, supplemented by three songs written with Sex Pistols guitarist Steve Jones and a cover version of Johnny O'Keefe's Real Wild Child. This latter track gave Pop his first (and only) UK top 10 hit.
For 1988's Instinct, Pop made another return to Stooges-style rock -- and the apparently unavoidable commercial flop that always accompanied such a move. His current label A&M Records promptly dropped him from their roster as a result. Pop then signed with Virgin, bringing producer Don Was on board for his ninth studio effort Brick by Brick (1990); the album (wrapped in a cover illustration by underground cartoonist Charles Burns) found a middle ground between the hard rock and commercial pop extremes of Iggy's music, and placed it's lead single Candy -- performed as a duet with The B-52's vocalist Kate Pierson -- in the US top 20. That same year Pop lent his vocal talents to the role of Vincent Bugliosi in The Manson Family, an opera written by American composer John Moran.
Pop continued his 90s output with American Caesar (1993) and Naughty Little Doggie (1995) before reuniting with Don Was for 1999's jazz-leaning Avenue B. As usual, the critical and commercial reception for these releases vacillated between acclaim and dismissal, but Pop's standing as a rock icon and an enduring influence on popular music continued to solidify throughout. This was significantly helped along by the use of his song Lust for Life in Danny Boyle's film version of the heroin romp Trainspotting (1996), as well as a slew of Iggy/Stooges covers released by performers ranging from Slayer to Tom Jones. Towards the end of the decade, Pop created a new mix for a reissue of the Stooges' third studio album Raw Power -- the sound quality of which had been the subject of much debate since it's release. He closed the 90s with a guest vocal for the Death in Vegas UK single Aisha (1999).
Since the 1980s Pop had dabbled in acting, taking small roles in films such as Sid and Nancy (1986) and The Color of Money (1986). During the 1990s the singer became more active with this aspect of his career -- although the (usually very memorable) roles continued to be relatively small. Appearances in Cry-Baby (1990), Tank Girl (1995), Atolladero (1995) and Dead Man (1995) were made during the first half of the 90s, followed by The Crow: City of Angels (1996), The Brave (1997) and voice work for The Rugrats Movie (1998). A couple of television roles were also undertaken for the series The Adventures of Pete & Pete and Star Trek: Deep Space Nine.
For his 13th studio effort Beat 'Em Up (2001) Pop once again returned to hard rock, recorded with his new backing band The Trolls. The Stooge-ish character of some of the tracks foreshadowed his next project Skull Ring (2003), which -- alongside songs recorded with Green Day, The Trolls, Peaches and Sum 41 -- included four tracks recorded in collaboration with the Asheton brothers themselves. A Stooges reunion tour followed (with ex-Minutemen bassist Mike Watt taking the place of Dave Alexander, who had died of pneumonia in 1975), and live and studio work for the band continued over the next several years. During this period Pop also expanded his acting credits to include roles in Snow Day (2000), Coffee and Cigarettes (2003) and Wayne County Ramblin' (2006).
---
[1] Interview with Rob Tannenbaum, Blender, September 2003. When asked the "extent of [his] gay experiences", Iggy replied, "I'm to the left of tolerant, but I've never had a gay experience. Two or three times, excited gay friends wanted to, like, nibble my nuts -- generally when I was passed out or distracted. And then I'd go, 'Hey! Bruce! Cut it out!' And that would be the end of that. The gayest it got is some guy approaching my scrotum with oral intent."

Father: James Osterberg, Sr. (high school English teacher)
Mother: Louella Christensen
Wife: Wendy Weissberg (m. 1968, div. 1968)
Wife: Suchi Asano (m. 1985, div. 1999)
Son: Eric Benson
Slept with: Bebe Buell
Slept with: Sable Starr (groupie, b. 1958, dated when she was 13)
Girlfriend: Nina Alu


High School: Pioneer High School, Ann Arbor, MI (1965)
University: University of Michigan (dropped out)


The Stooges Vocalist 1969-74, 2003-present
Iggy Pop
The Sons of Lee Marvin
unknown detox facility Los Angeles (1974)
Drug Possession: Marijuana 1976
Irish Ancestry Paternal
Danish Ancestry Maternal
Norwegian Ancestry Maternal
Risk Factors: Marijuana, Heroin, Alcoholism


TELEVISION
The Adventures of Pete & Pete James Mecklenberg (1994-96)


FILMOGRAPHY AS ACTOR
The Dead Don't Die (14-May-2019)
Bad Reputation (22-Jan-2018) · Himself
Song to Song (10-Mar-2017)
Gimme Danger (19-May-2016) · Himself
Arthur 3: The War of the Two Worlds (22-Aug-2010) [VOICE]
William S. Burroughs: A Man Within (22-Jan-2010) · Himself
Suck (11-Sep-2009) · Victor
New York Doll (Jan-2005) · Himself
Coffee and Cigarettes (7-Sep-2003) · Iggy
Snow Day (29-Jan-2000)
The Rugrats Movie (20-Nov-1998) [VOICE]
The Brave (10-May-1997)
The Crow: City of Angels (30-Aug-1996) · Curve
Dead Man (26-May-1995) · Salvatore "Sally" Jenko
Tank Girl (31-Mar-1995) · Rat Face
Cry-Baby (6-Apr-1990) · Belvedere
Hardware (11-Jan-1990) · Angry Bob
Sid and Nancy (7-Nov-1986) · Prospective Guest
The Color of Money (17-Oct-1986) · Skinny Player on the Road
Rock & Rule (5-Aug-1985) [VOICE]


Official Website:
http://www.iggypop.com/

Author of books:
I Need More (1982, autobiography)





Requires Flash 7+ and Javascript.



Do you know something we don't?
Submit a correction or make a comment about this profile






Copyright ©2019 Soylent Communications