Paula Jones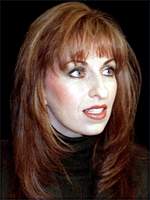 AKA Paula Rosalee Corbin
Born: 17-Sep-1966
Birthplace: Lonoke, AR

Gender: Female
Race or Ethnicity: White
Sexual orientation: Straight
Occupation: Victim
Nationality: United States
Executive summary: Sued Bill Clinton for sexual harassment
In May 1991 Arkansas state employee Paula Jones got an unexpected 30- or 40-second glimpse of then-governor Bill Clinton's naked erection at the Excelsior Hotel in Little Rock. Or at least, that's what Jones says. The way she tells it, she had been invited up to his suite for a face-to-face meeting with the chief executive. About six minutes into their meeting he sat down next to her, unbuckled his pants and let them fall to his ankles. Then he leaned back and fondled his penis with one or both hands. Apparently then he started getting grabby and told her to "kiss it". She stood up and declared, "I'm not that kind of girl." Jones observed that originally the boner "was pointing my direction. But when I stood up, it was pointed to the left." On her way out, Clinton stopped her at the door and admonished: "You're a smart girl, let's keep this between ourselves."
Apparently, Paula confided in her sisters and shared the general details with her fiance, but otherwise kept a lid on the story. But three years later, the January 1994 issue of The American Spectator included an article by David Brock entitled "Living With the Clintons" which broke the Troopergate scandal. It reported that Clinton had screwed some woman in 1991:
One of the troopers told the story of how Clinton had eyed a woman at a reception at the Excelsior Hotel in downtown Little Rock. According to the trooper, who told the story to both Patterson and Perry as well, Clinton asked him to approach the woman, whom the trooper remembered only as Paula, tell her how attractive the governor thought she was, and take her to a room in the hotel where Clinton would be waiting. [...] On this particular evening, after her encounter with Clinton, which lasted no more than an hour as the trooper stood by in the hall, the trooper said Paula told him she was available to be Clinton's regular girlfriend if he so desired.
The article generated a firestorm that gave rise to the Paula Jones lawsuit, the ensuing Ken Starr investigation, and the subsequent Lewinsky scandal. In May, Jones filed a sexual harassment and defamation of character lawsuit against President Clinton. The case was eventually settled in November 1998 for $850,000.

Paula Jones told Hannity & Colmes cohost Alan Colmes in May 2000: "I will never pose nude for any men's magazine. Never. And that's all I have to say about that." Only five months later she was on CNN explaining why she chose to pose nude for Penthouse (the magazine which had five years earlier published snapshots taken by an ex-boyfriend of them cavorting nude). Jones revealed to Larry King: "Well, it was an adventure, it was something I usually don't do, but I don't think that they are -- they are not vulgar pictures, they are not disgusting pictures, I think they're very tasteful. And it was an adventure, it was a once-in-a-lifetime thing."

When the spread came out, conservative ideologue Ann Coulter was inconsolable: "So Paula Jones has decided to pose for nudie pictures. I, for one, am deeply, pathetically despondent over it. [...] Paula was my Rosa Parks. [...] She used to be a hero in a David and Goliath conflict. She used to have dignity and nobility and tremendous courage. Now she's just the trailer-park trash they said she was."

Jones squared off against former Olympian Tonya Harding in March 2002 on the Fox television spectacle Celebrity Boxing. Harding, who later claimed to have received only one hour of training prior to the match, trounced Jones, who quit halfway through the second round.

In April 2004, Jones began shopping around to New York publishers a proposal for an autobiography. Tentatively titled I Said "No!": A Case File of Sexual Harassment, the book would work to dispel the myths that she had engaged in sexual relations with Bill Clinton, and that she had ever lived in a trailer park.

Father: Bobby Gene Corbin
Mother: Delmar Lee Corbin
Sister: Charlotte Corbin Brown
Sister: Lydia Corbin Cathey
Husband: Stephen Jones (m. Dec-1991, div. Jun-1999)
Husband: Steven Mark McFadden (m. 27-Oct-2001)
Son: Stephen (b. 1992)
Son: Preston (b. 1996)


High School: Carlisle, AR (1985)


Assisted by the ACLU (21-Oct-1994)
Rhinoplasty Manhattan (18-Jul-1998)
Posed Naked for Penthouse Dec-2000
Polygraphed (Mar-2005)


Appears on the cover of:
Penthouse, Dec-2000, DETAILS: Paula Jones Uncovered! She Shows All And Tells All: How the Far Right Used and Abused Her to Destroy Clinton





Requires Flash 7+ and Javascript.



Do you know something we don't?
Submit a correction or make a comment about this profile






Copyright ©2019 Soylent Communications