Monica Lewinsky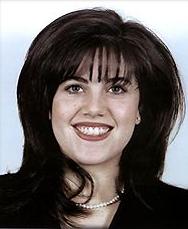 AKA Monica Samille Lewinsky
Born: 23-Jul-1973
Birthplace: San Francisco, CA

Gender: Female
Religion: Jewish [1]
Race or Ethnicity: White
Sexual orientation: Straight
Occupation: Government
Party Affiliation: Democratic
Nationality: United States
Executive summary: Engaged in Presidential cigar play
Monica Lewinsky had a long-running affair with a married man -- her high school drama teacher. It began just after Lewinsky's graduation in 1991, and ended in 1997, when his wife found out. During that time Lewinsky often babysat for their children.
In June 1995, when Lewinsky landed her internship in White House Chief of Staff Leon Panetta's office, she reportedly told friends, "I'm going to the White House to get my presidential kneepads." According to Linda Tripp's famous recorded phone calls, Lewinsky bragged of satisfying President Bill Clinton's needs as early as November of that year. Within weeks of her first presidential tryst, Lewinsky left her unpaid internship in Panetta's office to take a paid position in the Office of Legislative Affairs. Her official duties involved sorting incoming letters from members of Congress and bringing them to the Oval Office. By April 1996, Lewinsky had been transferred to a job in Pentagon spokesman Ken Bacon's office, but she continued making "regular visits" to the White House.
Tripp, Lewinsky's alleged friend who had secretly taped Lewinsky talking about her sexual exploits, took those tapes to Newsweek reporter Michael Isikoff and conservative mother & son columnists Lucianne and Jonah Goldberg. From there, the tapes made their way to Paula Jones' attorneys, who subpoenaed Lewinsky's testimony to show Clinton's "predatory pattern" for their sexual harassment suit against him.
All these matters came to a head a few days after Christmas of 1997, when Lewinsky returned to the White House and told Clinton she'd been subpoenaed. He allegedly suggested she should be "evasive" when she answered the Jones lawsuit questions. Such a suggestion, of course, would be perfectly understandable ... and a federal crime ("suborning false testimony"). In her affidavit for the Jones circus, Lewinsky denied that she had ever had a sexual relationship with Clinton. Days later, Tripp offered her tapes to Ken Starr, the special prosecutor looking into Whitewater. Starr promptly rang up Attorney General Janet Reno, asking her permission to expand his probe. Reno green-lighted it, and a new circus was underway.
A blue dress Lewinsky once wore, stained with presidential semen, became an important part of the public record. Lewinsky's mother was compelled to testify against her daughter. Lewinsky herself was granted immunity from prosecution, in exchange for her cooperation with Starr. President Clinton, of course, was impeached. Over blow jobs.
Lewinsky has since written her life story, Monica Speaks, played herself in a Saturday Night Live sketch, tried designing handbags for a living, and hosted Fox's romantic reality show Mr. Personality. She had previously donated to the Democratic National Committee, but Lewinsky has made no political contributions in recent years. More recently she has made headlines as an activist against cyber-bullying.
---
[1] Marlene Adler Marks, "When a 'Nice Jewish Girl' Gets Embroiled in a Scandal", The Jewish News Weekly of Northern California, 30 January 1998.

Father: Bernard Salomon Lewinsky (doctor)
Mother: Marcia Kaye Vilensky (div., author using pen name "Marcia Lewis")
Mother: Barbara Lewinsky (stepmother)
Brother: Michael Lewinsky (production intern, The Young & the Restless)
Boyfriend: Andy Bleiler (Lewinsky's high school drama teacher, 1992-97)
Boyfriend: Bill Clinton (1995-97)


High School: Bel-Air Prep, West Hollywood, CA (1991)
University: Santa Monica College, Santa Monica, CA
University: University of California at Los Angeles
University: BA Psychology, Lewis & Clark College, Portland, OR (1995)
University: MS Social Psychology, London School of Economics (2006)


Lewinsky Affair
White House Intern (1995-96)
Endorsement of Jenny Craig
Abortion 1996
Granted Immunity Jul-1998
German Ancestry Paternal
Lithuanian Ancestry Maternal
Russian Ancestry Maternal
Jewish Ancestry
Risk Factors: Obesity, Depression, Yoga


Rotten Library Page:
Lewinsky Affair

Author of books:
Monica Speaks (1998, autobiography, co-written by Joey Green)





Requires Flash 7+ and Javascript.



Do you know something we don't?
Submit a correction or make a comment about this profile






Copyright ©2019 Soylent Communications