Rose Marie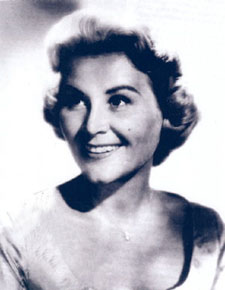 AKA Rose Marie Mazzetta
Born: 15-Aug-1923
Birthplace: New York City
Died: 28-Dec-2017
Location of death: Van Nuys, CA
Cause of death: unspecified
Remains: Buried, Glen Haven Memorial Park, Sylmar, CA

Gender: Female
Religion: Roman Catholic
Race or Ethnicity: White
Sexual orientation: Straight
Occupation: Actor, Comic
Nationality: United States
Executive summary: Sally Rogers on The Dick Van Dyke Show
Rose Marie was born out of wedlock in New York, and her parents never married. Her father, a shadowy character with gangland connections, had a second wife, kids, and house, and commuted between his two families.[1] Rose Marie was "discovered" at age three, by neighbors who heard her singing to herself, and entered her in a talent contest at New York's Mecca Theater. The tot sang "What Can I Say Dear, After I Say I'm Sorry?", danced the Charleston, and won first prize. When her father caught wind of this, he arranged to have his daughter sing at a night club, where the audience was so impressed they threw money onto the stage. He gathered and counted the money, appointed himself his daughter's manager, and ran her career until she was an adult.
Billed as Baby Rose Marie, she starred in several of the earliest talking films, beginning with a 1929 short, Baby Rose Marie the Child Wonder, which was screened in theaters before feature films. In this and several subsequent short films, the preschooler simply walked onstage, smiled at the camera, and sang several songs one after another. Decades later, when Bette Davis starred in Whatever Happened to Baby Jane?, the moviemakers were riffing on Baby Rose Marie.
Unlike other child performers, Baby Rose generally eschewed kiddie music, and instead performed blues tunes and romantic melodies. She belted out these songs with what sounded like an adult's voice, and a smile suggesting that the audience had better be impressed or the singer might slug anyone who did not applaud. But as you might guess, it was not a happy childhood for Rose Marie. Her father gambled away most of her earnings, frequently beat her when he was drunk, and worked her like a mule to keep the cash coming in. Through her father's criminal connections, young Rose Marie met Al Capone, who, she says, kissed her on the cheek and said, "If you ever need me for anything, tell your father to call me."
At the age of four, she starred in a local radio program, and after a few months she was offered a better program at a bigger station. At five, she was a radio star with her own coast-to-coast program on NBC, performing with guests like Rudy Vallee and Benny Goodman. In her first feature film, 1933's International House, Baby Rose worked with W. C. Fields and an all-star cast, including Bela Lugosi, Cab Calloway, and Burns & Allen.
Even in her earliest films, Rose Marie wore a bow in her hair, a childish affectation which became her trademark decades later. She also had an almost freakishly adult face, voice, and stage presence. For her pre-adolescent performances on film, she was widely whispered to be an adult midget, and as her radio program became popular, NBC sent her on tour to reassure listeners that the husky, mature-sounding voice was really coming from a little girl.
She worked as Baby Rose Marie until her blooming adolescence at 11 made the stage name silly. After a few years performing as simply "Rose Marie", she dropped out of show business at 15, opting for a relatively normal time in high school. But soon after graduation she was back on stage, and she spent her late teens and 20s as a night club headliner. In 1946, when Las Vegas opened its first big-time casino hotel, The Flamingo, Rose Marie was one of the opening acts, along with Jimmy Durante and Xavier Cugat.
In the late 1940s and 50s, she worked the stand-up circuit, mixing comedy with novelty tunes. In her act, she adopted the persona of a wisecracking single girl looking for a husband. In reality, she was happily married to trumpeter Bobby Guy, who worked with Louis Armstrong and Hoagy Carmichael, and eventually joined the NBC Orchestra on Johnny Carson's Tonight Show, years before Doc Severinsen led the band. In 1951-52 she starred in a long-running Broadway production of Top Banana with Phil Silvers and Jack Albertson, and when the play was made into a movie in 1954, Rose Marie was again on the big screen. Through the remainder of the decade, she toured in stage comedies, including Lunatics and Lovers with Zero Mostel, and made several appearances on TV's The Bob Cummings Show.
In 1960, she accepted her first regular role on a sitcom, playing Bertha on My Sister Eileen with Stubby Kaye and Raymond Bailey. The next year, The Dick Van Dyke Show premiered to dismal ratings, but the sponsor (Colgate) insisted on buying ads so the show had time to find its audience. In its second season it climbed high in the ratings, and Rose Marie became a household name. The program aired for five seasons, and still runs on cable.
Her husband became ill in 1965, and doctors could not agree on a diagnosis before he died. Devastated at his death, she considered quitting the Van Dyke Show. Instead she wore black on camera, for the rest of the series' run. She never remarried. When the Van Dyke Show ended, Rose Marie became a panelist on The Hollywood Squares, honing her lonely-girl schtick. She also appeared on other game shows including Password and I've Got a Secret.
In the late 1990s and early 2000s, she toured with Rosemary Clooney, Helen O'Connell and Margaret Whiting in a singing and comedy act called 4 Girls 4. On The Doris Day Show, she played the star's pal and co-worker. She appeared in several short-lived sitcoms over subsequent decades, and showed up on a reunion special, The Dick Van Dyke Show Revisited, in 2004. At last report she remains in good health, and occasionally appears at autograph signings.
---
[1] Her illegitimacy, father's criminal connections, and her story of meeting Al Capone as a young girl are related in her memoir, Hold the Roses (2003). She is not shy about the details, except to avoid revealing her actual age. Chapter 1 starts with "I was born, illegitimately, on August 15 in New York City."

Father: Frank Mazzetta ("Frank Curley", vaudeville performer)
Mother: Stella Gluscak
Husband: Bobby Guy (trumpeter for NBC Orchestra, m. 1946, d. 27-May-1964 blood infection, one daughter)
Daughter: Georgiana Marie Guy (horse breeder, "Noop")


Hollywood Walk of Fame 3-Oct-2001
Italian Ancestry
Polish Ancestry


TELEVISION
SWAT Hilda (1975)
The Doris Day Show Myrna Gibbons (1969-71)
The Dick Van Dyke Show Sally Rogers (1961-66)
My Sister Eileen Bertha (1960-61)
The Bob Cummings Show Martha (1958-59)


FILMOGRAPHY AS ACTOR
Surge of Power (14-Aug-2004) · Herself
Shriek If You Know What I Did Last Friday the Thirteenth (17-Oct-2000) · Mrs. Tingle
Lost & Found (23-Apr-1999) · Clara
Sandman (1993)
Witchboard (31-Dec-1986)
Lunch Wagon (Sep-1981)
Cheaper to Keep Her (1981)
Dead Heat on a Merry-Go-Round (12-Oct-1966) · Margaret Kirby
Don't Worry, We'll Think of a Title (May-1966) · Annie
The Big Beat (Feb-1958)
Top Banana (22-Feb-1954) · Betty Dillon
International House (27-May-1933) · Herself


Author of books:
Hold the Roses (2003, memoir)





Requires Flash 7+ and Javascript.



Do you know something we don't?
Submit a correction or make a comment about this profile






Copyright ©2019 Soylent Communications