Orson Bean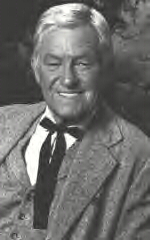 AKA Dallas Frederick Burrows
Born: 22-Jul-1928
Birthplace: Burlington, VT

Gender: Male
Religion: Lutheran
Race or Ethnicity: White
Sexual orientation: Straight
Occupation: Actor
Party Affiliation: Republican
Nationality: United States
Executive summary: Anatomy of a Murder
Military service: US Army (1946-47, Japan)
Father-in-law to Andrew Breitbart.
"I think each generation is humiliated by the generation that preceded it. Whatever I did was my own fault. I end up on a blacklist for going to two meetings in the hopes of getting laid," Bean says.

"Now Andrew, who is this good conservative, recently took me to a meeting of the Young Republicans of UCLA. I couldn't help but think that they were going to these meetings for the same reason why I went to the communist meetings."
Father: George Burrows (Harvard campus policeman, d. Apr-1989 brain tumor)
Mother: Marian Pollard
Wife: Jacqueline De Sibour (m. 2-Jul-1956, div. 1962, one daughter)
Daughter: Michelle
Wife: Carolyn Maxwell (fashion designer, m. 3-Oct-1965, div. 1981)
Son: Max
Daughter: Susannah Bean (m. Andrew Breitbart)
Son: Ezekiel
Wife: Alley Mills (actress, m. 18-Apr-1993)


High School: Cambridge High School
High School: Boston Latin School (1946)


American Federation of Television and Radio Artists VP
John McCain 2008
Rudy Giuliani Presidential Committee
Hollywood Blacklist
Risk Factors: Orgone


TELEVISION
Desperate Housewives Roy Bender (2009-12)
Normal, Ohio Bill Gamble, Sr. (2000)
Dr. Quinn, Medicine Woman Loren Bray (1993-98)
The Facts of Life Oliver Thompson (1986-87)
Forever Fernwood Rev. Brim (1977-78)
Mary Hartman, Mary Hartman Rev. Brim (1977-8)
Match Game Frequent panelist


FILMOGRAPHY AS ACTOR
The Equalizer 2 (19-Jul-2018)
Hating Breitbart (19-Oct-2012) · Himself
Alien Autopsy (7-Apr-2006)
Frank McKlusky, C.I. (27-Jun-2002)
Burning Down the House (7-Feb-2001) · Sy
The Gristle (2001)
Being John Malkovich (29-Oct-1999) · Dr. Lester
Final Judgement (1992)
Chance of a Lifetime (18-Nov-1991) · Fred
Instant Karma (27-Apr-1990) · Dr. Berlin
Innerspace (1-Jul-1987) · Lydia's Editor
Forty Deuce (17-Nov-1982)
The Return of the King (11-May-1980) [VOICE]
Skateboard (Feb-1978) · Himself
The Hobbit (27-Nov-1977) [VOICE]
Lola (6-Jan-1970)
Anatomy of a Murder (1-Jul-1959) · Dr. Smith
How to Be Very, Very Popular (22-Jul-1955)


Author of books:
Me and the Orgone (1971)





Requires Flash 7+ and Javascript.



Do you know something we don't?
Submit a correction or make a comment about this profile






Copyright ©2019 Soylent Communications