Jean Reno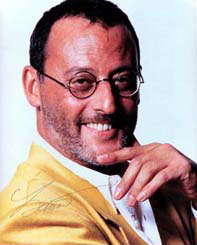 AKA Don Juan Moreno y Jederique Jimenez
Born: 30-Jul-1948
Birthplace: Casablanca, Morocco

Gender: Male
Race or Ethnicity: White
Sexual orientation: Straight
Occupation: Actor
Nationality: France
Executive summary: Léon the Professional
Military service: French Army
Jean Reno's parents were Spanish, but Reno was born and raised in then-French Morocco, and came to France when he was 19. He was always interested in acting, attending drama school in Casablanca and later in Paris, and touring France in numerous stage productions through the late 1970s. His first film role came in 1979, in L' Hypothèse du Tableau Volé (The Hypothesis of the Stolen Painting), a highbrow art mystery that was little-seen outside France.
Reno is tall with a tough demeanor and an odd, oblong face, and he can make his eyes look truly creepy, which made him a natural to play killers and crooks, the recurring role of his early career. He became a favorite of director Luc Besson, with progressively larger roles in several of Besson's films. He became a European star with Le Grand bleu (The Big Blue), a huge hit in France that left Americans generally scratching their heads, with Reno as a deep-sea diver trying to get into Rosanna Arquette's wetsuit. He was unforgettable in the 1990 thriller La Femme Nikita as Victor "the cleaner" -- responsible for 'cleaning' evidence away before the police arrive, and had another huge French hit with the slapstick time travel comedy Les Visiteurs (The Visitors ).
Reno then starred in Besson's first English-language film, the haunting Leon (The Professional) with 12-year-old Natalie Portman. It remains Reno's most famous role, and perhaps his best performance. He basically reprises his cold-blooded 'Victor the cleaner' role with a new name and a smidgen more humanity, as he reluctantly comes to young Portman's aid after her parents are murdered by a corrupt DEA agent. Leon was a hit on both sides of the Atlantic, despite having its heart gouged out -- 24 minutes were edited out, deemed unacceptable for American audiences.
After Leon, Reno was a bankable international star, and he has frequently worked in such American popcorn movies as Mission: Impossible with Tom Cruise, Ronin with Robert De Niro, and The Da Vinci Code with Tom Hanks, and ill-advised remakes of Godzilla, Rollerball, and The Pink Panther. He also starred in a poor American adaptation of Les Visiteurs titled Just Visiting with Christina Applegate, portrayed the protagonist in the video game Onimusha 3: Demon Siege, and voiced a frog in the kids' cartoon Flushed Away with Hugh Jackman. Several comedies are among Reno's French hits, but his funny side does not seem to translate well beyond his adopted homeland, and in America he is known almost exclusively for his action films.
His last name is pronounced not like the city in Nevada, but Ruh-No. He speaks fluent French, Spanish, and Italian, and English with a slight but endearing accent.
Father: (Andalusian)
Mother: (Andalusian, d.)
Sister: Marie-Thérèse Moreno (b. 1955)
Wife: Geneviève (div., one daughter, one son)
Daughter: Sandra (b. 1978 with Geneviève)
Son: Mickael (b. 1980 with Geneviève)
Wife: Nathalie Dyszkiewicz (model, m. 1996, one son, one daughter)
Son: Tom (b. 1996 with Dyszkiewicz)
Daughter: Serena (b. 28-Jun-1998 with Dyszkiewicz)

FILMOGRAPHY AS ACTOR
The Promise (11-Sep-2016)
Hector and the Search for Happiness (14-Aug-2014)
Days and Nights (4-Jan-2014)
Alex Cross (15-Oct-2012)
The Chef (21-Jan-2012)
Margaret (30-Sep-2011) · Ramon
L'immortel (24-Mar-2010)
La rafle (10-Mar-2010)
Armored (4-Dec-2009) · Quinn
Couples Retreat (8-Oct-2009) · Marcel
Ultimate Heist (4-Mar-2009) · Milo
The Pink Panther 2 (6-Feb-2009) · Ponton
Ca$h (23-Apr-2008)
Flushed Away (22-Oct-2006) [VOICE]
Flyboys (18-May-2006)
The Da Vinci Code (17-May-2006)
The Pink Panther (19-Jan-2006)
The Tiger and the Snow (14-Oct-2005)
Empire of the Wolves (20-Apr-2005)
L'Enquête Corse (6-Oct-2004)
Crimson Rivers 2: Angels of the Apocalypse (18-Feb-2004)
Tais-toi! (22-Oct-2003)
Jet Lag (7-Sep-2002)
Rollerball (8-Feb-2002) · Petrovich
Wasabi (31-Oct-2001) · Hubert Fiorentini
Just Visiting (06-Apr-2001)
The Crimson Rivers (27-Sep-2000) · Pierre Niemans
Ronin (12-Sep-1998) · Vincent
Godzilla (18-May-1998) · Philippe Roaché
Les Couloirs du temps: Les visiteurs 2 (11-Feb-1998)
Un Amour de Sorcière (19-Mar-1997)
Roseanna's Grave (6-Mar-1997)
Le Jaguar (9-Oct-1996)
Mission Impossible (22-May-1996)
Beyond the Clouds (3-Sep-1995)
French Kiss (5-May-1995)
Léon the Professional (14-Sep-1994) · Leon
Les Visiteurs (27-Jan-1993)
Porco Rosso (18-Jul-1992) [VOICE]
L'Opération Corned-Beef (6-Feb-1991)
La Femme Nikita (21-Feb-1990) · Victor nettoyeur
The Big Blue (11-May-1988)
Subway (10-Apr-1985)
Our Story (23-May-1984)
The Final Combat (6-Apr-1983)
La passante du sans-souci (14-Apr-1982)
Clair de Femme (29-Aug-1979)
The Hypothesis of the Stolen Painting (4-Apr-1979)

Do you know something we don't?
Submit a correction or make a comment about this profile

Copyright ©2019 Soylent Communications