Bud Cort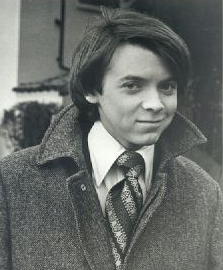 AKA Walter Edward Cox
Born: 29-Mar-1948
Birthplace: New Rochelle, NY

Gender: Male
Religion: Roman Catholic
Race or Ethnicity: White
Occupation: Actor
Nationality: United States
Executive summary: Harold in Harold and Maude
At 17, Bud Cort began working as a stand-up comedian in New York. He was reportedly discovered when Robert Altman saw his performance in an off-Broadway comedy, Free Fall. Altman gave him a small role in his classic M*A*S*H with Donald Sutherland and Elliott Gould. Cort then starred in the flower-power gem The Strawberry Statement with Bruce Davison and a baby-faced Bob Balaban. He also had small roles in Jan-Michael Vincent's Tribes, and played the mortician opposite Stacy Keach in The Traveling Executioner.
Altman's Brewster McCloud is a tremendously strange film, starring Cort as a young hermit who lives in the Houston Astrodome, constructing a gigantic set of wings and hoping to fly. The film was written by the author of Skidoo, wherein Groucho Marx played God -- and for most of the 1970s, Cort and Marx lived together in Marx's California mansion. "He was my idol," said Cort, "I was his chorus boy. He had me singing for everyone from Mae West to S. J. Perelman to Bob Dylan... I used to say he was my fairy godfather. He did love me, and I loved him. I'd sit on his bed in pajamas and watch his old films with him. It was like getting a Fulbright education in comedy."
In 1971, Cort and Hollywood legend Ruth Gordon starred in the classic Harold and Maude, the offbeat love story of a young suicidal man and a 79-year-old woman who attends funerals as a hobby. The film opened to horrid reviews, and one critic called it "as funny as a burning orphanage". Still, it became an enduring favorite, and songs from Cat Stevens' soundtrack can still bring back specific scenes for audiences who saw it again and again. In an era before videotape or DVDs, students at several colleges paid their tuitions by renting auditoriums and screening Harold and Maude for a few dollars a ticket, once or twice a school year.
Cort's father died in 1971, just weeks after Harold and Maude opened. It was an extremely difficult time for Cort, and the friend who helped him through it was his co-star from the film. "Ruth was professionally distant during filming," he remembers. "But when my father died, she called and talked to me about the death of her own father. From that moment on, she became one of my best friends. We actually almost became the relationship we portrayed in Harold and Maude."
After Harold and Maude, though, Cort was offered almost nothing but crazy characters, including the Brad Dourif role in One Flew Over the Cuckoo's Nest. Rather than being typecast, Cort chose to concentrate on his stage career, which has been long and successful. "I wanted to grow as an actor," Cort said. "It was more important for me to make a never-released political thriller in Rome (Hallucination Strip) than to do Harold Meets Claude."
Cort's pickiness, coupled with years of facial reconstruction after a near-fatal accident on the Hollywood Freeway in 1979, have led to a screen career since Harold and Maude that has been somewhat scant, albeit interesting. He had the title role in Son of Hitler, and starred in The Secret Diary of Sigmund Freud. He supplied the voice of the first thinking computer in Electric Dreams. He had supporting roles in The Chocolate War and the AIDS drama And the Band Played On. He played Mink Stole's husband and Natasha Lyonne's father in the lesbo comedy But I'm A Cheerleader, and had tiny but memorable roles in Ed Harris' Pollock and Kevin Smith's Dogma. Most recently, he played the accountant rescued by Bill Murray in The Life Aquatic with Steve Zissou.
In 1991, Cort wrote, directed, and starred in Ted & Venus, another bizarre love story. It is the only film Cort has either written or directed, and he plays a creepy, maladjusted poet who stalks the woman of his dreams. Unsurprisingly, many audiences found the film offensive.
Father: Joseph Parker Cox (bandleader, d. 1971 multiple sclerosis)
Mother: Alma Mary Court (housewife, later clothier)
Brother: Joseph Parker Cox, Jr.
Sister: Tracy Ann Cox
Sister: Carol Lynn Cox
Sister: Shelley Ann Cox
Girlfriend: Jeannie Berlin (actress, daughter of Elaine May)

High School: Iona Prep School, New Rochelle, NY (1966)
University: New York University (attended 1967-69, dropped out)

English Ancestry
French-Canadian Ancestry
Irish Ancestry
Risk Factors: Marijuana

FILMOGRAPHY AS DIRECTOR
Ted and Venus (20-Dec-1991)

FILMOGRAPHY AS ACTOR
The Little Prince (22-May-2015) [VOICE]
Passion Play (10-Sep-2010)
The Life Aquatic with Steve Zissou (20-Nov-2004)
The Big Empty (16-May-2003) · Neely
Pollock (6-Sep-2000) · Howard Putzel
Coyote Ugly (31-Jul-2000)
The Million Dollar Hotel (9-Feb-2000) · Shorty
South of Heaven, West of Hell (28-Jan-2000) · Agent Otts
Dogma (12-Nov-1999)
But I'm a Cheerleader (12-Sep-1999)
I Woke Up Early the Day I Died (13-Sep-1998)
Sweet Jane (1-Feb-1998)
Theodore Rex (14-Dec-1995)
And the Band Played On (11-Sep-1993)
Ted and Venus (20-Dec-1991)
Brain Dead (19-Jan-1990) · Jack Halsey
Out of the Dark (5-May-1989)
The Chocolate War (18-Nov-1988) · Brother Jacques
Love at Stake (Apr-1988) · Parson Babcock
Bates Motel (5-Jul-1987)
Invaders from Mars (6-Jun-1986) · Young NASA Scientist
Electric Dreams (16-Nov-1984) [VOICE]
Maria's Lovers (3-Oct-1984)
Love Letters (Jan-1984)
Hysterical (29-Jul-1983)
She Dances Alone (19-Sep-1981)
Die Laughing (Apr-1980)
Brave New World (7-Mar-1980)
Why Shoot the Teacher? (23-Jun-1977)
Bernice Bobs Her Hair (6-Oct-1976)
Harold and Maude (20-Dec-1971) · Harold
Gas-s-s-s (26-Mar-1971) · Hooper
Brewster McCloud (23-Dec-1970)
The Traveling Executioner (1-Oct-1970)
The Strawberry Statement (15-Jun-1970)
MASH (25-Jan-1970)

Do you know something we don't?
Submit a correction or make a comment about this profile

Copyright ©2019 Soylent Communications