Cat Stevens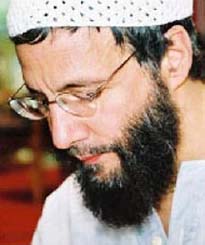 AKA Stephen Demetre Georgiou
Born: 21-Jul-1948 [1]
Birthplace: London, England

Gender: Male
Religion: Muslim
Race or Ethnicity: White
Sexual orientation: Straight
Occupation: Singer/Songwriter
Nationality: England
Executive summary: Morning Has Broken
In February 1989, Stevens drew considerable flak from the press for condoning a fatwa issued by Ayatollah Khomeini against Salman Rushdie for his book The Satanic Verses. He has since backpedaled somewhat, claiming that he had only stated the punishment for blasphemers required under Islamic law, which was then twisted into by the press into approval for the death sentence. At the same time, he has not made a statement directly opposing the fatwa, saying only that Muslims must respect the laws of the country they inhabit. Stevens claims that his statement reflected his naivety as a "new Muslim"; at the time, he had only been practicing it for 11 years:
"I was simply a new Muslim who had stated something which I considered quite plain and obvious and if you were to ask a bible student you know what the Ten Commandments were you would expect him to repeat them honestly, you wouldn't blame him for doing so; the Bible is full of similar headlines if you're looking for them."
Changed his name to Yusuf Islam after his conversion.
---
[1] Printed sources are evenly divided, 1947 or 1948.

Father: Stavros
Mother: Ingrid
Brother: David
Sister: Anita
Wife: (arranged marriage, 5 children)
Son: Muhammad
Girlfriend: Patti D'Arbanville (actress, ex-)
Girlfriend: Fauzia Mubarak Ali (1979)


Cat Stevens
Converted to Islam 23-Dec-1977
Deported from the United States, attempting to enter via air
Swedish Ancestry Maternal side
Greek Ancestry Paternal side


Official Website:
http://www.catstevens.com/




Requires Flash 7+ and Javascript.



Do you know something we don't?
Submit a correction or make a comment about this profile






Copyright ©2019 Soylent Communications