Joe Arpaio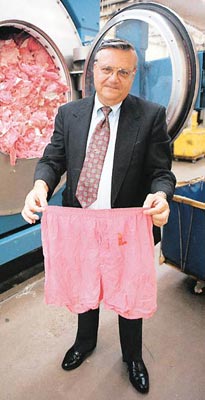 AKA Joseph Michael Arpaio
Born: 14-Jun-1932
Birthplace: Springfield, MA

Gender: Male
Race or Ethnicity: White
Sexual orientation: Straight
Occupation: Law Enforcement
Party Affiliation: Republican
Nationality: United States
Executive summary: Former Sheriff of Maricopa Co., AZ
Military service: US Army (1950-53)
Publicity-hungry Joe Arpaio is proud to be called "America's Toughest Sheriff". First elected in 1992 on a campaign pledge to serve just one term, Arpaio oversees the jail in Maricopa County, Arizona, and styles himself as "America's Toughest Sheriff." After two decades in office, he is the most sued sheriff in American history, costing his county's taxpayers over $42M in settlements and awards from over 5,000 lawsuits, of which more than half claimed civil rights violations.
In 1993 Sheriff Joe created Tent City Jail, an immense outdoor facility housing 2,000 inmates near Phoenix. Worked them in chain gangs (both men and women). Dressed them all in striped uniforms and pink underwear. His website brags:
Arpaio doesn't believe in coddling criminals, frequently saying that jails should not be country clubs. He banned smoking, coffee, pornographic magazines, movies and unrestricted television in all jails. He has the cheapest meals in the country too. The average inmate meal costs under 20 cents.
Posted live webcam feeds of holding cells on the Sheriff's Department website. Currently being sued over an alleged pattern of racial profiling, for arresting people who look Hispanic in immigration raids.

Appeared on an episode Politically Incorrect in 1996, during which he failed to impress host Bill Maher, who quipped: "I can respect the toughest sheriff, but I can't respect the stupidest sheriff." Recruited 2,700 county residents for a volunteer posse. In 2004, he forced illegal aliens to register for the draft.

Wife: Ava (m. 1956, two children)


Arizona State Official Sheriff, Maricopa County, AZ (1993-2016)
Sued by the ACLU (Aug-2009)
Birther Movement
Pardoned by Donald Trump (25-Aug-2017)
Italian Ancestry


FILMOGRAPHY AS ACTOR
American Drug War: The Last White Hope (2007) · Himself


Official Website:
http://www.mcso.org/




Requires Flash 7+ and Javascript.



Do you know something we don't?
Submit a correction or make a comment about this profile






Copyright ©2019 Soylent Communications