Booker T. Washington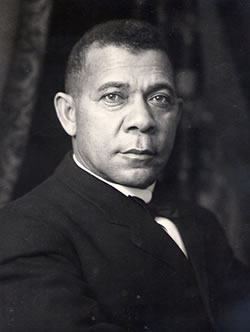 AKA Booker Taliaferro
Born: 5-Apr-1856
Birthplace: Hale's Ford, VA
Died: 14-Nov-1915
Location of death: Tuskegee, AL
Cause of death: unspecified [1]
Remains: Buried, Tuskegee University Campus Cemetery, Tuskegee, AL

Gender: Male
Race or Ethnicity: Black
Sexual orientation: Straight
Occupation: Educator, Activist
Party Affiliation: Republican
Nationality: United States
Executive summary: Founder, Tuskegee Institute
He was born Booker Taliaferro, the son of a black slave woman and an un-named white man who had raped her. After the American Civil War his mother married a former slave named Washington Ferguson, and at about ten years of age he took his stepfather's first name as his surname. By adolescence Booker T. Washington was working in salt furnaces, coal mines, and as a houseboy.
At 16 his employer, a white woman, complimented him on his intelligence and urged him to enter school. He enrolled at Hampton Normal and Agricultural Institute (now Hampton University), where he worked as a janitor in exchange for his tuition until the school's headmaster, a white man named Samuel C. Armstrong, arranged a scholarship for Washington. After graduation Washington worked as a teacher for native Americans, both children and adults, and then attended Wayland Seminary (now Virginia Union University) before joining the teaching staff at Hampton.
In 1881, white politicians asked Armstrong, the headmaster at Hampton, to recommend a white scholar who might be willing to serve as headmaster at a new school for Negroes that was being planned in Tuskegee, Alabama. Armstrong instead recommended Washington, a somewhat radical idea, but Washington was put in charge of the fledgling Tuskegee Negro Normal Institute. At its founding the school consisted of a single dilapidated building owned by a local church, and offered classes in reading and writing, brickmaking, carpentry, farming, and shoemaking. Over the next several decades Washington led the school in its acquisition of several hundred acres of land, construction of a modern campus, and the development of its expansive curriculum. The school, where George Washington Carver did his work, is now called Tuskegee University.
Washington became a national figure after a well-publicized speech at the Cotton States and International Exposition in Atlanta in 1895, where he effectively quelled whites' worries about blacks demanding equality. "No race can prosper till it learns that there is as much dignity in tilling a field as in writing a poem", he said. "It is at the bottom of life we must begin, and not at the top. Nor should we permit our grievances to overshadow our opportunities." This was derisively called the "Atlanta compromise" by more radical blacks, but it was Washington's political perspective throughout his life -- he believed that blacks should accept segregation and the routine denial of voting rights, and he opposed the 1909 founding of the National Association for the Advancement of Colored People.
It is perhaps tempting to be critical of such an accommodating view from the distance of a century, but in Washington's time it was literally dangerous, even deadly, to take a more adamant stand for African-Americans' civil rights. He urged hard work as the only path to equality and success, and he brought racial and self-improvement and economic empowerment through vocational training, even as less patient civil rights advocates including W. E. B. Du Bois pointed out that Washington's position at Tuskegee "made him dependent on the rich charitable public." Washington was indeed popular with white power brokers, and Tuskegee could not have succeeded as it did without such support. His patrons included robber baron and library-builder Andrew Carnegie, camera magnate George Eastman, and Sears executive and philanthropist Julius Rosenwald.
He was the most influential black American leader at the beginning of the 20th century, at least in the eyes of white leaders and white media. In 1901 he was invited to the White House as an honored guest of President Theodore Roosevelt -- a dinner that shocked the sensibilities of newspaper editors across the South and in other corners of America. The Richmond Dispatch's editorial was more polite than many other newspapers: "With our long-matured views on the subject of social intercourse between blacks and whites, the least we can say now is that we deplore the President's taste, and we distrust his wisdom."
Despite publicly discouraging courtroom challenges to attain civil rights, Washington discretely gave financial support to such legal battles for African-Americans' rights, including Giles v. Harris. In that 1904 case, an Alabama black man named Jackson W. Giles sued over complex competency tests given only to blacks and administered by whites, which effectively blocked blacks from registering to vote. Writing for the majority in a US Supreme Court decision, Justice Oliver Wendell Holmes upheld a lower court's dismissal of Giles' complaint.
Washington had increasingly poor health in his latter years, and suffered from exhaustion, arteriosclerosis, and extreme high blood pressure. In Autumn of 1915 he collapsed while on a trip to New York City, and at St. Luke's Hospital he was told he had only a short time to live. He returned to Tuskegee, where he died in his sleep on the morning of 14 November 1915, and was buried in a service attended by thousands. In 1940 he became the first African-American to have his portrait on a US postage stamp, and in 1946 he became the first African-American to be honored on an US coin, with a special memorial half dollar.
---
[1] According to media reports at the time, Washington died of congestive heart failure aggravated by exhaustion, but a 2006 study of his medical records by the University of Maryland School of Medicine concluded that his death was caused by complications from hypertension (high blood pressure).

Father: (unknown white slaveowner)
Mother: Jane Ferguson (slave, b. circa 1820, d. circa 1874)
Father: Washington Ferguson (escaped slave, stepfather, "Wash", b. circa 1820)
Brother: John Washington (older, son of Jane and unknown white man)
Brother: James Ferguson (adopted by Jane & Wash Ferguson, postal worker, b. 1864, d. 1938)
Sister: Amanda Ferguson Johnston (half-sister, daughter of Jane and Wash Ferguson)
Wife: Fanny Norton Smith (m. 2-Aug-1882, d. 4-May-1884, one daughter)
Daughter: Portia Washington Pittman (pianist, b. 6-Jun-1883, d. 26-Feb-1978)
Wife: Olivia A. Davidson (assistant principal, m. 11-Aug-1886, d. 9-May-1889, two children)
Son: Booker T. Washington, Jr. (real estate broker, b. 29-May-1887, d. 1945)
Son: Ernest Davidson Washington (Tuskegee fundraiser, b. 6-Feb-1889, d. 1938)
Wife: Margaret James Murray (m. 12-Oct-1893 until his death, d. 26-Jun-1925)


High School: Hampton University (1875)
Teacher: Malden, WV
Theological: Virginia Union University (attended 1878-79)
Teacher: Hampton University (1879-81)
Administrator: Founder and President, Tuskegee Institute (1881-1915)


National Business League Founder (1900)
Born into Slavery
Flogged
Manumission by the Emancipation Proclamation


Author of books:
Up From Slavery (1901, memoir)
My Larger Education (1911, memoir)
The Man Farthest Down : A Record of Observation and Study in Europe (1912, non-fiction, with Robert E. Park)
The Booker T. Washington Reader (2008, posthumous)


Appears on postage stamps:
USA, Scott #873 (10¢, issued 7-Apr-1940)






Do you know something we don't?
Submit a correction or make a comment about this profile






Copyright ©2019 Soylent Communications