Emilio Segrè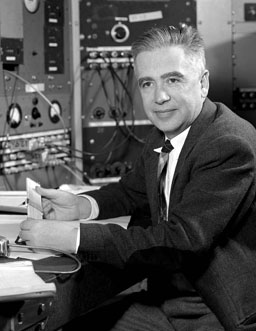 AKA Emilio Gino Segrè
Born: 30-Jan-1905 [1]
Birthplace: Tivoli, Italy
Died: 22-Apr-1989
Location of death: Lafayette, CA
Cause of death: Heart Failure
Remains: Buried, Lafayette Cemetery, Lafayette, CA

Gender: Male
Religion: Jewish
Race or Ethnicity: White
Sexual orientation: Straight
Occupation: Physicist
Nationality: United States
Executive summary: Co-Discoverer of the antiproton
Military service: Italian Army, to second lieutenant (1928-29)
American chemist and nuclear laureate Emilio Segrč was born and raised in Italy, and was Enrico Fermi's first graduate student at the University of Rome. In 1937 with mineralogist Carlo Perrier (1886-1948) he discovered technetium, the first man-made element. Technetium, named from a Greek word meaning artificial, is formed when molybdenum is irradiated with deuterium nuclei. It is a radioactive metal that has been used as a tracer and anti-corrosive in steel. In 1938, however, Segrč was fired from his position as Administrator of the Physics Laboratory at the University of Palermo, not for any misconduct but because the fascist government of Italy under Benito Mussolini had deemed that Jewish scientists should not be allowed to hold such posts.
He then came to America, where he worked under Ernest Lawrence at the University of California's Berkeley Radiation Lab. In 1940, he was part of a team of scientists that proved the existence of astatine by bombarding bismuth-209 with alpha particles. During World War II his parents were taken prisoner by Nazi forces; his mother was killed but his father escaped. In America, meanwhile, Segrč was a group leader in the Manhattan Project at Los Alamos, America's secret program to build an atomic bomb, and described the project as "a dream scientific community behind barbed wire". In 1944 he made the crucial discovery that plutonium made in a nuclear reactor has higher levels of the isotope plutonium-240 than plutonium produced in a cyclotron. In the same year, he became an American citizen.
He is best known for his 21 September 1955 discovery with Owen Chamberlain of the antiproton, the unstable negatively charged proton that exists as the antiparticle of a proton. This helped to support Paul Dirac's theory or antimatter, and earned the Chamberlain and Segrč the Nobel Prize for Physics four years later.
---
[1] Frequently but erroneously listed as 1 February 1905, due to a bureaucratic delay in filing his birth certificate.

Father: Giuseppe Segrè (paper manufacturer, b. 1859, d. 1944 natural causes)
Mother: Amelia Treves (b. 1868, d. 1943 World War II)
Wife: Elfriede Spiro (m. 2-Feb-1936, d. 1970 heart attack, one son, two daughters)
Son: Claudio (b. 1937)
Daughter: Amelia (b. 1942)
Daughter: Fausta (b. 1945)
Wife: Rosa Mines (m. 1972, d. 1997)


High School: Ginnasio Mamiani, Rome (1922)
University: PhD Physics, University of Rome (1928)
Scholar: Nuclear Physics, University of Rome (1929-31)
Scholar: Physics, University of Amsterdam (1931-32)
Scholar: Physical Chemistry, University of Hamburg (1930-31)
Teacher: Theoretical Physics, University of Rome (1932-36)
Administrator: Physics Laboratory, University of Palermo (1936-38)
Scholar: Radiation Laboratory, University of California at Berkeley (1938-43)
Teacher: Physics, University of California at Berkeley (1940-43)
Professor: Physics, University of California at Berkeley (1946-89)


Rockefeller Foundation Fellowship, 1930
Lawrence Berkeley National Laboratory 1936-38
Manhattan Project Group leader, 1943-46
Los Alamos National Laboratory
Fulbright 1951
National Academy of Sciences 1952
Guggenheim Fellowship 1953
Cannizzaro Prize of the Accademia dei Lincei 1955
August Wilhelm von Hofmann Medal for Chemistry 1958
Nobel Prize for Physics 1959 (with Owen Chamberlain)
Accademia dei Lincei
American Academy of Arts and Sciences
American Physical Society
German Academy of Science Corresponding Member
Heart Attack 22-Apr-1989 (fatal)
Jewish Ancestry
Italian Ancestry
Naturalized US Citizen 1944


Author of books:
Experimental Nuclear Physics (1953)
Nuclei and Particles (1964)
Enrico Fermi: Physicist (1970, biography)
From X-rays to Quarks: Modern Physicists and Their Discoveries (1980)
From Falling Bodies to Radio Waves (1984)
A Mind Always in Motion: The Autobiography of Emilio Segrč (1993, memoir; posthumous)





Requires Flash 7+ and Javascript.



Do you know something we don't?
Submit a correction or make a comment about this profile






Copyright ©2019 Soylent Communications