Owen Chamberlain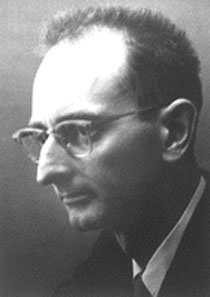 Born: 10-Jul-1920
Birthplace: San Francisco, CA
Died: 28-Feb-2006
Location of death: Berkeley, CA
Cause of death: Illness [1]

Gender: Male
Religion: Agnostic
Race or Ethnicity: White
Sexual orientation: Straight
Occupation: Physicist
Party Affiliation: Democratic
Nationality: United States
Executive summary: Co-Discoverer of the antiproton
Owen Chamberlain studied under Emilio Segrč at the University of California at Berkeley, and Segrč said he noticed Chamberlain in his classes because he "amused himself by finding flaws in my lectures". Segrč became his mentor, and when the teacher took a key position in the Manhattan Project during World War II, he asked the 22-year-old student to accompany him and work at Los Alamos. After the war Chamberlain resumed his studies at the University of Chicago under Enrico Fermi, and after earning his doctorate there he returned to Berkeley. Working with Segrč, Chamberlain conducted triple-scattering experiments that led to the 21 September 1955 discovery of the antiproton, which annihilates positive protons and is unable to exist for more than the merest moments beside ordinary matter. Chamberlain and Segrč shared the Nobel Prize for Physics in 1959.
Chamberlain later made headlines protesting America's involvement in the Vietnam War, participating in civil rights marches, and offering his support to the 1960s Free Speech Movement on the Berkeley campus. He investigated the diffraction of slow neutrons in liquids, uranium isotopes, high-energy heavy-ion collisions, how antiprotons interact with deuterium and hydrogen, and he was a member of the scientific team that used antiprotons to create antineutrons. He officially retired in 1989 but continued to take an active interest in scientific developments, and despite advancing Parkinson's disease in his latter years he was a familiar presence at the University until mere days before his death in 2006. He was also well-known on the Berkeley campus as a frisbee enthusiast.
His father, radiologist W. Edward Chamberlain, designed the first image amplifier used in fluoroscopy.
---
[1] Complications of Parkinson's disease, according to Chamberlain's New York Times obituary.

Father: W. Edward Chamberlain (radiologist)
Mother: Genevieve Lucinda Owen (b. 19-Aug-1891)
Wife: Beatrice Babette Copper Chamberlain (m. 1943, d. 1988, three daughters, one son)
Sister: Darol Chamberlain
Daughter: Karen Chamberlain
Daughter: Lynne Chamberlain Guenther (peace activist, b. 1933)
Daughter: Pia Chamberlain
Wife: June Steingart Greenfield Chamberlain (d. 1991, one stepson)
Son: David Arathorn (stepson)
Wife: Senta Gaiser Pugh-Chamberlain (m. 1998, two stepdaughters)
Daughter: Mary Pugh (stepdaughter)
Daughter: Anne Pugh (stepdaughter)


High School: Germantown Friends School, Philadelphia, PA (1937)
University: BA Physics, Dartmouth College (1941)
University: Physics, University of California at Berkeley (attended 1941-42)
University: PhD Physics, University of Chicago (1949)
Teacher: University of California at Berkeley (1948-58)
Professor: University of California at Berkeley (1958-89)


Manhattan Project 1942-46
Guggenheim Fellowship 1957
Nobel Prize for Physics 1959 (with Emilio Segrč)
American Academy of Arts and Sciences
American Association for the Advancement of Science
American Physical Society
Federation of American Scientists
Lawrence Berkeley National Laboratory
National Academy of Sciences
Ploughshares Fund
Draft Deferment: World War II by Presidential directive (3 times)
Risk Factors: Parkinson's, Smoking





Requires Flash 7+ and Javascript.



Do you know something we don't?
Submit a correction or make a comment about this profile






Copyright ©2019 Soylent Communications