Peggy Lipton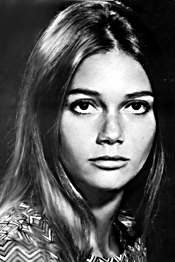 AKA Margaret Ann Lipton
Born: 30-Aug-1946
Birthplace: New York City

Gender: Female
Race or Ethnicity: White
Sexual orientation: Straight
Occupation: Actor
Nationality: United States
Executive summary: Julie Barnes in The Mod Squad
Peggy Lipton was born to an upper-class family on Long Island, and was sexually abused as a child. She began modeling professionally at age 15, and as often happens with abused children, she became a promiscuous young adult, sleeping around almost as soon as she arrived in Hollywood at the age of 17[1]. Only months later, she was playing a student on The John Forsythe Show, a sitcom set in a private academy. The series lasted only one season, but Lipton remained busy after its cancellation, with TV guest spots and Disney's rarely-screened Civil War drama Mosby's Marauders -- rarely-screened because the Confederate soldiers are the good guys. In the film, Lipton played Kurt Russell's sister and fell for James MacArthur.
In 1968, The Mod Squad debuted, and Lipton became famous as Julie Barnes, a troubled girl from San Francisco's Haight-Ashbury who agreed to become an undercover cop as part of her probation. The part had already been cast with another actress, and the program's producers were just going through the motions with the last few auditions when Lipton walked in, with stick-straight hair and hippie sunglasses. Her sudden fame gave Lipton an "in" for brief encounters with everyone from Keith Moon to Sammy Davis, Jr., and as The Mod Squad ended she fell in love with composer and producer Quincy Jones. When they married, he demanded she give up her acting career, and she acquiesced, working only in a 1979 Return of the Mod Squad TV movie, until their marriage crumbled in the late 1980s. Lipton says she and Jones were often pulled over by police during their marriage, under the assumption that a white woman with a black man must be either a hooker or a kidnapping victim.
In recent years, she has had recurring roles on Twin Peaks and Alias. In NBC's 2000 mini-series The '70s she played Gloria Steinem. In the disastrous 1999 film of The Mod Squad, Claire Danes played Lipton's role.
---
[1] Peggy Lipton, Breathing Out (2007), pp. 49-50: "I had achieved my goal; I was no longer a virgin. I felt I had shed an old layer of skin. I'd giggle to myself when I thought of it. Now I wanted to experiment with my new-found freedom. I wanted to sleep with as wide a selection of men as I could... Somewhere in the back of my consciousness I knew I could use sex as a way not only of getting what I wanted, but feeling the way I wanted... This is how at eighteen I began my pursuit of sexual power and pleasure."

Brother: Robert Lipton (actor, b. 20-Nov-1943)
Boyfriend: Paul McCartney (musician)
Boyfriend: Sammy Davis, Jr. (musician-actor)
Boyfriend: Elvis Presley (musician-actor)
Boyfriend: Lou Adler (producer, cohabited)
Boyfriend: Terence Stamp (actor)
Boyfriend: Christopher Stamp (brother of Terence, above)
Boyfriend: Keith Moon (musician)
Husband: Quincy Jones (m. Sep-1974, div. 1990, two children)
Daughter: Kidada Jones (actress, b. 22-Mar-1974)
Daughter: Rashida Jones (actress, b. 25-Feb-1976)


Golden Globe 1971 for The Mod Squad
Lithuanian Ancestry
Jewish Ancestry
Risk Factors: Marijuana, Cocaine, Heroin, Vegetarian, Yoga, Agoraphobia


TELEVISION
The John Forsythe Show Joanna (1965-66)
The Mod Squad Julie Barnes (1968-73)
Twin Peaks Norma Jennings (1990-91)


FILMOGRAPHY AS ACTOR
A Dog's Purpose (19-Jan-2017)
When in Rome (29-Jan-2010) · Priscilla
Jackpot (27-Jul-2001)
Skipped Parts (6-Jun-2000) · Laurabel Pierce
The '70s (30-Apr-2000)
The Intern (21-Jan-2000) · Roxanne Rochet
The Postman (25-Dec-1997) · Ellen March
Deadly Vows (13-Sep-1994)
Twin Peaks: Fire Walk With Me (28-Aug-1992)
True Identity (23-Aug-1991)
Kinjite: Forbidden Subjects (3-Feb-1989)
Purple People Eater (Dec-1988)
War Party (15-Sep-1988)
Addicted to His Love (28-Mar-1988)
The Return of Mod Squad (18-May-1979)
A Boy... a Girl (25-Apr-1969)
Blue (10-May-1968)


Author of books:
Breathing Out (2007, memoir)





Requires Flash 7+ and Javascript.



Do you know something we don't?
Submit a correction or make a comment about this profile






Copyright ©2017 Soylent Communications