Harry Reems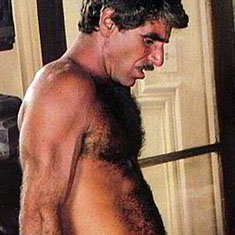 AKA Herbert Streicher
Born: 27-Aug-1947
Birthplace: Westchester, NY
Died: 19-Mar-2013
Location of death: Salt Lake City, UT [1]
Cause of death: unspecified

Gender: Male
Religion: Methodist
Race or Ethnicity: White
Sexual orientation: Straight
Occupation: Pornstar
Nationality: United States
Executive summary: Deep Throat
Military service: USMC
Harry Reems had already performed in at least half a dozen porn movies, including Pole Position and I Feel It Coming, before being hired as the lighting director for Deep Throat. When the lead actor wasn't able to perform, Reems was tapped for the role that made him famous.
Deep Throat's total budget was about $25,000, which was lavish for a porn flick at the time. It was an enormous hit, with worldwide grosses estimated at about $600 million (by an FBI spokesman). Hollywood's above-board distributors wouldn't touch a film like Deep Throat, so it was distributed more informally via the mob. In many cities' seedy theaters, Deep Throat played not for weeks or months but for years, often with lines out front. Deep Throat made pornography not just mainstream but chic.
In a Scopes-like trial in Memphis, everyone involved in the film was prosecuted for a "conspiracy" to commit pornography. The film's director copped a plea, the projectionist was charged, and Reems was charged. Several well-known Hollywood names, including Jack Nicholson, Warren Beatty, and Tony Bill, contributed to the moviemakers' defense. They had nothing to do with Deep Throat, but understood that if Reems could be prosecuted just for acting in it, that would establish a precedent which could then be used to prosecute, say, Nicholson or Candice Bergen for Carnal Knowledge. Reems was found guilty, a verdict which was later overturned on appeal.
Reems' later films include Over Sexposure, Sherlick Holmes, and over 100 other titles, including what may be the second highest grossing porno of all time, The Devil in Miss Jones with Georgina Spelvin. Despite his success, Reems was racked by alcoholism, as he later confessed: "I never really developed close friends or loved ones. I developed two ulcers, chronic pancreatitis, a diseased liver..." A drunken Reems wandered into Park City, Utah, in the late 1980s, where he was arrested several times, eventually fell for a local woman, joined a church, went through a 12-step program for booze, got married and settled down. He then went legit, owning Reems Real Estate in Park City, as well as the Harry Reems Athletic Club. He died in 2013.
---
[1] VA Hospital, Salt Lake City, UT

Wife: Jeanne Sterret (waitress, m. 1991)
Slept with: Christy Canyon
Slept with: Marilyn Chambers
Slept with: Nina Hartley
Slept with: Annette Haven
Slept with: Traci Lords
Slept with: Amber Lynn
Slept with: Ginger Lynn


University: University of Pittsburgh (dropped out)


AVN Awards Hall of Fame
unknown detox facility
Breaking and Entering
Conspiracy Memphis, TN
Obscenity Memphis, TN
Vagrancy
Born-Again Christian
Coma (Mar-2013)
Jewish Ancestry
Risk Factors: Alcoholism, Pancreatic Cancer, Emphysema


FILMOGRAPHY AS ACTOR
Inside Deep Throat (11-Feb-2005) · Himself
The Cartier Affair (4-Nov-1984)
Mae West (2-May-1982) · Narrator
National Lampoon's Movie Madness (23-Apr-1982) · Vice Squad Cop
Demented (1980) · Matt Rodgers
Deep Throat Part II (Feb-1974)
The Devil in Miss Jones (28-Mar-1973)
The Female Response (Jan-1973)
Deadly Weapons (1973)
Deep Throat (15-Nov-1972)
The Abductors (28-Jan-1972)





Requires Flash 7+ and Javascript.



Do you know something we don't?
Submit a correction or make a comment about this profile






Copyright ©2019 Soylent Communications