Spider-Man (3-May-2002)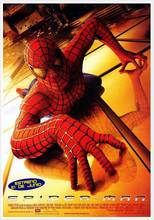 Director: Sam Raimi
Writer: David Koepp
Keywords: Action/Adventure, Superheroes, Comic Book, New York




Comic-book epic regales viewers with the origin fable of everyone's favorite crimefighting spider-like superhero.
ABSTRACT
Introverted high school student Peter Parker, bullied as a nerd by his peers and hopelessly smitten with classmate Mary Jane Watson, is bitten by a radioactive spider while out on a field trip to a laboratory one fateful day. Blessed with superpowers resembling that of a spider's not too long after the incident, Peter transforms into Spider-Man, soon acquiring a sworn enemy in the form of the Green Goblin after power-obsessed millionaire Norman Osborn becomes the guinea pig for an experimental cocktail of turbocharged performance-enhancing drugs.
REVIEWS
Review by Michael Lesch (posted on 5-Oct-2010)
Anxiously awaited by both comic and cartoon fans alike, Sam Raimi brings the extremely popular 'Spider-man' to life on the big screen which is true-to-form and a very rewarding rendition of this much adored action hero. Tobey Maguire is perfectly cast and admirably pulls off the dual role of shy newsboy by day, crime-fighter extraordinaire by night with style and grace. Kirsten Dunst is equally endearing as Spidey's gal pal as there are more than one Kodak moments shared between the two which no doubt will be archived in cinematic annals if romance fans have their vote. Yet it is the title character's battle with the arch-enemy Green Goblin, effectively played by veteran actor Willem Dafoe, which provides the many suspenseful twists and turns evidenced in their high-flying acrobatic dealings courtesy of STA CGI. While the much welcomed side plot involving Spider-man's subdued alter-ego (the mild mannered newsboy Peter Parker) adds additional intrigue as he entangles with envious friend and rival Robert Franco for the affection of sweetheart Dunst, it is the humorous (borderline silly but still funny) antics provided by J.K. Simmons as Peter Parker's Daily Bugle boss that contributes a huge amount of laughs in this enjoyable adventure that certainly sets the standard for first rate comic book to big screen transitions.
---
Do you know something we don't?
Submit a correction or make a comment about this profile

Copyright ©2019 Soylent Communications