William Blount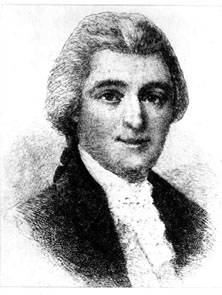 Born: 6-Apr-1749 [1]
Birthplace: Windsor, NC
Died: 21-Mar-1800
Location of death: Knoxville, TN
Cause of death: Illness
Remains: Buried, First Presbyterian Church Cemetery, Knoxville, TN

Gender: Male
Religion: Presbyterian
Race or Ethnicity: White
Sexual orientation: Straight
Occupation: Politician
Party Affiliation: Democrat-Republican
Nationality: United States
Executive summary: First expulsion from US Senate
Military service: Continental Army (North Carolina paymaster, 1777-80)
American politician, was born in Bertie County, near Windsor, North Carolina. He was twice a member of the Continental Congress and a delegate to the Constitutional Convention at Philadelphia in 1787, and to the state convention which ratified the Federal Constitution for North Carolina in 1789. From 1790 until 1796 he was, by George Washington's appointment, Governor of the "Territory South of the Ohio River" created out of land ceded to the federal government by North Carolina in 1789. He was also during this period the Superintendent of Indian Affairs for this part of the country. In 1791 he laid out Knoxville as the seat of government. He presided over the Tennessee State Constitutional Convention in 1796, and, upon admission to the Union, became Senator.
In 1797 a letter in his hand surfaced, laying out what is now known as "Blount's Conspiracy." It provided for the cooperation of the American frontiersmen, assisted by Indians, and an English force, in the seizure on behalf of Great Britain of Florida and Louisiana, then owned by Spain. As this scheme would upend the neutrality of the United States, and in particular breach a 1795 treaty with Spain, Blount became the first Senator to be expelled, "having been guilty of high misdemeanor, entirely inconsistent with his public trust and duty as a senator." An attempt was later made for impeachment, but the Senate, sitting as a court of impeachment, determined that it had no jurisdiction.
Blount's Conspiracy was disavowed by the British government, which, however, seems to have secretly favored it. Blount was enthusiastically supported by his constituents, and upon his return to Tennessee was made a member and the presiding officer of the State Senate. In the last year of his life, Blount's health declined rapidly, and he died at Knoxville on the 21st of March 1800.
---
[1] Old Style, 26 March 1749. New Style, 6 April 1749.

Wife: Mary Grainger (m. 12-Feb-1778, five daughters, two sons)
Daughter: Ann
Daughter: Mary Eliza
Daughter: Mary Louisa
Son: William Grainger
Son: Richard Blackledge
Daughter: Barbara
Daughter: Eliza
Father: Jacob Blount (b. 1726, d. 1789)
Mother: Barbara Gray
Mother: Hannah Baker (stepmother)


North Carolina State Senate (1797-1800)
US Senator, Tennessee (2-Aug-1796 to 8-Jul-1797, expelled)
US Official Superintendent of Indian Affairs (1790-96)
Governor Southwest Territory (1790-96)
North Carolina State Senate (1788-90)
Delegate to the Continental Congress (1786-87)
Delegate to the Continental Congress (1782-83)
North Carolina State House of Representatives (1780-84)
Failure to Appear US Senate (5-Feb-1798), charges dropped
English Ancestry Paternal
Scottish Ancestry Maternal





Requires Flash 7+ and Javascript.



Do you know something we don't?
Submit a correction or make a comment about this profile






Copyright ©2019 Soylent Communications