Geoff Bodine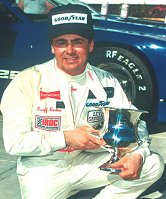 AKA Geoffrey Bodine
Born: 18-Apr-1949
Birthplace: Chemung, NY

Gender: Male
Race or Ethnicity: White
Sexual orientation: Straight
Occupation: Auto Racing
Party Affiliation: Republican
Nationality: United States
Executive summary: NASCAR driver, 1978-2005
Geoff Bodine is a former NASCAR driver, known for his successful career and participation in various forms of racing, spanning fifty-one years from 1954 to 2005 (including a twenty-seven year stint from 1978 to 2005 as a NASCAR driver).
Bodine was born to a racing family on April 18, 1949 in Chemung, New York. His father, Eli Bodine, Jr. and his grandfather, Eli Bodine, Sr., built the Chemung Speedrome in 1951, a racetrack which continues to exist to this day.
Bodine got his start in racing in 1954 as a micro-midget car driver. He quickly advanced through the ranks and was driving modified race cars in the northeastern United States in the 1960's. After twenty-four years of driving go-karts, midget cars and modified cars, Bodine started driving in NASCAR's premier division of racing, the Winston Cup (now the Nextel Cup), in 1979. Bodine participated in three races that year, his best finish being in Rockingham, North Carolina, when he finished twenty-second.
Bodine did not participate in the Winston Cup in 1980, but raced in five events in 1981, his best finish being seventh place in Charlotte, North Carolina.
Bodine's rookie year was in 1982, when he participated in twenty-five of thirty events, collecting four top-five finishes, ten top-ten finishes, and two poles , as well as finishing twenty-second in the standings driving a Buick in his first race and a Pontiac in the rest.
Bodine's breakout year and the start of the 'legendary' period of his career was in 1984, when he participated in all thirty events, getting three wins, seven top-fives, fourteen top-tens, and three poles, while finishing ninth in the standings driving a Chevrolet.
Bodine went on to finish in the top ten in the standings every year from 1984 to 1990 (except for one year, 1987, when he finished thirteenth). During that six-year period, he averaged an end-of-year finish of eighth.
After 1990, however, Bodine slipped into obscurity. After finishing third in the standings in 1990 and narrowly missing out on a championship, Bodine finished fourteenth in 1991, falling to seventeenth in 1996. After 1996, at the age of 48, he started racing a part-time NASCAR schedule for the first time since 1981, finishing twenty-second in the standings.
Bodine retired from competition in 2005, after announcing his retirement on June 12 at the age of 56 following a thirty-first place finish in Nashville. He stopped racing competitively, however, in 2000, following a crash that almost cost his life at Daytona while racing trucks. In that crash, he broke his right wrist, his right cheekbone, a vertebrae in his back, his right ankle, and suffered a concussion at the age of 51.
Following his retirement, he went back to being called Geoffrey and now works for the Make-A-Wish Foundation as a volunteer. His brothers, Todd and Brett Bodine, are both semi-successful NASCAR drivers. Brett now drives the pace car for Nextel Cup events, while Todd is the defending Craftsman Truck Series champion.
Father: Eli Bodine, Jr. (d., racetrack operator)
Brother: Brett Bodine (NASCAR driver, b. 1959)
Brother: Todd Bodine (NASCAR driver, b. 1964)
Wife: Kathy Bodine (ex, divorced 1994)

Do you know something we don't?
Submit a correction or make a comment about this profile

Copyright ©2019 Soylent Communications