Ashley Judd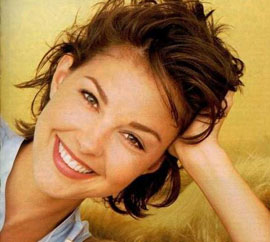 AKA Ashley Tyler Ciminella
Born: 19-Apr-1968
Birthplace: Granada Hills, CA

Gender: Female
Race or Ethnicity: White
Sexual orientation: Straight
Occupation: Actor
Nationality: United States
Executive summary: Divine Secrets of the Ya-Ya Sisterhood
Ashley Judd is the daughter of country singer Naomi Judd and the younger half-sister of singer Wynonna Judd. Her parents divorced in 1972, and her mother struggled to raise two girls on her nurse's salary. The girls wore second-hand clothes, and the family moved often. They occasionally lived without electricity or indoor plumbing in remote, poverty-stricken areas of Kentucky. When Judd was a teenager, her mother and sister's country music duet, The Judds, became popular and successful, and suddenly the Judd family was rich. Ashley didn't sing, though, so she moved in with her father during the school year, and only accompanied her mother and sister on tour during summers. On these road trips, Judd has said she was given the chore of cleaning the tour bus for $10 a day.
Judd wore braces as a child and had acne as a teen, but she was gorgeous enough to be a cheerleader in high school. She majored in French in college, but after graduation, she moved to Hollywood, deciding to be an actress. She was quickly hired to play a junior member of the Enterprise engineering staff on Star Trek: The Next Generation. She appeared in two episodes, briefly sparking with Ensign Wesley Crusher (Wil Wheaton) as they saved the ship's crew from an addictive computer game. After that she appeared on the sitcom Sisters for several years, playing Swoosie Kurtz's spoiled daughter.
Her first movie role was as "wife of paint store owner" in 1992's Kuffs. She was originally offered a bigger role, but turned it down when she was told it involved a topless scene. She starred in 1993's Ruby in Paradise, winning critical raves. Her better films include Heat, Divine Secrets of the Ya-Ya Sisterhood, and De-Lovely, though she has also appeared in a number of lowball thrillers like Kiss the Girls and High Crimes.
Judd volunteers for anti-AIDS education.
In 2001, she won "substantial damages" suing the British magazine Now after the magazine fabricated an interview with Judd and published it.[1] During a 2004 stay at the Ahwahnee hotel in Yosemite, Judd accidentally locked herself out of her cabin without her clothes, and with her face covered in pimple cream. She wrapped herself in a yoga mat and went to the lobby to get a new key. In 2010 she completed a Masters Degree in Public Administration at Harvard's John F. Kennedy School of Government.
---
[1] "Ashley Judd Wins Damages over Fabricated Interview", The Guardian, 5 April 2001.

Father: Michael Ciminella (marketing consultant; div. 1972)
Mother: Naomi Judd (country singer)
Sister: Wynonna Judd (half-sister; country singer)
Boyfriend: Lyle Lovett (singer, together early 1990s)
Boyfriend: Michael Bolton (singer, ex)
Boyfriend: Brady Anderson (outfielder, ex)
Boyfriend: Robert De Niro (actor, together circa 1995)
Boyfriend: Matthew McConaughey (actor, together circa 1996)
Husband: Dario Franchitti (auto racer, m. 12-Dec-2001, sep. 2013)


High School: Franklin High School, Franklin, TN (1986)
University: BS French, University of Kentucky (dropped out 1990, completed degree in 2007)
University: MPA, John F. Kennedy School of Government (2010)


Endorsement of Estée Lauder
Apne Aap International
Clinton Global Initiative Expert Panelist
Equality Now
Heifer International
Population Services International Board of Directors
Women For Women International
Kappa Kappa Gamma Sorority
Kentucky Colonel
Wedding: Francois-Henri Pinault and Salma Hayek (2009)
Italian Ancestry Paternal
Risk Factors: Smoking, Vegetarian, Depression, Yoga


TELEVISION
Missing Becca Winstone (2012-)
Sisters Reed Halsey (1991-94)


FILMOGRAPHY AS ACTOR
Allegiant (8-Mar-2016)
Insurgent (11-Mar-2015)
Dolphin Tale 2 (11-Sep-2014)
The Identical (17-Apr-2014)
Divergent (18-Mar-2014)
Olympus Has Fallen (20-Mar-2013)
A Fierce Green Fire (23-Jan-2012) · Narrator
Dolphin Tale (21-Sep-2011) · Lorraine Nelson
Flypaper (28-Jan-2011) · Kaitlin
Tooth Fairy (14-Jan-2010) · Carly
Crossing Over (26-Feb-2009)
Helen (16-Jan-2009) · Helen Leonard
Bug (19-May-2006) · Agnes White
Come Early Morning (2006)
De-Lovely (22-May-2004) · Linda Porter
Twisted (23-Feb-2004) · Jessica Shepard
Frida (29-Aug-2002) · Tina Modotti
Divine Secrets of the Ya-Ya Sisterhood (3-Jun-2002) · Younger Vivi
High Crimes (3-Apr-2002)
Someone Like You... (30-Mar-2001) · Jane Goodale
Where the Heart Is (28-Apr-2000) · Lexie Coop
Double Jeopardy (21-Sep-1999)
Eye of the Beholder (28-Aug-1999) · Joanna
Our Friend, Martin (1999) [VOICE]
Simon Birch (11-Sep-1998) · Rebecca Wenteworth
Kiss the Girls (10-Sep-1997) · Kate McTiernan
The Locusts (28-Aug-1997)
Normal Life (30-Aug-1996)
A Time To Kill (24-Jul-1996)
Norma Jean & Marilyn (18-May-1996)
Heat (15-Dec-1995) · Charlene
Smoke (9-Jun-1995) · Felicity
The Passion of Darkly Noon (Feb-1995) · Callie
Ruby in Paradise (Jan-1993)
Kuffs (10-Jan-1992) · Wife of Paint Store Owner


Official Website:
http://www.ashleyjudd.com/

Author of books:
All That Is Bitter and Sweet: A Memoir (2011, memoir)





Requires Flash 7+ and Javascript.



Do you know something we don't?
Submit a correction or make a comment about this profile






Copyright ©2019 Soylent Communications