Jack Davenport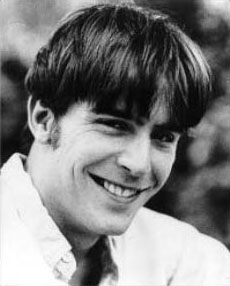 Born: 1-Mar-1973
Birthplace: Suffolk, England

Gender: Male
Race or Ethnicity: White
Sexual orientation: Matter of Dispute [1]
Occupation: Actor
Nationality: England
Executive summary: Steve Taylor on Coupling
Jack Davenport is probably best known as Miles Stewart in BBC2's lusty lawyers' soap opera This Life, or as Steve Taylor on the same channel's sex farce Coupling (Davenport had nothing to do with America's limp translation of the sitcom). He also played the blueblood Commodore Norrington in Pirates of the Caribbean, and the gay opera buff in The Talented Mr. Ripley.
Davenport's parents were both successful British actors, but divorced when Davenport was about 8. He was raised by his mother, and remains close to both parents. His mother was once accused of importing cocaine, but the charges were dropped before trial.
Both his parents tried to dissuade Davenport from entering show business, but after high school, he worked with the Welsh national theater, appearing on stage in small roles and becoming good friends with Rhys Ifans.
After college, he asked his mother for advice on breaking into show business. She had an role in John Cleese's then-upcoming Fierce Creatures, and suggested that her son write to Cleese and ask to work as an intern behind the scenes. Cleese instead found a role for Davenport as a student zookeeper, but the film wasn't released for almost two years. By then, Davenport was starring in This Life.
---
[1] There have been whispers that he is gay, mostly fueled by his pre-marriage habit of frequenting gay pubs. Davenport generally shrugs off such talk, explaining only that gay nightclubs offer better dance music.

Father: Nigel Davenport (actor, b. 23-May-1928)
Mother: Maria Aitken (actress, b. 12-Sep-1945)
Father: Patrick McGrath (stepfather, author, b. 1950)
Wife: Michelle Gomez (actress, m. May-2000)


University: Cheltenham College
University: BA English, University of East Anglia


TELEVISION
Smash Derek Wills (2012-)
FlashForward Lloyd Simcoe (2009-10)
Swingtown Bruce Miller (2008)
Coupling Steve Taylor (2000-04)
This Life Miles Stewart (1996-97)


FILMOGRAPHY AS ACTOR
A United Kingdom (9-Sep-2016)
Kingsman: The Secret Service (13-Dec-2014)
Pirate Radio (1-Apr-2009) · Twatt
Pirates of the Caribbean: At World's End (19-May-2007)
Pirates of the Caribbean: Dead Man's Chest (25-Jun-2006)
Mary Bryant (30-Oct-2005)
The Wedding Date (4-Feb-2005)
The Libertine (16-Sep-2004)
Pirates of the Caribbean: The Curse of the Black Pearl (28-Jun-2003) · Norrington
The Bunker (14-Sep-2001)
Offending Angels (Oct-2000)
The Wyvern Mystery (5-Mar-2000)
The Talented Mr. Ripley (12-Dec-1999) · Peter Smith-Kingsley
Immortality (27-Nov-1998) · Sgt. Roche
Ultraviolet (15-Sep-1998)
Tale of the Mummy (10-Jul-1998) · Det. Bartone
Fierce Creatures (23-Jan-1997) · Student Zoo Keeper
The Moth (1997)





Requires Flash 7+ and Javascript.



Do you know something we don't?
Submit a correction or make a comment about this profile






Copyright ©2019 Soylent Communications