John Amos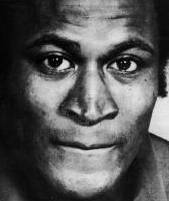 AKA John Amos, Jr.
Born: 27-Dec-1939
Birthplace: Newark, NJ

Gender: Male
Race or Ethnicity: Black
Sexual orientation: Straight
Occupation: Actor
Nationality: United States
Executive summary: James Evans on Good Times
John Amos played Esther Rolle's husband on Good Times, WJM's weatherman on The Mary Tyler Moore Show, the adult Kunta Kinte on Roots, and the Chairman of the Joint Chiefs of Staff on The West Wing. He was also the Mayor on Craig T. Nelson's The District, and owned the fast-food restaurant in Coming to America.
He wrote for Leslie Uggams' short-lived 1969 CBS variety show, and later wrote the play Halley's Comet, about an old man whose memories are intertwined with the comet he saw as a boy. Before Amos was famous, he was featured prominently in McDonald's singing-and-dancing "You deserve a break today" commercials as a smiling shift manager.
Good Times was a groundbreaking show, milking laughs from actual issues of minority life in a rough neighborhood. But Amos, who played the family's no-nonsense father, complained as the show gradually shifted its focus onto the silly antics (and perceived negative racial stereotypes) of Jimmie Walker's "J.J." character.
"It was an ongoing struggle to say no, I don't want to be a part of the perpetuation of this stereotype," Amos recalls. "Despite the fact that I had a writing background, they didn't want to accept whatever ideas I had as a writer. So when I would pose arguments about J.J.'s role being too stereotypical, I was regarded as a negative factor.

"It ultimately reached a point where it was inflammable, I mean, spontaneous combustion could happen at any minute. They killed my character off and as God would have it, just when they told me I would never work again, I got cast in a little program called Roots, and as they would say, the rest is history. I could have begged and they made it obvious to me that if I wanted to come back and be a good boy... but I'd rather say 'Toby be good nigger' in Roots than say 'Toby be good nigger' on Good Times."
Father: John Amos, Sr..
Mother: Annabelle
Wife: Noel J. Mickelson (one son, one daughter)
Son: Kelly Christopher Amos ("KC", director)
Daughter: Shannon Amos (producer)
Wife: Lillian Lehman (actress, div.)
Wife: Elisabete De Sousa-Amos (PR Director, Halley's Comet Foundation)


High School: East Orange High School, East Orange, NJ
University: Colorado State University


TELEVISION
Men in Trees Buzz (2006-)
The District Mayor Ethan Baker (2000-01)
The West Wing Adm. Percy Fitzwallace (1999-2004, killed off in car bombing)
In the House Coach Sam Wilson (1995-97)
The Fresh Prince of Bel-Air Fred Wilkes (1994-95)
Hunter Captain Dolan (1984-85)
Good Times James Evans, Sr. (1974-76, killed off in car accident)
Maude Henry Evans (1973-74)
The Mary Tyler Moore Show Gordy Howard (1970-73)


FILMOGRAPHY AS ACTOR
Madea's Witness Protection (29-Jun-2012)
Dr. Dolittle 3 (11-Apr-2006)
Voodoo Moon (4-Nov-2005) · Dutch
My Baby's Daddy (9-Jan-2004) · Uncle Virgil
Disappearing Acts (9-Dec-2000)
Something to Sing About (10-Jun-2000)
The Player's Club (8-Apr-1998) · Freeman
For Better or Worse (18-Feb-1996)
Hologram Man (8-Apr-1995)
Mac (17-Sep-1992)
Ricochet (4-Oct-1991) · Rev. Styles
Die Hard 2 (4-Jul-1990) · Grant
Two Evil Eyes (25-Jan-1990)
Lock Up (4-Aug-1989)
Coming to America (29-Jun-1988) · Cleo McDowell
American Flyers (16-Aug-1985)
Dance of the Dwarfs (1983)
The Beastmaster (20-Aug-1982)
Touched by Love (31-Oct-1980)
Roots: The Next Generations (18-Feb-1979)
Roots (23-Jan-1977)
Let's Do It Again (11-Oct-1975)
The World's Greatest Athlete (14-Feb-1973)
Sweet Sweetback's Baad Asssss Song (23-Apr-1971)





Requires Flash 7+ and Javascript.



Do you know something we don't?
Submit a correction or make a comment about this profile






Copyright ©2019 Soylent Communications