Muammar Qaddafi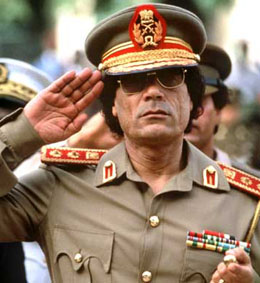 AKA Muammar Abu Minar al-Qaddafi
Born: 1942
Birthplace: Surt, Libya
Died: 20-Oct-2011
Location of death: Surt, Libya
Cause of death: War

Gender: Male
Religion: Muslim
Race or Ethnicity: Middle Eastern
Sexual orientation: Straight
Occupation: Head of State
Nationality: Libya
Executive summary: Dictator of Libya
Military service: Libyan Army (1965-2011)
A dictator known as much for sponsoring international terrorism as his impeccable fashion sense, Libya's self-proclaimed "Guide of the Revolution" took power in a September 1969 military coup which deposed King Idriss. One of Colonel Muammar Qaddafi's first acts as dictator was to rework the calendar and rename all the months. He also published the Green Book -- not really an answer to Mao's Little Red Book, but rather a triad of brief pamphlets on the topics of Democracy, Economics, and Sociology.
President Reagan's personal appraisal of the man: "I find he's not only a barbarian, but he's flaky. [...] I just think that the man is a zealot." Primarily at issue was Qaddafi's longstanding support for international terrorism. He played host to both Abu Nidal and the infamous assassin Carlos the Jackal. In all likelihood, Qaddafi ordered the bombing of Pan Am flight 103.
In August 2003, Libya agreed to pay $2.7 billion to families of the 270 killed on board Flight 103 when it exploded in December 1988 over Lockerbie, Scotland. Just six months after the settlement, Qaddafi was visited by British Prime Minister Tony Blair in Tripoli.
Father: Mohamed Abdulsalam Abuminiar
Mother: Aisha Ben Niran
Wife: Safia (m. 1970, four sons, one daughter)
Son: Saif al-Islam
Daughter: (adopted, b. 1985, d. 15-Apr-1986)
Daughter: Aisha Moammar Gadhafi (law professor)
Son: Hannibal
Son: Mohammed
Son: Khamis (b. 1983, reported killed 2011)

High School: Sebha, Libya
University: BA History, University of Libya, Tripoli (1963)

Liposuction (1995)
Appendectomy (1970)
Stabbed
Traveled to the USSR 1981
Declared Holy War Against the United States (1-Sep-1981)
Declared Holy War against Christians in Lebanon (1-Sep-1983)
Traveled to the USSR Oct-1985
Declared Holy War against Switzerland (Feb-2010)
Risk Factors: Smoking

Official Website:
http://www.algathafi.org/
Rotten Library Page:
Muammar Qaddafi
Do you know something we don't?
Submit a correction or make a comment about this profile

Copyright ©2019 Soylent Communications