Carlos the Jackal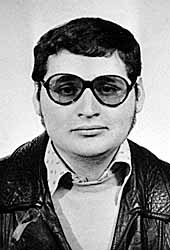 AKA Ilich Ramírez Sánchez
Born: 12-Oct-1949
Birthplace: Caracas, Venezuela

Gender: Male
Religion: Muslim [1]
Race or Ethnicity: Hispanic
Sexual orientation: Straight
Occupation: Terrorist
Nationality: Venezuela
Executive summary: International terrorist
Recognized by some as that guy on the cover of the Black Grape album It's Great When You're Straight... Yeah, Carlos the Jackal is best known as being the mastermind behind the hostage crisis at the 1975 OPEC conference in Vienna. Named after Lenin, Ilich Ramírez Sánchez was born in 1949 in Caracas, Venezuela, and grew up to become an infamous assassin and terrorist cell leader. Sánchez joined the Popular Front for the Liberation of Palestine in 1970, and received training at their terrorist school in Amman, Jordan. There he received the pseudonym Carlos.
Three years later, he attempted to assassinate prominent Jewish businessman Joseph Edward Sieff at his London manor, but failed when his pistol jammed after the first shot. Sieff survived despite taking a bullet in the face. After that, Carlos perpetrated a series of bombings in London and France, and tried to take out two passenger jets with rocket-propelled grenades at Orly Airport in January 1975.
In December of that year, Carlos led the team that took 42 OPEC ministers hostage in Vienna, Austria. They managed to negotiate their escape by demanding that an airliner take them and their hostages to Algiers, then Tripoli, and then back to Algiers where the perpetrators were granted asylum. However, Carlos was then kicked out of the PFLP because he hadn't killed two specific OPEC ministers, in violation of his orders.
Carlos went on to form his own terrorist group, which he named the Organisation of Arab Armed Struggle. They attempted to hijack a nuclear power plant in 1982 but failed. The group then carried out a series of bombings in Paris. By this time Carlos was forced to flee Europe, eventually settling in Damascus. He lived in Syria between 1985 and 1991, after which he moved to Jordan and then the Sudan. Three years later, the Sudanese government turned Carlos over to French agents, who extradited him back to France.
At trial he was defended by prominent defense attorney Jacques Vergčs, but was found guilty in due course of murdering three French law enforcement agents, receiving a life sentence. Soon after, photos of Sánchez in his prison accommodations were somehow leaked to the public. They showed a relatively opulent living space, especially when compared with typical maximum security facilities. Carlos has a fully-furnished suite to himself, complete with hotel-quality amenities including radio, television, and an Internet-enabled terminal for websurfing.
---
[1] Convert to Islam, by his own account in L'islam révolutionnaire (2003).

Father: José Altagracia Ramírez Navas
Mother: Elba Maria Sánchez
Brother: Lenin (b. 1951)
Brother: Vladimir (b. 1958)
Wife: Magdalena Kopp (m. 1979)
Daughter: Elba Rosa (b. 17-Aug-1986)
Wife: Lana Abdel Salam Jarrar
Wife: Isabelle Coutant-Peyre (m. Aug-2001)
Daughter: Sonia Marine Oriola


High School: Stafford House College, Canterbury, England
University: Patrice Lumumba University, Moscow, Russia
University: University of London
University: Central London Polytechnic


Converted to Islam
Extradited from the Sudan to France
Hunger Strike 3-Nov-1998 to 23-Nov-1998
Murder
Granted Asylum by Algeria (1976)
Granted Asylum by Syria (1981)
Deported from Syria (1993)
Liposuction Khartoum


Rotten Library Page:
Carlos the Jackal

Author of books:
L'islam révolutionnaire (2003, religion)






Do you know something we don't?
Submit a correction or make a comment about this profile






Copyright ©2019 Soylent Communications