Joseph Barbera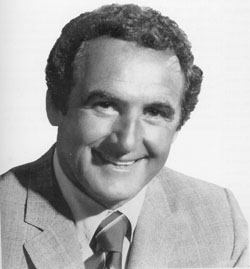 AKA Joseph Roland Barbera
Born: 24-Mar-1911
Birthplace: New York City
Died: 18-Dec-2006
Location of death: Studio City, CA
Cause of death: Natural Causes
Remains: Cremated

Gender: Male
Race or Ethnicity: White
Sexual orientation: Straight
Occupation: Cartoonist
Nationality: United States
Executive summary: Hanna-Barbera cartoons
Joseph Barbera was a banker who doodled. He sent drawings to magazines, collecting rejection slips until Collier's Magazine published one and sent him a check. With a few more sales, Barbera decided to change career paths. Walt Disney wouldn't even interview Barbera for a job, but he was hired to do sketches and storyboards for Van Beuren Studio (home of "Felix the Cat"). He later jumped to Terrytoons (remembered mostly for "Mighty Mouse") before being hired by MGM's animation department. There Barbera met another recent hire, William Hanna. Their first effort together, Puss Gets the Boot, was the debut of Tom & Jerry (though Tom was called Jasper), and it was nominated for an Oscar. Gene Kelly danced with Jerry (the mouse) in Anchors Aweigh (1945), and Hanna and Barbera won seven Oscars for MGM.
In 1957, though, the studio announced it was quitting the cartoon business, so Hanna and Barbera started Hanna-Barbera Productions. Until then, cartoons shown on TV were the same cartoons that had run in movie theaters years before, but Hanna-Barbera wanted to make original cartoons for the small screen. Ruff and Ready, their first TV series, was made on a tiny budget, and featured short but original animation introducing old cartoons. When that was successful, they were able to launch an entirely original half-hour show, Huckleberry Hound, in 1958. It was the first animated show to win an Emmy, for best children's programming, and introduced Yogi Bear, Pixie and Dixie, and Quick Draw McGraw.
With that success, Hanna-Barbera decided to try prime time TV, and The Flintstones debuted on ABC in 1960. It ran six seasons, and was recycled for generations of Saturday morning and after-school reruns and spin-offs. Hanna-Barbera ruled animation for decades, with The Jetsons, Jonny Quest, Scooby Doo, Josie and the Pussycats, Top Cat, The Smurfs, Captain Planet, and many more.
Wife: (3 children)
Daughter: Jayne
Son: Neal
Daughter: Lynn
Wife: Sheila

High School: Erasmus Hall High School, Brooklyn, NY
University: Pratt Institute
University: Art Students League of New York

Metro-Goldwyn-Mayer Animator (1937)
Italian Ancestry

FILMOGRAPHY AS DIRECTOR
Jetsons: The Movie (6-Jul-1990)
The Man Called Flintstone (3-Aug-1966)
Hey There, It's Yogi Bear (3-Jun-1964)

FILMOGRAPHY AS ACTOR
The Flintstones in Viva Rock Vegas (15-Apr-2000) · Special Appearance
The Flintstones (27-May-1994) · Man in Mersandes

Author of books:
My Life in 'Toons: From Flatbush to Bedrock in Under a Century (1994, memoir)

Do you know something we don't?
Submit a correction or make a comment about this profile

Copyright ©2019 Soylent Communications