The Flintstones in Viva Rock Vegas (15-Apr-2000)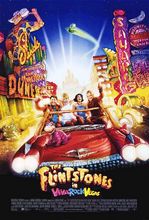 Director: Brian Levant
Writers: Deborah Kaplan; Harry Elfont; Jim Cash; Jack Epps, Jr.
Music by: David Newman
Producer: Bruce Cohen
Keywords: Comedy, Dinosaurs, Cavemen




Prequel to 1994's The Flintstones follows the to-be Flintstones and Rubbles in "Rock Vegas" prior to their respective marriages.
ABSTRACT
Sequel to The Flintstones (1994). Put-upon quarry worker Fred Flintstone is determined to win the heart of voluptuous heiress Wilma Slaghoople; best friend Barney Rubble is looking to take his relationship with girlfriend Betty O'Shale to the next level. Barney suggests that Fred join them for a weekend getaway to glitzy Rock Vegas, compelling Wilma to tag along as Fred competes with scheming man-about-town Chip Rockefeller for his future wife's affection.
CAST
Mark Addy
... Fred Flintstone
Stephen Baldwin
... Barney Rubble
Kristen Johnston
... Wilma Slaghoople
Jane Krakowski
... Betty O'Shale
Thomas Gibson
... Chip Rockefeller
Alan Cumming
... Gazoo
Alan Cumming
... Mick Jagged
Harvey Korman
... Col. Slaghoople
and
Joan Collins
... Pearl Slaghoople
Alex Meneses
... Roxie
John Taylor
... Keith Richrock
Tony Longo
... Big Rocko
Danny Woodburn
... Little Rocko
Taylor Negron
... Gazaam & Gazing
Jack McGee
... Bronto Crane Examiner
David Jean-Thomas
... Bronto Crane Examiner
Brian Coughlin
... Bronto Crane Worker
Richard Karron
... Bronto Crane
Gary Epp
... Dean Agate
Jennifer Simard
... Bride-to-Be
Heather McClurg
... Tennis Girl
Chene Lawson
... Kitty
Beverly Sanders
... Photographer
John Cho
... Parking Valet
Nora Burns
... Party Guest
Mark Kubr
... Party Guest
Cheryl Holdridge-Post
... Genevieve
Buck Kartalian
... Old Man at Bronto King
Matt Griesser
... Booth Worker
Irwin Keyes
... Joe Rockhead
Mary Jo Smith
... Gambler Woman
Duane Davis
... Goon
Kevin Grevioux
... Associate Goon
Steve Schirripa
... Croupier
John Wills Martin
... Casino Security Guard
Lucille M. Oliver
... Hotel Worker
Joel Virgel Vierset
... Keyboard Player
Rachel Winfree
... Confessor
Ted Rooney
... Confessor
Jim Doughan
... Dinosaur Confessor
Jason Kravitz
... Choreographer
John Stephenson
... Showroom Announcer
Brian Mahoney
... Audience Man
Ann Martel Mahoney
... Audience Woman
Walter Gertz
... Wedding Minister
Featuring the Voices of
Mel Blanc
... Puppy Dino
Rosie O'Donnell
... Octopus Masseuse
Special Appearances by
William Hanna
... Special Appearance
Joseph Barbera
... Special Appearance
The Rocketts
Jennifer Arden
... Rockette
Jennifer Bachler
... Rockette
Tracie Burton
... Rockette
Teresa Chapman
... Rockette
Jacqueline Case
... Rockette
Betsy Chang
... Rockette
Darlene Dillinger
... Rockette
Kristen Dinsmore
... Rockette
Tracie Hendricks
... Rockette
Helena Hultberg
... Rockette
Katherine Miller
... Rockette
Jessica Page
... Rockette
Kim Timbers-Patteri
... Rockette
Cristal Williams
... Rockette
Puppeteers
David Barclay
... Head Puppeteer
Kevin Carlson
... Puppeteer
Tom Fisher
... Puppeteer
Terri Hardin
... Puppeteer
Bruce Lanoil
... Puppeteer
Michelan Sisti
... Puppeteer
Allan Trautman
... Puppeteer
REVIEWS
Do you know something we don't?
Submit a correction or make a comment about this profile

Copyright ©2019 Soylent Communications