George MacDonald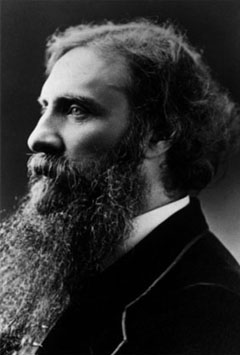 Born: 10-Dec-1824
Birthplace: Huntly, Aberdeenshire, Scotland
Died: 18-Sep-1905
Location of death: Ashstead, England
Cause of death: unspecified
Remains: Cremated, English Cemetery, Bordighera, Liguria, Italy

Gender: Male
Religion: Christian
Race or Ethnicity: White
Sexual orientation: Straight
Occupation: Author, Religion
Nationality: Scotland
Executive summary: At the Back of the North Wind
George MacDonald was a prolific nineteenth century Scottish author who authored over fifty volumes of fiction, children's stories, sermons, and poetry. Known principally for his religious writings and Christian fantasy tales, MacDonald was deemed by W. H. Auden to be one of the "most remarkable writers of the nineteenth century", equal to, if not superior to Edgar Allan Poe. Others have called MacDonald the most original thinker of the nineteenth century and the greatest writer of fantasy for children. Among his best-known works are Phantastes (1858), At the Back of the North Wind (1871), The Princess and Curdie (1882), and Lilith (1895). A number of his works remain in publication and are now finding circulation as free e-books.
In his day MacDonald was friends with an impressive array of authors and thinkers, among them Ralph Waldo Emerson, Oliver Wendell Holmes, John Greenleaf Whittier, Mark Twain, Walt Whitman, Charles Dickens, Alfred Lord Tennyson, William Makepeace Thackeray, and Henry Wadsworth Longfellow. MacDonald was close friends with writer, critic, and possible pedophile John Ruskin, serving as a go-between in his infatuation with the Rose La Touche.
MacDonald's contribution to children's literature extended to his mentorship of Lewis Carroll. Indeed it was MacDonald who encouraged Carroll to go forth with Alice in Wonderland, in part due to the positive response of MacDonald's young daughters to the fledgling work. Later MacDonald served as a pivotal source of inspiration to C. S. Lewis, Madeleine L'Engle, and J. R. R. Tolkien, as well as Auden and G. K. Chesterton. His realistic novels helped inspire the sentimentalist "Kailyard School" of Scottish writing.
Despite his proficiency and influence as a writer, MacDonald's first choice of career had been the pulpit. He had studied first at the University of Aberdeen, and then at London's Highbury College, preparing to become a congregational minister. MacDonald served for three years as Pastor of the Trinity Congregational Church, in Arundel. But his sermons were fairly unpopular due to his anti-Calvinist stance, and he was ultimately forced to resign. According to MacDonald, God's loving nature caused him to strive tirelessly to save all.
Wife: Louisa Powell (six sons and five daughters)
Son: Greville Macdonald (author)

University: Aberdeen University, Scotland
Theological: Independent College, Highbury

Author of books:
Phantastes (1858, fiction)
David Elginbrod (1862, fiction)
Alec Forbes (1865, fiction)
Robert Falconer (1868)
At the Back of the North Wind (1871, fiction)
The Princess and the Goblin (1872, fiction)
The Princess and Curdie (1882, fiction)
Lilith (1895, fiction)

Do you know something we don't?
Submit a correction or make a comment about this profile

Copyright ©2019 Soylent Communications