John Lee Hooker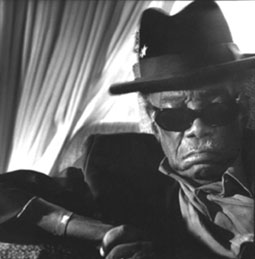 Born: 22-Aug-1917
Birthplace: Clarksdale, MS
Died: 21-Jun-2001
Location of death: Los Altos, CA
Cause of death: unspecified
Remains: Buried, Chapel of the Chimes Columbarium and Mausoleum, Oakland, CA

Gender: Male
Race or Ethnicity: Black
Sexual orientation: Straight
Occupation: Musician
Nationality: United States
Executive summary: Prominent blues musician
Military service: US Army
John Lee Hooker was born into a large sharecropping family that worked a farm to the south of Clarksdale; he and his numerous siblings were only permitted to listen to religious songs, and so young John's earliest musical exposure was to the spirituals sung in church. Around 1926 his parents separated, and shortly afterwards his mother married Wililam Moore, a blues singer who provided his first introduction to the guitar (and whom he would later credit for his distinctive playing style). At the age of 13 Hooker began singing spirituals himself, but later in his teens switched over to the blues, just before moving to Memphis to live with his aunt in 1933. Up until 1943 he traveled around to cities such as Knoxville and Cincinnati, working day jobs while performing with local gospel groups or singing the blues on his own at night.
Shortly after arriving in Detroit in 1943 Hooker took up the electric guitar and began to establish himself as a distinctive talent in local clubs. This attracted the attention of several music 'entrepreneurs' (to be polite), foremost amongst whom was Bernie Besman of Sensation Records; with Besman, Hooker recorded numerous sessions up until 1952, some of which were leased to Modern Records in Hollywood and others which were issued by Besman's Sensation label. Foremost amongst these recordings was his debut 78, Sally May c/w Boogie Chillen'. Chillen' went on to be a huge hit in 1949, and Modern and several other labels subsequently released a sizeable quantity of Hooker material (some of it under pseudonyms like 'Texas Slim' and 'Little Pork Chops'), including the even more successful 78 I'm In The Mood.
Fueled by his new-found popularity, Hooker began to tour around the States with a small backing band (in contrast to most of his early recordings, which were entirely unaccompanied). His relationship with Modern came to an end in 1955, when a new deal was struck with Vee Jay; this arrangement endured until the label's bankruptcy in 1965, and marked the peak of Hooker's success. By this time Hooker had attained near-legendary status, particularly among the up-and-coming musicians of the period. Bands such as The Rolling Stones, The Animals, The Yardbirds and John Mayall's Bluesbreakers cited his influence, and, as a result, reinforced his status with a younger audience. Hooker would collaborate with several of his musical progeny throughout his career: touring and recording with The Groundhogs in the mid 60s, recording sessions with Canned Heat in 1970 and a duet with Van Morrison in 1972, in addition to numerous guest appearances on his albums and at his concerts by the leading performers of the day.
From the late 1970s to the late 1980s Hooker moved away from his once-prolific recording schedule and concentrated instead on touring. Occasional work for other artist's albums was undertaken from time to time, and a role in the 1980 film The Blues Brothers helped to keep him in the public eye. A return to widespread popularity was made with 1989's The Healer (for which he would earn a Grammy), and a tribute concert was staged at Madison Square Garden the following year. A series of well-received records peppered the 1990s, with 1995's Chill Out landing another Grammy and 1997's Don't Look Back (featuring another collaboration with old friend Van Morrison) landing two. He died in his sleep in June 2001 at his home in San Francisco.
Father: William Hooker (sharecropper/preacher)
Mother: Minnie Ramsey
Wife: Alma Hopes (m. 1943, div. 1943)
Daughter: Francis McBee Hooker (b. 1943)
Wife: Sarah Jones (m. 1943, div. 1944)
Wife: Maude Mathis (m. 1944, div. 1969)
Daughter: Diane Hooker-Roan (b. 1946)
Daughter: Zakiya Hooker-Bell ("Vera", musician, b. 1948)
Son: John Lee Hooker Jr. (musician)
Son: Robert Hooker (musician)
Daughter: Shyvonne Hooker
Daughter: Karen Hooker
Daughter: Lavetta Williams
Wife: Millie Strom (m. 1970)

Grammy Best Traditional Blues Recording (1989)
Grammy Best Traditional Blues Album (1995)
Grammy Best Traditional Blues Album (1997)
Grammy Best Pop Collaboration With Vocals (1997)
Grammy Lifetime Achievement Award (2000)
Rock and Roll Hall of Fame 1991
Endorsement of Pepsi
Ran Away From Home

FILMOGRAPHY AS ACTOR
The Blues Brothers (16-Jun-1980) · Street Slim

Official Website:
http://www.johnleehooker.com/
Do you know something we don't?
Submit a correction or make a comment about this profile

Copyright ©2019 Soylent Communications