Moustapha Akkad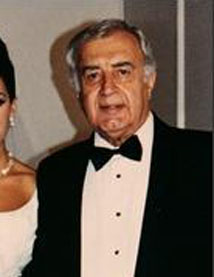 Born: 1-Jul-1930
Birthplace: Aleppo, Syria
Died: 10-Nov-2005
Location of death: Amman, Jordan
Cause of death: Murder
Remains: Buried, Al-Jadidah Cemetery, Aleppo, Syria

Gender: Male
Religion: Muslim
Race or Ethnicity: Middle Eastern
Sexual orientation: Straight
Occupation: Film/TV Producer
Nationality: United States
Executive summary: Halloween producer
Born in Syria and a resident of Los Angeles, Calfiornia. The director of Lion of the Desert, financed by Muammar Qaddafi to the tune of $35M and starring Anthony Quinn. While making that film he was approached by director John Carpenter who wanted to make a babysitter slasher film for $300,000. The result, Halloween (1978) was enormously successful. Akkad purchased the rights without thinking about sequels, and when the idea was eventually presented, it was a great surprise to him. From that point the franchise occupied the large part of Akkad's time, though he intended but was never able to do an epic on Saladin. Akkad and his daughter Rima died in a terrorist bombing in Amman, Jordan that struck three Western hotels, killing 59. His daughter was killed immediately, and Akkad died at 7:30 AM the following morning.
Akkad believed that the Jews had utter control of the media:
"The media runs the world. Absolutely. No tanks or planes. The media and the public companies. This is what The Protocols of Zion [is all about]... The Zionists, last century, were persecuted in Europe. So they immigrated to the United States. They had a target. They were united. And they did not permit [statements] critical of Zion. They went all the way to control the world and to control the minds of the people through the media. There's a lesson to learn from them... They have control of the media here. We know it. They did not do it through tanks or machine guns. They planned of course. They united. Did you see Pat Buchanan's book [The Death of the West]? He makes sense."
The above quote is from an interview with pornography critic Luke Ford. It should be noted that the referenced publication, Protocols of the Learned Elders of Zion is a forgery.

Wife: Patricia Akkad (div.)
Daughter: Rima Akkad Monla (d. Jordan bombing)


University: University of California at Los Angeles (1958)


FILMOGRAPHY AS DIRECTOR
Lion of the Desert (1980)
The Message (1976)
al-Risālah (1976)






Do you know something we don't?
Submit a correction or make a comment about this profile






Copyright ©2019 Soylent Communications